The Museum of Arts and Design
Introduction
The Museum of Arts and Design (MAD) first opened its doors in 1956 as the Museum of Contemporary Crafts, with an original mission of recognizing the craftsmanship of contemporary American artists. The museum was founded by Aileen Osborn Webb, a patron of the arts. Today, the museum fosters the creative process and how it influences crafted works that better our contemporary lives. This is accomplished by educating and inspiring the public through exhibitions, family programs, workshops, and classes. The museum also includes a restaurant and theatre to provide visitors with an all-day experience.
Images
Museum of Arts and Design.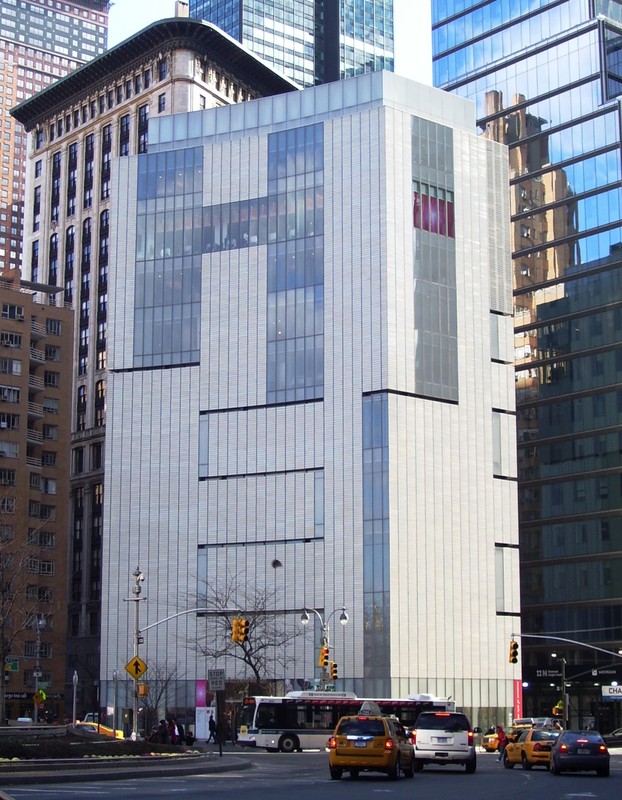 The building designed by Edward Durell Stone to house Huntington Hartford's art collection. MAD replaced this building in 2008.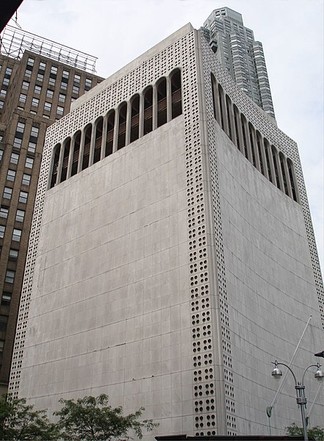 Image from MAD's 2017 exhibition, "Sonic Arcade: Shaping Space with Sound.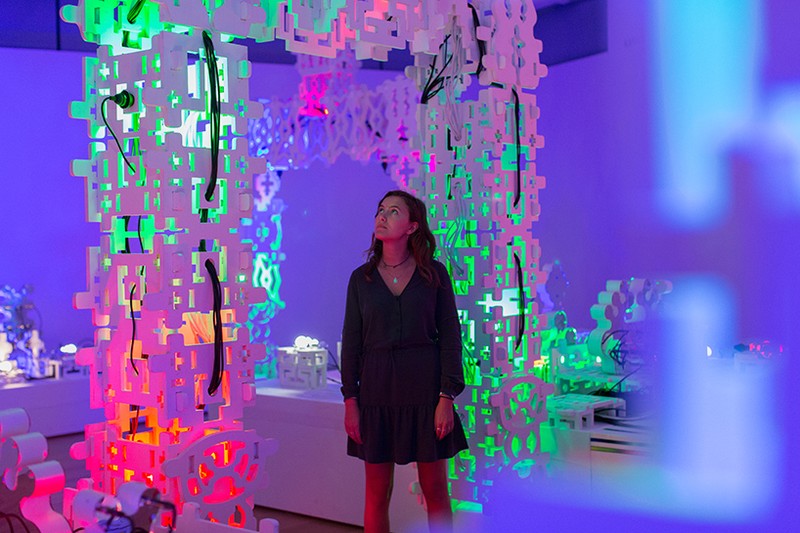 Backstory and Context
The Museum of Contemporary Crafts, opened in 1956, focused primarily on providing exhibitions related to craft disciplines - jewelry, ceramics, fashion, etc. The institute addressed the changing direction of craftsmanship in society by helping locate emerging artists whose work linked craft to industry. The patron of the museum, Aileen Osborn Webb, was born into wealth, but she didn't allow her privileged upbringing to hamper her desire to contribute to society. According to Paul J. Smith, who later led the museum, Webb's interest in craft developed during the Great Depression, a time when people were trying to sell any goods they could. She used her time and resources to help these people make a living. From that point forward, Webb continued to develop her vision for the world of craft, as she was involved in the establishment of the Craft Horizons magazine, the American Craftsman Educational Council, and the World Crafts Council along with other programs and organizations. 
Paul J. Smith, the Museum's director from 1963 to 1987, contributed to the Museum's growth by promoting popular culture and mundane materials that mirrored the social climate of the time. In 1979, the Museum was renamed the American Craft Museum and moved to a larger location at 44 West 53rd Street. Further expansion was necessary as the museum continued to grow, and it moved again in 1986 to 40 West 53rd Street. It was during its time at this location that the American Craft Museum changed its name to the Museum of Arts and Design (MAD). This change was made to reflect the continually widening circle of objects displayed, and to allude to the interdisciplinary nature of the museum's programming.
The 44 West 53rd Street remained MAD's home until 2008, when it moved to its current location on Columbus Circle. The museum's current building was designed by Brad Cloepfil. Controversy surrounded this move because the former building at this location was built by Huntington Hartford and was defended by preservationists who didn't want the move to destroy part of New York's heritage. The former building housed Hartford's art collection, which consisted of works from the 17th to the early-20th centuries. It was built in 1964 and designed by Edward Durell Stone. Along with the artwork inside, the outdated museum represented an old New York, rough and realistic. The new building, a representation of the Modernist movement that defines much of the artwork found inside, was criticized by New Yorkers who believed the city was catering to tourists by allowing a museum that reflected Modernism to move in. Nevertheless, MAD won the battle and moved into their new building in September 2008. Known as the Jerome and Simona Chazen building, the new structure features over 22,000 glazed terracotta tiles which reflect MAD's realm of interest. Concrete supports on the ground floor from the original Stone designed building are retained and encased in glass so that visitors may view a piece of the location's history.
With 54,000 square feet of new space to utilize - over three times the space as the previous location - MAD greatly expanded its gallery and program offerings. The Open Studio program allows visitors to engage directly with the art and artists by interacting with them during the creative process. MAD is also the only American art museum to display contemporary and historical art jewelry, which it does in the Tiffany and Co. Foundation Jewelry Gallery. The museum features a variety of permanent galleries, such as the Jewelry Gallery, and rotating exhibitions. The museum strives to continue to fulfill the motivation behind its founding; to showcase the role of the creative process in improving our lives.
Sources
About MAD. Museum of Arts and Design. Accessed October 22, 2020. http://madmuseum.org/about.
Lovelace, Joyce. Who Was Aileen Osborn Webb?. American Craft Council. 7/25/11. Accessed 4/29/17. https://craftcouncil.org/magazine/article/who-was-aileen-osborn-webb.
Museum of Arts and Design, Allied Works Architecture. Accessed October 22nd 2020. https://alliedworks.com/projects/museum-of-arts-and-design.
Museum of Arts and Design-MAD, New York, NBK Architectural Terracotta. Accessed October 22nd 2020. https://nbkterracotta.com/en/project/mad-museum-of-arts-and-design/.
Ouroussoff, Nicolai. A New Face, Renewed Mission. The New York Times. 9/25/08. Accessed 4/29/17. http://www.nytimes.com/2008/09/26/arts/design/26desi.html.
Image Sources
Beyond, Ken. "Museum of Arts and Design, 2008." 2008. Wikimedia. Accessed October 22, 2020. https://commons.wikimedia.org/wiki/File:Museum_of_Arts_and_Design_crop.jpg.

O'Flaherty, Renate. "Columbus Circle." Wikimedia. Accessed October 22, 2020. https://en.wikipedia.org/wiki/File:2_Columbus_Circle.jpg.

Bascom, Jenna. 2017. Museum of Arts and Design. Accessed October 22, 2020. https://www.designboom.com/art/mad-sonic-arcade-museum-of-art-and-design-10-07-2017/.

Additional Information