Howard J. Lamade Stadium
Introduction
Howard J. Lamade Stadium was constructed in 1959 to accommodate the growing fan base of the Little League Baseball World Series. Lamade Stadium has been home to the World Series for the past 58 years. Lamade Stadium is in South Williamsport and is the largest non-Major League stadium in the world. This site is a common "bucket-list" attraction for all baseball fans in the world.
Images
This is a picture of the stadium from centerfield. https://www.littleleague.org/news/howard-j-lamade-stadium-named-2018-field-distinction/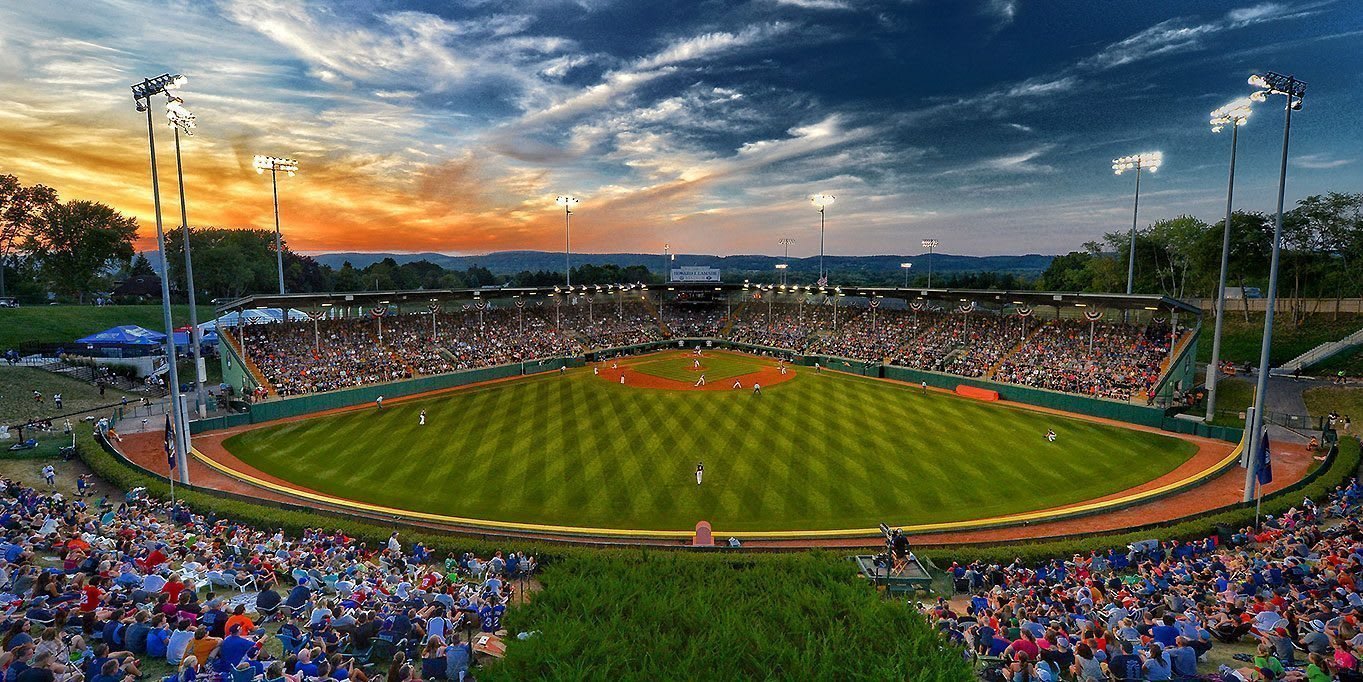 Backstory and Context
The first organized tournament, known as the National Little League Tournament, was played in Williamsport twelve years prior to the construction of Lamade Stadium. At that time there were only 17 programs, but only 12 teams played in the tournament. There were over 2,500 total people in attendance for the championship game. Little League had only been around for a short amount of time, but so many people were already drawn to watch these children play against each other in America's Pastime.

Word of the tournament spread like wild fire and made news titles throughout the nation, as well as other countries. Four years after the first tournament, international leagues were beginning to emerge, which called for the new name of the tournament: The Little League Baseball World Series. When Lamade Stadium was built, there were more than 5,000 leagues across the world.

Today, crowds are expected in the 40,000s for just about every game during the World Series even though there are only 3,300 total seats. Adjustments are constantly made to adjust for the growing popularity of the game. More seating has been added recently because of the development of the attendance. The record for attendance at the Little League World Series is 45,716 for the game between Lewisberry, Pennsylvania and Pearland, Texas on August 29th, 2015.

Twelve years after the first tournament was played in the stadium, concrete grandstands replaced the original wooden bleachers. In more recent years more adjustments were made to the stadium, such as the addition of lights in 1992 to allow games to be played at night. New dimensions were established for Little League Baseball fields across America to compensate for the number of homeruns hit. The new distance from home plate to the outfield fence is 225 feet across the entire length of the outfield, rather than the original length of 205 feet.

Unfortunately, Lamade Stadium will only be used for one more Little League Baseball World Series, because the tournament will be moved to a new location in 2019.
Sources
The Origin of the Little League Baseball® World Series. LittleLeague.org. Accessed September 28, 2017. http://www.littleleague.org/Little_League_Big_Legacy/Little_League_World_Series/About.htm.


Howard J. Lamade Stadium. Wikepedia. September 19, 2017. Accessed September 28, 2017. https://en.wikipedia.org/wiki/Howard_J._Lamade_Stadium.


Additional Information