American Museum of Natural History
Introduction
Founded in 1969, the American Museum of Natural History has been one of the world's preeminent science and research institutions, renowned for its collections and exhibitions. The Museum consists of 25 buildings which are all interconnected. Throughout the Museum, there are 40 exhibition halls, providing tours for visitors and learning opportunities for adults and children alike. The Museum is committed to discovering and circulating information about cultures, nature, and the universe.
Images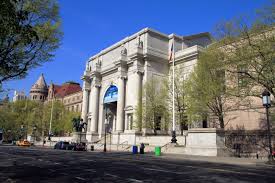 Backstory and Context
Albert Smith Bickmore developed the proposal for the American Museum of Natural History. After gaining support, the Museum was created in 1869, and the first President was John David Wolfe. However, exhibits did not go up until 1971 in the Museum's first building on the eastern side of central park, which would later be abandoned for a larger location in Manhattan Square.

Throughout the late 19th and early 20th century, the Museum was involved in groundbreaking projects of exploration that included expeditions to the North Pole, Siberia, Mongolia, Gobi, and the Congo. During this time, new sections of the Museum were also opened, including the African Mammals Hall and the Hall of Ocean Life. New halls would continue to open throughout the 20th century, making the Museum one of the most important research and public learning centers in the world.

In the 1990s and 2000s, the Museum continued to grow, as it still does today, adding new attractions for visitors and researchers. New facilities for the Museum's research library were opened in 1992, a Zeiss Star Projector was built in 1999, and the Museum started hosting overnight stays for families with its A Night at the Museum program in 2006. By adding new exhibits and activities, along with continued projects of exploration, the American Museum of Natural History continues to push deeper into the realm of knowledge, providing a service to society that will not be forgotten.
Sources
American Museum of Natural History. Accessed 4/18/17. http://www.amnh.org.

American Museum of Natural History. NYC-ARTS. Accessed 4/18/17. https://www.nyc-arts.org/organizations/54/american-museum-of-natural-history.

American Museum of Natural History: The Official Guide. New York, NY. Scala Publishers, 2001.


Additional Information