Albert King Historical Marker
Introduction
This historical marker commemorates Albert King, one of the most influential guitar players in the world. His unique style of playing and his large stature made him very recognizable during his career. King influenced some of the most famous blues musicians known today and is still revered as one of the "kings" of the blues.
Images
Albert King with his signature guitar, literally. With his name on the fret board King was easily recognizable.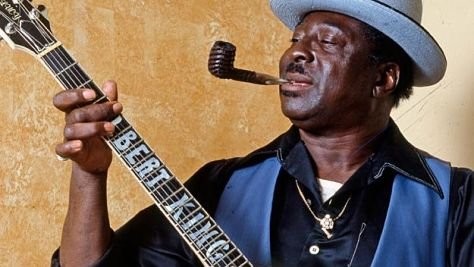 Backstory and Context
Albert King was born in Indianola, Mississippi in 1924. King was unique from birth, whether it was his large stature, standing at 6' 6" as a teenager, or his left-handedness. King expressed an early love for music, learning to play guitar at the age of seven, he learned about the Blues early on as he began to develop a unique, left handed style of playing. Because of his hand orientation, his licks were very slow and one dimensional. However, it was the way he went about playing them. Because of his bends and his passion for playing he became the most recognizable player at the time.

Many historical markers have been placed in honor of Albert King. One of the better known markers is on the infamous "Mississippi Blues Trail". The "trail" is essentially a road that takes you through the history of the Blues in Mississippi. From Robert Johnson to BB King there is no shortage of Blues history in the state of Mississippi. The marker, located in Indianola, says, "Albert King (1923-1992), who was billed as "King of the Blues Guitar," was famed for his powerful string-bending style as well as for his soulful, smoky vocals. King often said he was born in Indianola and was a half-brother of B. B. King, although the scant surviving official documentation suggests otherwise on both counts. King carved his own indelible niche in the blues hierarchy by creating a deep, dramatic sound that was widely imitated by both blues and rock guitarists."
Many of those who were inspired by Albert King used his signature licks in their playing as well. His well recognizable style made him easy to spot when listening and became very popular among those in the Blues music scene. His more popular songs are still heard in Blues clubs and concerts today. Songs such as Born Under a Bad Sign, Blues at Sunrise, and I'll Play the Blues for You, were his most famous works at the height of his career. King first started playing Gospel music in the 1950s, bouncing around various groups. However, he turned to the Blues in the 60s and never looked back; playing the blues until his death in 1992. King was loved by many and is still considered one of the Godfathers of Blues today.
Sources
Accessed September 29, 2017. http://msbluestrail.org/blues-trail-markers/albert-king.

Albert King. Mississippi Blues Trail. http://msbluestrail.org/blues-trail-markers/albert-king.


Additional Information