The Oak
Introduction
This white oak tree has a 16-foot circumference and a 112-foot crown spread. The tree is estimated to be over 800 years old and the oldest of its kind in the state of West Virginia. The tree is so significant to the local area that the restaurant under its branches is named in honor of the tree.
Images
The massive 800-year-old white oak "The Oak".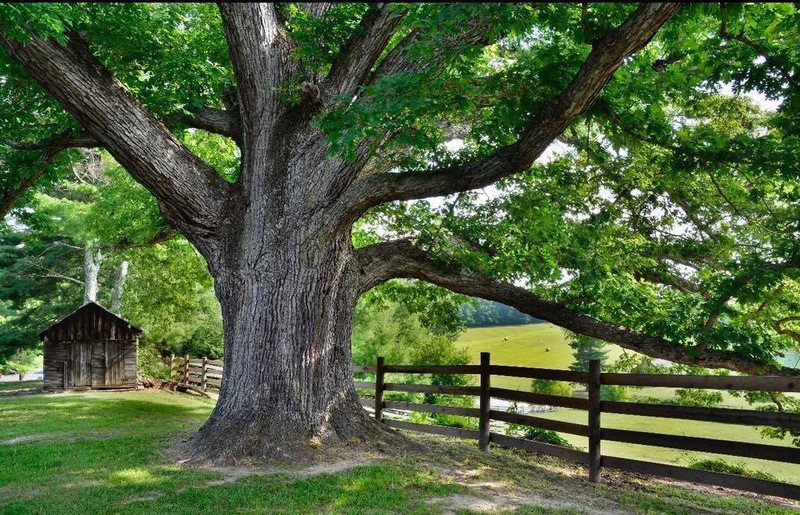 A view into the hayfield on the farm that the tree is located on.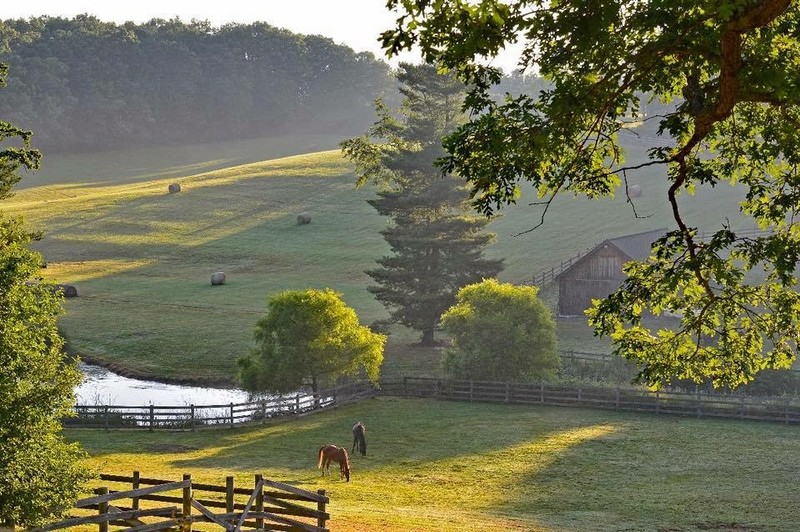 Backstory and Context
The Oak Supper Club is a restaurant in Pipestem Wv founded by Jim Bolinger in the 1970s. Bolinger was from Springfield Illinois where he was the
manager of the upscale, historic Leland Hotel. Bolinger came to Pipestem in 1969 to take on the role of opening manager of Pipestem State Park, another historic district in the area which opened in 1970.
Bolinger was a very well known man in the city of Pipestem and is fondly referred to as "Mr. B".

Mr. B worked hard to convince the legislature to approve the sale of liquor withing Pipestem State Park where he was the manager, but to no avail. He searched for his own place to start a business where he could make the rules and thus The Oak Supper Club was born. It was his own special place where he lived and served the public. He named the farm The Oak after the marvelous tree that shelters the restaurant and the "Supper Club was added to denote that cocktails were available at the establishment. This beautiful farmhouse with the historic oak tree was one of the first restaurants in Pipestem to serve liquor.
The Oak's four-digit liquor license number in comparison to much longer numbers for other area businesses is a testament to the age of the license.

Bolinger lived on the property until his death in 2004. Prior to this, he sold the property to a local family. who became
"the Keepers of The Oak."
Sources
Princeton Times - Keepers of The Oak - http://www.ptonline.net/news/local_news/keepers-of-the-oak-bailey-family-re-opens-iconic-pipestem/ar...
David A. Swiger,
Jim Bolinger
Find a Grave October 25th 2012 https://www.findagrave.com/cgi-bin/fg.cgi?page=gr&GScid=2223321&GRid=99558048&
The Weirton Daily Times, The Weirton Daily Times from Weirton, West Virginia · Page 10 Newspapers.com July 23rd 1970
https://www.newspapers.com/newspage/49100292/
The Charleston Daily Mail
The Charleston Daily Mail from Charleston, West Virginia on April 2, 1976 Page 3
Newspapers.com April 2nd 1976 https://www.newspapers.com/newspage/36812501/
Additional Information