Home of Ralph Abernathy
Introduction
Civil rights leader Ralph Abernathy (1926-1990) lived in this home between 1951-1961. In January 1957, white supremacists firebombed Abernathy's home and his church. Undeterred by threats and acts of violence, Abernathy was one of the most influential leaders of the Civil Rights Movement and the co-founder, along with Martin Luther King Jr., of the Southern Christian Leadership Conference (SCLC). Abernathy was named pastor of First Baptist Church in 1951 and served as one of King's mentors when the young pastor arrived from Atlanta in 1954 to lead Dexter Avenue Church. King, Abernathy, and others helped establish the Montgomery Improvement Association in December 1955, which they formed after Rosa Parks was arrested for refusing to give up her seat to a white person on a city bus. The association organized the Montgomery Bus Boycott, which lasted more than a year and finally ended segregation on city buses. Abernathy also helped establish the Southern Christian Leadership Conference. He served as secretary, treasurer, then vice president, and then president of the SCLC after King was assassinated on April 4, 1968. The home is adjacent to another historical residence, the home where singer and composer Nat "King" Cole, spent his early childhood.
Images
Civil Rights leader Ralph Abernathy lived in this home from 1951-1961.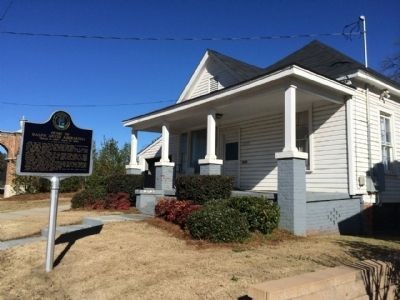 Ralph Abernathy photographed by police after his arrest in Montgomery for participating in the Montgomery Bus Boycott.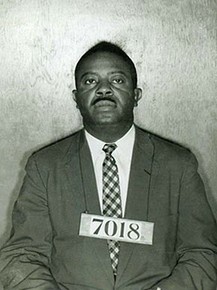 Abernathy (right) photographed surveying the damage to his home following a bombing by members of the Ku Klux Klan. Image from From New Georgia Encyclopedia.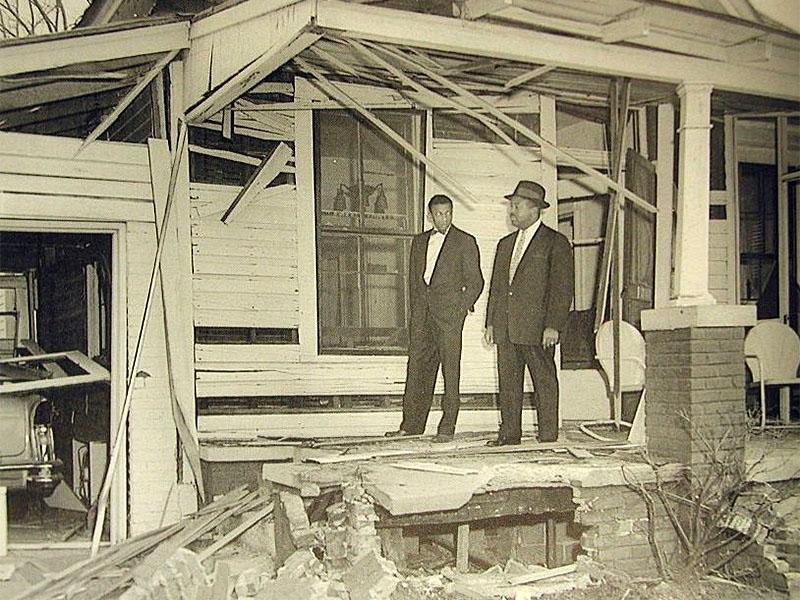 Backstory and Context
Abernathy was born in Marengo County in 1926 and grew up on a farm with 11 siblings. He served in World War II, then earned a degree in Math in 1950 from what is now Alabama State University. During college, he led student strikes against poor housing and food. He earned an M.A. and became pastor at First Baptist Church in 1951. He also became dean of students at the university.

In 1961, he and King moved to Atlanta since the city was becoming an important center for activism. When the Freedom Riders came to the city, Abernathy organized a rally at his church, West Hunter Street Baptist Church, to support the riders. They were attacked by an angry white crowd so Abernathy told them to go inside. There, he remained calm and resolute in the face of danger, a quality that did not go unnoticed by King and other movement leaders.

On April 12, 1963 (Good Friday), Abernathy, King and another activist, Fred Shuttlesworth, lead a protest in Birmingham and were arrested. This proved to be an important moment for the movement because King would write the seminal document of the Civil Rights Movement called "Letters from a Birmingham Jail". This was his response to white clergymen who called for the movement to stop protesting and instead focus on advancing social justice issues through the electoral process. On August 28th, Abernathy, King and many other leaders of the movement led a large protest march on Washington D.C. calling for civil and economic rights. King gave his famous "I Have a Dream" speech on the steps of the Abraham Lincoln Memorial. Abernathy also participated in the Selma to Montgomery March in 1965, which paved the way for the Voting Rights Act.

Abernathy assumed the leadership of the Southern Christian Leadership Conference after King was killed, a position he would hold until 1977. He did not have the charisma that King had but continued to work for social justice and his ministry. He published a memoir titled And the Walls Came Tumbling Down in 1989 which is linked below along with other books and articles. Abernathy passed away in 1990.
Sources
Abernathy, Ralph David. And The Walls Came Tumbling Down: An Autobiography. New York: Harper & Row, 1989.

Gaillard, Frye. "Ralph David Abernathy." Encyclopedia of Alabama. March 14, 2007. Last updated October 24, 2016. http://www.encyclopediaofalabama.org/article/h-1110.

"Home of Ralph David Abernathy." The Historical Marker Database. Accessed September 29, 2017. https://www.hmdb.org/Marker.asp?Marker=71232. Photo: Mark Hilton, via The Historical Marker Database
Additional Information