Golden Ball Tavern (1750-1944)
Introduction
Located at the southeast corner of Grove Avenue and North Market Streets, the Golden Ball Tavern was reportedly built about 1750. The original tavern included a dwelling house which was added in 1764 by Richard Hanson, a prosperous tobacco merchant and fervent Loyalist who fled Virginia in 1776. In 1781, British troops occupied the city and the officers were quartered at the tavern. The tavern was expanded in the 1820s and rebuilt after it was destroyed by fire in 1850. The structure was razed in 1944 to create room for a parking lot. Today, the land where the historic tavern stood is owned by the Historic Petersburg Foundation, Inc.
Images
Golden Ball Tavern, undated, likely early 1940s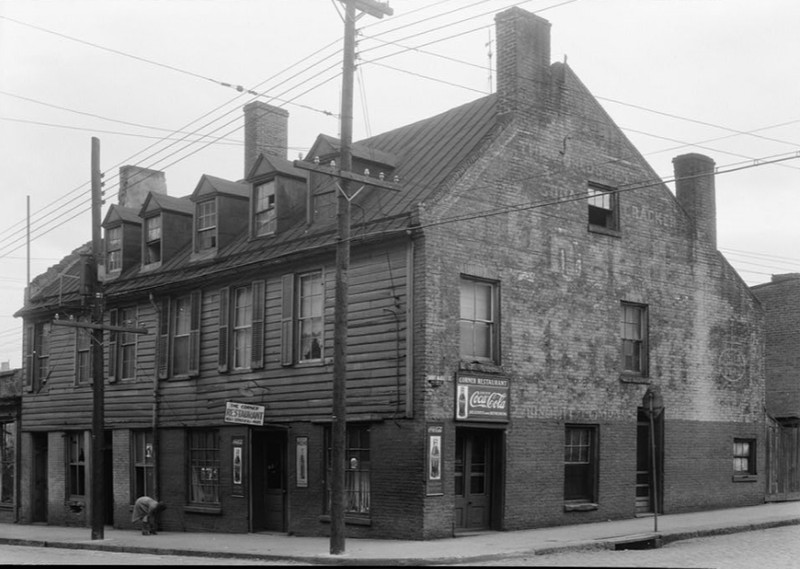 Golden Ball Tavern, rear, from Market Street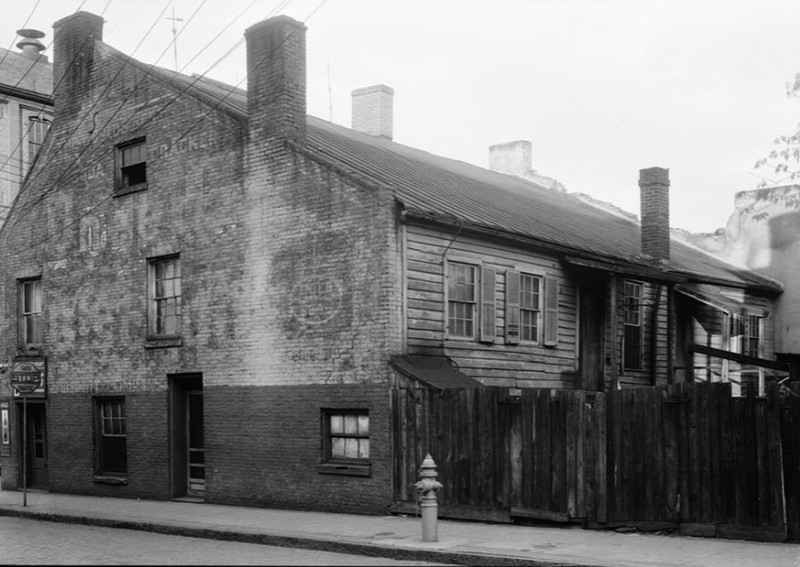 This historical marker was dedicated in 2002 at the former site of the historic tavern.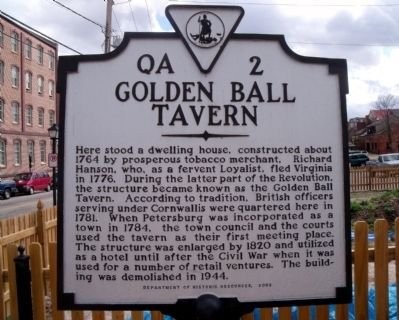 Backstory and Context
When Petersburg was incorporated as a town in 1784, the Virginia General Assembly established the tavern as a meeting place of the courts and the common council. Petersburg's first local election was held here in the late 1700's. From 1781 to 1790, the Golden Ball Tavern was one of the city's best-known hostelries. The property, which housed a building as well as the tavern, had different owners through time. It now belongs to the Historic Petersburg Foundation Inc.
It is believed that the original tavern enlarged by 1820, burned or torn down in the 1850s and a bigger tavern built in its place. It was of frame construction, 1 ½ stories above a high stone basement, with gabled dormers on the roof. After the Civil War it was used for a number of retail ventures. The building was razed in 1944 and began to be used as a parking lot.
Recent archaeological study has unearthed Indian pottery that dates back to the 1400s. Among the other artifacts found were two ceramic pieces that may have once formed a soap dish from the early 1900s, pieces of English and other European pottery.
Sources
Scott, James G. & Wyatt, Edward A., IV. Petersburg's Story: A History. Petersburg, VA: Titmus Optical, 1960
Additional Information