Albert L. Patterson Statue
Introduction
Born sometime between 1891-1897 (the exact year is not known) in Tallapoosa County, Albert L. Patterson rose to become one of Alabama's prominent political figures during the first half of the 20th century. He served as an officer in France in World War I, became a teacher and later a principal, and then earned a law degree. The day after winning the Democratic primary for Attorney General on June 7, 1954, he was assassinated in Phenix City by a member of the local mafia, which opposed his efforts to eradicate organized crime in the city. The city had a long history of illegal gambling, prostitution, and alcohol sales, so Patterson was considered a serious threat to the mafia's interests. His murder however spurred state and local officials into action; they took down the local crime syndicate in six months and indicted over 700 people, charging politicians, business owners, and members of law enforcement with crimes. Patterson was replaced on the ballot by his son, John Patterson, who later won the Governorship of Alabama in 1958 with the support of the Ku Klux Klan. As a result of John Patterson's virulent racism and tacit support of white supremacists who led a reign of terror against African Americans in the early years of the civil rights movement, the legacy of the Patterson family remains tied to racial discrimination more than efforts to end corruption in government.
Images
The Albert L. Patterson statue is located on the north end of the Alabama State Capitol building.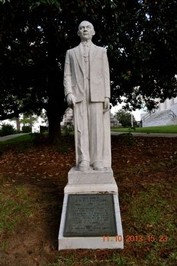 Backstory and Context
James L. Patterson grew up in a farming household. As a teenager, he went to Texas looking for work, finding employment on farms and oil fields. After graduating from high school, he enlisted in the army and was sent to France in 1918 where he was wounded badly in a skirmish. He was awarded a
France's Croix de Guerre with silver gilt star for his service. He returned to Alabama and earned his teaching certificate. Later, he became principal of Clayton County High School in 1921. In 1924 he earned his B.A. in History from what is now Jacksonville State University and then a law degree in 1926 from Cumberland Law School in Tennessee. Patterson opened up practices in Opelika and Alexander City before settling in Phenix City in 1933.

His first steps into politics came in 1937 when he was appointed to the Phenix City Board of Education. In 1940 he became chairman of the Russell County Draft Board, and then in 1946 was elected to the Alabama Senate. In the early 1950s Patterson was one of the first members of the
Russell Betterment Association, whose purpose was to fight corruption by electing people who would enact reforms. The local mob stymied these efforts through violence and election fraud. In response, the organization decided to try to elect Patterson into a high legal office, given his legal and political background.
Today, Patterson is remembered for his attempt to reduce corruption. In the wake of his death, the Governor of Alabama imposed martial law upon Phenix City and a special investigation and grand jury led to over 700 indictments of police and local officials for corruption. Of these indictments, the only person to serve time was
Sheriff Albert Fuller, who was convicted of murder but served only ten years of a life sentence.
Sources
"Albert L. Patterson." The Historical Marker Database. Accessed September 29, 2017. https://www.hmdb.org/marker.asp?marker=86064.

Grady, Alan. "Albert L. Patterson." Encyclopedia of Alabama. July 24, 2007. Last updated May 5, 2015. http://www.encyclopediaofalabama.org/article/h-1250.

Photo: Sandra Hughes, via The Historical Marker Database
Additional Information