New York Stock Exchange
Introduction
The NYSE trading floor is located at 11 Wall Street and is composed of four rooms used for the facilitation of trading. A fifth trading room, located at 30 Broad Street, was closed in February 2007. The main building, located at 18 Broad Street, between the corners of Wall Street and Exchange Place, was designated a National Historic Landmark in 1978.
Images
The New York Stock Exchange building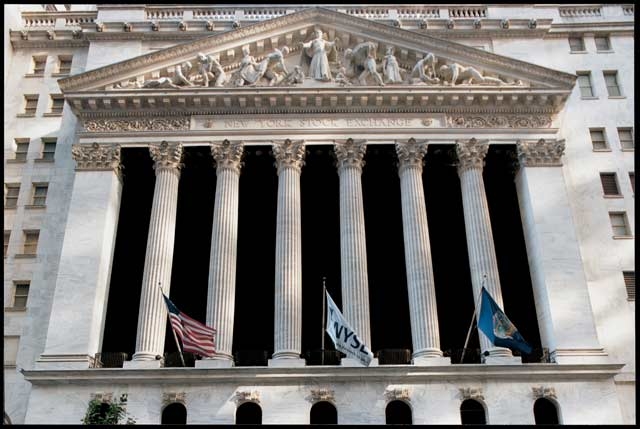 Backstory and Context
On May 17, 1792, twenty-four stockbrokers gathered outside 68 Wall Street under a buttonwood tree to sign an agreement that would establish the rules for buying and selling bonds and shares of companies. The Buttonwood Agreement, as it is known, is so named because the tree served as the regular meeting place for these pioneers of Wall Street. The signers of the Buttonwood Agreement drafted their first constitution on March 8, 1817, and named their nascent organization the New York Stock & Exchange Board.
In 1863, this name was shortened to its modern form, the New York Stock Exchange, which became known as the NYSE, one of the best-known financial industry brands in the world. Membership on the NYSE has been held as a valuable property since 1868. Until the NYSE went both electronic and public in April 2006, the exchange was a membership-only organization. Members could join the NYSE by purchasing existing seats, which were limited to 1,366.
Merging with the already publicly traded Archipelago electronic stock exchange, the new company was called the NYSE Group, Inc., and the seats of the NYSE translated into shares of publicly traded stock. In 2008, NYSE Euronext welcomed the historic American Stock Exchange into the world's leading equities exchange group. Originally called the "curb market" because its brokers traded outdoors in the street, the Amex has been at the forefront of the U.S. financial markets over the course of two centuries.
Sources
"History of the New York Stock Exchange." History of the NY Stock Exchange: (Business Reference Services, Library of Congress). Accessed April 01, 2017. https://www.loc.gov/rr/business/hottopic/stock_market.html.
Additional Information