James Marion Sims Statue
Introduction
Located on the grounds of the Alabama State Capitol building stands the statue of James Marion Sims, one of the more controversial figures in modern medical history. Sims is considered the "father of gynecology" for his medical and surgical advancements in the field of gynecology. Among his leading accomplishments, Sims developed new ways to treat women suffering from incontinence caused as a result of tearing during labor. These innovations came at high price, however, as he experimented on dozens of enslaved women. As such, though he is credited for making advancements in women's health, his legacy is forever connected to the physical and mental pain he inflicted on the enslaved women who were the victims of his experiments. While this statue remains and is protected from removal by a recent state law intended to make it nearly impossible to remove Confederate monuments, in April 2018 the other statue of Sims was removed by officials in New York City from its prominent location in Central Park to the cemetery where Sims is buried in response to concerns from local citizens. That same month, a protester was jailed for a performance near this statue depicting one of the many operations conducted.
Images
The statue is located on the grounds of the Alabama State Capitol. Photo: Brandon Fletcher, via the Historical Marker Database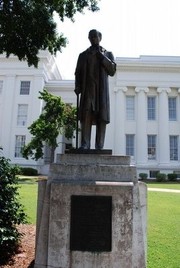 James Marion Sims (1813-1883) Photo: Alabama Department of Archives and History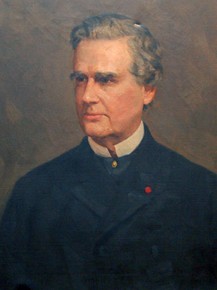 Two protesters portray Dr. Sims performing an operation on an enslaved woman. The physician was arrested by capitol police. Photo from Al.com report which is linked and cited below.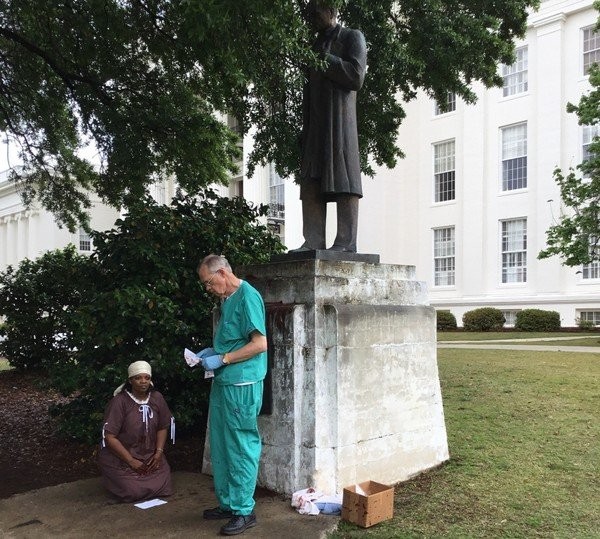 Backstory and Context
Beginning in the late 1830s in Macon and then Montgomery Counties, Sims made a living treating enslaved women on plantations during pregnancy and labor. Plantation owners allowed to him to conduct experimental surgeries on the women without any kind of anesthesia, although he did give them opium. In one case, he performed 30 surgeries on a woman named Anarcha, whom he claimed to have cured in the end. During the next decade he created a new speculum (which is named after him and used today), the medical instrument to treat women with incontinence and other problems.

In the early 1850s, Sims traveled to Philadelphia and New York City to try to improve his health, since he often had bouts of malaria. There, he met with other doctors and soon gained notoriety for his innovations in gynecology after publishing an article describing his new surgical techniques. He was then appointed head surgeon of the newly created Women's Hospital of New York, which he helped established. During the Civil War, he worked in Europe, where his reputation followed him. He treated women in royal families such as empress of Austria. Sims returned to the New York City after the war and once again worked at the women's hospital. He published his memoir The Story of My Life shortly before his death in 1883.

Sims performed hundreds of operations without anesthesia on at least thirty enslaved women. While these experiments collectively allowed Sims to expand his knowledge of the emerging field of gynecology and led to significant medical advances, his methods left at least some of these women with debilitating physical and mental trauma. Only three of Sims' victims are known by name, and each by their first name only. One woman identified as Anarcha endured thirty operations.

On April 23, 2018, two Alabama residents offered a historical reenactment where a physician wearing modern-day medical scrubs performed an operation on an African American woman portraying an enslaved woman against her will. The two residents hoped to draw attention to the fact that Sims performed operations on women who could not consent to the procedure. The man who portrayed the physician, 74-year old veteran Jon Broadway, was arrested and taken to jail by capitol police and charged with criminal tampering with a protected landmark after a small amount of ketchup that represented the blood of the enslaved woman was found left on the premises. The female protester who was part of the demonstration was not arrested and Mr. Broadway declined to share her name with reporters who interviewed him after the arrest.
Sources
"James Marion Sims." The Historical Marker Database. Accessed September 28, 2017. https://www.hmdb.org/marker.asp?marker=87208.

McGregor, Deborah K. "J. Marion Sims." Encyclopedia of Alabama. March 12, 2007. Last updated September 19, 2016. http://www.encyclopediaofalabama.org/article/h-1099.

Vollers, Anna Claire. Jailed for smearing ketchup on what may be Alabama's worst, yet still protected, monument. AL.com. . Accessed May 30, 2018. https://www.al.com/news/index.ssf/2018/05/controversial_monument_sims_al.html.


Additional Information