"Nation" Kitchen and Bar
Introduction
At the turn of the 20th century, 6' tall Kentucky-born Carrie Nation ravaged bars across America. Wielding a hatchet, she claimed a divine ordinance to promote temperance by smashing any tavern and saloon that crossed her path. The slogan "All Nations welcome but Carrie" became a bar-room staple (Nationkitchenandbar.com). Nation Restaurant and Bar incorporates the historical slogan and hatchet logos inside the establishment. Nation was built to commemorate the rich history of Cincinnati.
Images
Nation Kitchen and Bar located in Cincinnati, Ohio.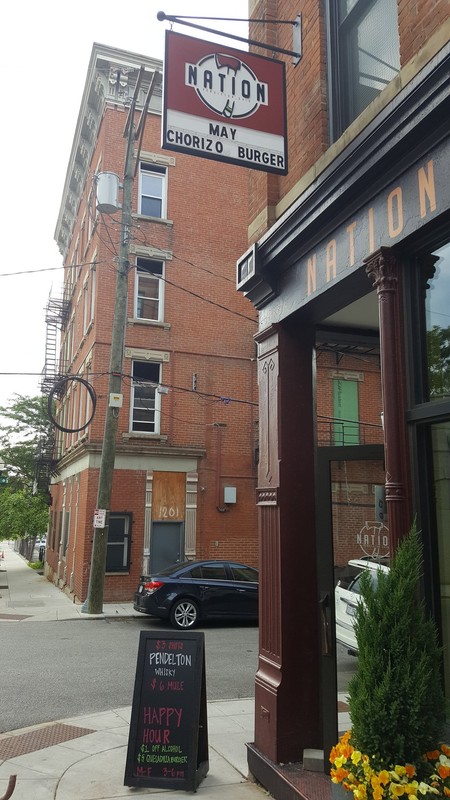 Nation with her hatchet in 1910.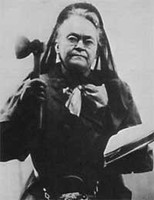 Backstory and Context
"All Nations welcome but Carrie..."
Carrie Nation was a radical in the temperance movement, which she entered in 1890. "The U.S. Supreme Court decision in favor of the importation and sale of liquor in "original packages" from other states weakened the prohibition laws of Kansas" (Encyclopedia Britannica, 2017). Carrie lived in Kansas at the time. She would go to bars or saloons alone, or sometimes accompanied by other women, pray, and then smash bar fixtures with her hatchet.Carrie had been in and out of jail for a period of time for her demolishing of saloons and bars across the nation. Her main jail time took place in Topeka, Kansas.Kansas was a "dry" state and she was in complete opposition to the breaking of the law in regards to alcohol. In order to pay her way out of jail, Carrie held tours where she lectured people on the importance of her temperance movement. More importantly, she sold souvenir hatchets and made a profit.
Encyclopedia Britannica mentioned Carrie wrote a few articles throughout her journey, The Smasher's Mail, The Hatchet, and The Home Defender.
Carrie Nation's longest trip to Cincinnati occurred toward the end of her march in 1901.
(Hand, 2016). In Cincinnati, a police chief by the name of Philip Deitsch assigned two detectives who escorted Carrie. Because the town knew of her intended visits to unsavory districts, the detectives provided protection for the districts on her itinerary. Instead of smashing the bars and saloons along Vine Street in Cincinnati, she preached a few sermons. If she had demolished the bars in Cincinnati, she would have to forfeit her bond back in Kansas.


"But Carrie did not lift her hatchet arm as she marched up Vine Street; she seemed awed by the formidable array of saloons, beer gardens and concert halls. Asked why she had not broken any windows, she replied: 'I would have dropped from exhaustion before I had gone a block.'"

When asked why Carrie did not cause destruction in barrooms along Vine Street, she responded with, "
I would have dropped from exhaustion before I went one block for all the bars in this city" (nationkitchenandbar.com). Nation Kitchen and Bar wanted to bring a new restaurant into the city to honor it's rich history, and satisfy the craving for a cold beer and delicious burger.
"I can't smash the saloons here because I've not got the protection, but if I ever get those of Kansas wiped out, I'll come here and wipe them out."


Cincinnati Enquirer, March 29, 1901: "Nothing would have kept me from doing some smashing here and in Lexington but the fact that I would have been out in jail, and I am under $2,000 bond to appear for trial in Kansas."
Sources
Carrie Nation; The American Temperance Leader. Encyclopedia Britannica. February 27, 2017. Accessed October 18, 2017. https://www.britannica.com/biography/Carry-Nation.



Hand, Greg. What Did Carrie Nation Reall Say About Cincinnati's Vine Street?. Cincinnati Magazine. August 16, 2016. Accessed October 18, 2017. http://www.cincinnatimagazine.com/citywiseblog/carrie-nation-really-say-cincinnatis-vine-street/.


Additional Information