Vachel Lindsay House
Introduction
The first American poet to speak at Oxford, Vachel Lindsay not only composed numerous volumes of poetry but was an outspoken opponent of racial injustice and an advocate for civic beauty. Lindsay's 1918 poem "The Jazz Birds," praised the efforts of African Americans during WWI. Though he had a successful career and enjoyed family life and his two children, the privations of being a poet and thoughtful observer of humanity during the Great Depression, along with his failing health, pushed Lindsay towards depression. The poet committed suicide in his home where he lived with his wife and children.
Images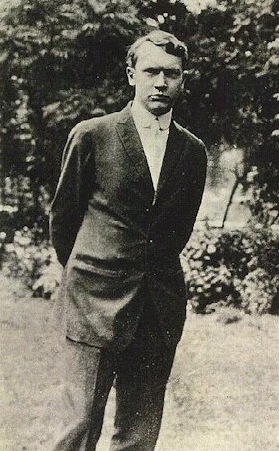 The location of Vachel Lindsay boyhood and his later years was also the past home of Abraham Lincoln's sister-in-law.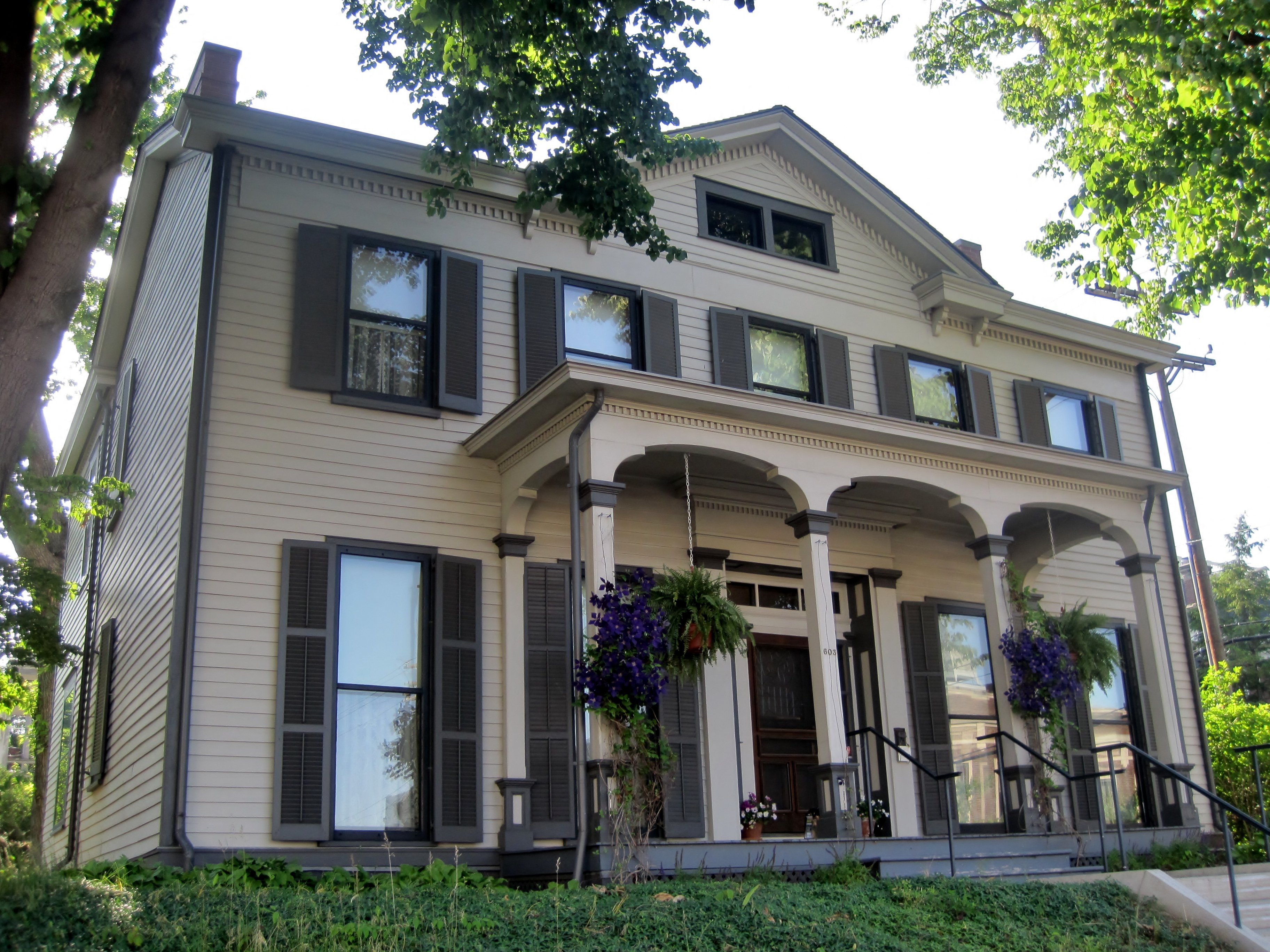 Backstory and Context
The first American poet to speak at Oxford, Springfield native Nicholas Vachel Lindsay, born November 10, 1879, grew to prominence within the poetry world. He was also an early proponent of ending racism, notably after seeing the effects of the expansive 1908 race riot in Springfield.
After an unremarkable grade-school performance, Vachel's academics improved substantially in high school. As such, he appeared on track to follow in his father's footsteps in becoming a doctor. However, it was evident his strengths lied in philosophy and literature rather than medicine. Thus, he transferred first to the Chicago Art Institute (1901-1903), followed by a move to William Chase's New York School of Art, where the primary instructor, Robert Henri, suggested to his student that he was more a poet than a painter -- a career was born.
From 1906 to 1908, he traveled to many parts of the Eastern U.S. (and one trip to Europe) working small jobs and attempting to sell his poetry, primarily relying on tramp steamers (whose primary purpose involved moving cargo). Those travels are published in A Handy Guide for Beggars (1916). In fact, much of his career -- even during the height of his success -- Vachel had a propensity to travel, often by foot or other non-glamours means.
Vachel arrived in Springfield -- Abraham Lincoln's hometown -- just before the August 1908 race riot, only months prior to what would have been Lincoln's 100th birthday. The events moved Vachel to give a series of ten lectures on race at the local YMCA, "hoping to persuade his fellow citizens to make their city a model of beauty, order, and understanding," according to the Vachel Lindsay Association. Lindsay followed that by self-publishing his poetry volume, The Tramp's Excuse and Other Poems, which including many pieces inspired by the race riots. In fact, he went on to publish many pieces that both spoke of racism and celebrated the actions of African Americans.
While his father was a doctor, Vachel's mother was a religious and civic leader, which may have influenced him. Indeed, he delivered temperance and tolerance lectures and promoted civic beauty in and around Springfield through roughly 1912, and then he followed that by self-publishing The Gospel of Beauty.
Never one to remain in one place for long, he left Springfield and headed west, ending up in California. While in Los Angeles, he authored one of his more famous poems, "General William Booth Enters into Heaven." Later, in Oakland, the construction of the Panama Canal inspired him to write "The Wedding of the Rose and the Lotus." He then returned to his hometown where he published General William Booth Enters into Heaven and Other Poems (1913), followed by The Congo and Other Poems (1914) and The Chinese Nightingale and Other Poems (1917). In between the latter two, he published the first American study of film as an art form, The Art of the Moving Picture (1915).
His career by 1915 had provided him substantial notoriety and offered him a chance for a successful tour of England and he became the first American poet invited to speak at Oxford. He published numerous, successful poetry collections by the early 1920s. However, his mother's death, followed by his own need for sinus surgery in the 1920s pushed him to accept a teaching position at Hiram College where he had initially attended as a pre-med student. But, as is often the case, he could not resist the urge to travel. Thus he accepted a position that ostensibly made him the poet-in-residence in Spokane, Washington where he also married and fathered two children, as well as published more volumes.
In 1929, Vachel and his family returned to the house where he was born in Springfield. Sadly, that return home proved to be the start of Vachel's sad last chapter. With the onset of the Great Depression, Vachel was forced to travel away from his family, spending life on trains and giving poetry performances from town to town. Buy 1931, his physical health declined, and he grew disheartened. Hence, on December 5, 1931, he consumed a bottle of lye and died in the bedroom one floor above where he had been born. His tombstone consists of his name and one word: Poet.

Sources
Camp, Dr. Dennis. "Biography in Brief." Vachel Lindsay Association. Accessed September 22, 2017. http://www.vachellindsay.org/bio.html.

Masters, Edgar Lee. Vachel Lindsay, A Poet in America. New York: Charles Scribner's & Sons, 1935

"Vachel Lindsay." Poetry Foundation. Accessed September 26, 2017. https://www.poetryfoundation.org/poets/vachel-lindsay.


Additional Information