A.B. Loveman House
Introduction
A contributing property of the Rhodes Park National Historic District, which is listed on the National Register of Historic Places (1977, expanded in 1992), the A.B. Loveman House is an excellent example of Neoclassical architecture. Prominent elements of the home include the large portico with Corinthian columnns and detailed moldings. It was built in 1908 by its namesake, Hungarian immigrant Adolph B. Loveman, the founder of a dry goods store that would eventually become Loveman, Joseph & Loeb, one of the state's major department stores.
Images
The A.B. Loveman House was built in 1908 by Adolph B. Loveman, the founder of the Loveman, Joseph & Loeb department store, commonly known as "Loveman's".
This historical marker stands on the sidewalk in front of the house.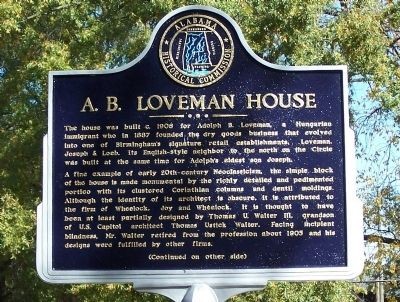 Backstory and Context
A.B. Loveman established his store in 1887 and it would of course grow under his leadership, enabling he and his family to live an upper class lifestyle. There was also a carriage house that was fashioned into a home for a man named A.G. Gaston, a successful African American businessman and prominent figure in the city during the Civil Rights Movement. Loveman knew Gaston because his (Gaston's) mother worked as a cook for the Loveman family. Of the many business ventures Gaston invested in, perhaps the most famous one was the
A.G. Gaston Motel
. There on May 11, 1963, Ku Klux Klan members tried to blow up the hotel to kill Civil Rights leaders Martin Luther King and Ralph Abernathy.
The Loveman family lived in the house until 1973, when a descendant sold it to a religious group. The Salvation Army then bought it and use it as a boarding house for girls. In the early 1980s, an attorney purchased it to be the law offices for himself and his partner. The partner bought it in 2008. Both attorneys renovated and refurbished the house.
Sources
"A.B. Loveman House." The Historical Marker Database. Accessed September 25, 2017. https://www.hmdb.org/marker.asp?marker=83800.

Photo: David J. Gaines, via Historical Marker Database

Additional Information