Cassil Place, 700 - 800 Blocks of West Central Avenue
Introduction
This entry represents two of the last remaining blocks of the private residential district once called Cassil Place. The area was nominated to the National Register of Historic Places in 1986. It was described to be the "residential haven of wealthy citizens of Carthage." The eight residences that remain in the 700 block of West Central serve as prime examples of the various architectural styles of the late 19th and early 20th centuries. Portions of the first Cassil House on Central Avenue (for which the district was named) were moved to 119 Blanche Street when replaced by Hawthorne School (811 West Central, see Clio entry for school; no longer standing). Later that remaining portion of the first Cassil House was moved to Red Oak II east of Carthage where it remains today. Gustavus Cassil was the founder of the Bank of Carthage (see Clio entry for bank, 301 South Main Street). He developed the district as a secluded residential area for wealthy Carthaginians. The approach from town had a beautiful limestone entryway followed by an archway of maple trees. The entryway was moved to Carter Park (see Clio entry for park) by the Workers Progress Administration in the 1930s. Central Avenue is now a four-lane highway (and at one point was a late routing of U.S. Highway 66). The development of the former residential district into a mixed-use neighborhood began after World War II
Images
Digitization on CLIO is part of Powers Museum's "Digital Carthage" project in honor of Carthage's 175th Anniversary Celebration (March 28, 2017 through March 27, 2018).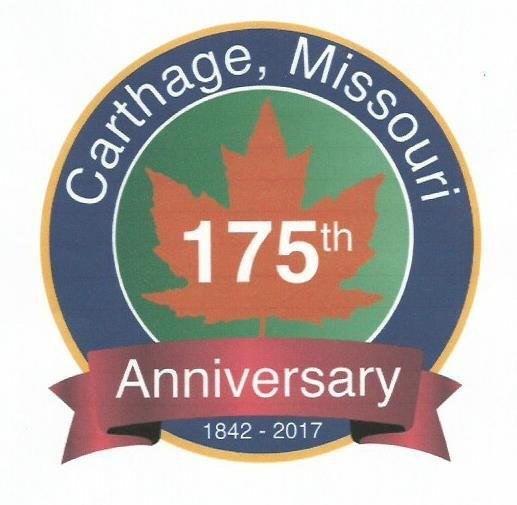 Funding for the Walking in the Wards tour was made possible by a grant from the Missouri Humanities Council and the National Endowment for the Humanities, Spring 2017.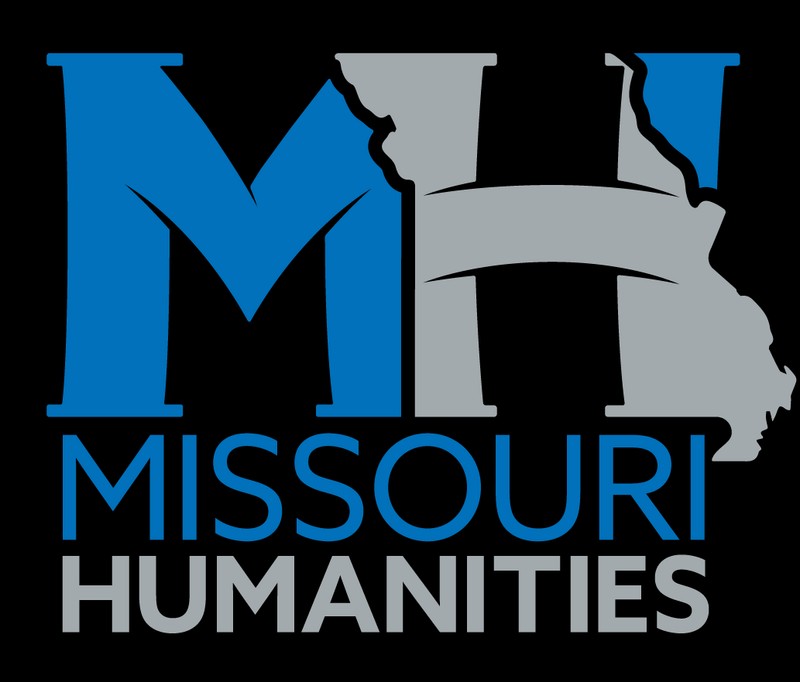 Cassil Place detail, 1891 Carthage print (reproduction) held in Powers Museum collection. Original print was displayed in 2017 exhibit that honored the 175th Anniversary of Carthage, Missouri. This area is now 700 and 800 blocks of West Central Ave.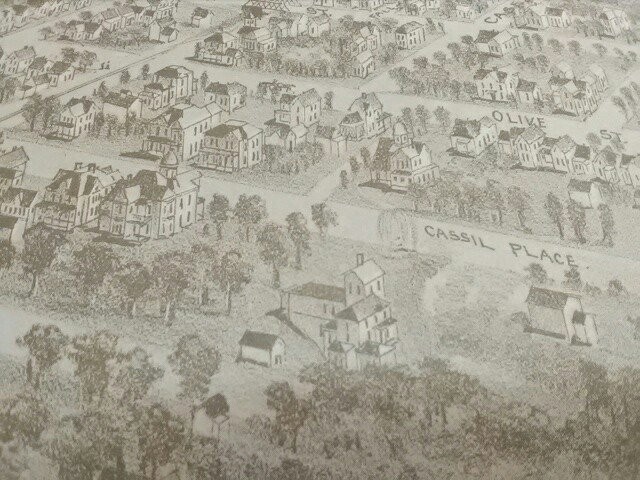 Backstory and Context
The Cassil Place Historic District designation consists of these private residences:
The Macoubrie House on 721 Central built in 1903 an example of the Victorian Eclectic style.
The Herrin Home on 728 Central built in 1890.
The Cassil #2 - Fenimore Home on 729 Central built in 1890 of the Eastlake Style.
The McFadden House on 733 Central built in 1925.
The Meister House on 734 Central built in 1890 of the Victorian Eclectic style home.
The Joe McFadden House on 735 West Central built in 1910.
The A. H. McFadden House on 742 Central built in 1914 as part of the movement toward a more classic and simplistic style.
The O'Keefe House on 734 Central built in 1893 an example of the Queen Anne Style. (This structure has since been moved off its site and transported to the Precious Moments Chapel complex southeast of Carthage.)
The Dennison House on 744 Central Built in 1914 in the Bungalow style featuring Carthage limestone smooth-faced blocks.
Text for the Cassil Place entry was provided by Malorie Menefee, fall 2017.
Sources
Powers Museum Vertical Files: Cassil Place 
Image Sources
1891 Print detail from Powers Museum Collection.

Additional Information