Boots Court, 107 South Garrison Avenue
Introduction
The Boots Court (also known as Boots Motel) was built by Arthur and Ilda Boots in 1939 originally consisting of eight units. In 1942 Mr. & Mrs. Ples Neely purchased the motel and added five more units to the back of the property. It was then owned by Mr. & Mrs. Ruben Asplin in 1948 until 1991 when Mr. & Mrs. John Ferguson became the last owner/operators of the motel. The building was nearly demolished in the early 2000s to make room for building a new drugstore but was saved by public outcry. Boots Court is now owned by Debye Harvey and Priscilla Bledsaw who purchased the property and saw to the restoration of the building back to operating condition.
Images
Brochure for Boots Motel produced by the Fergusons in the 1990s. Features c.1940 image of motel. Displayed during 2017's exhibit "175th Anniversary of Carthage" at Powers Museum.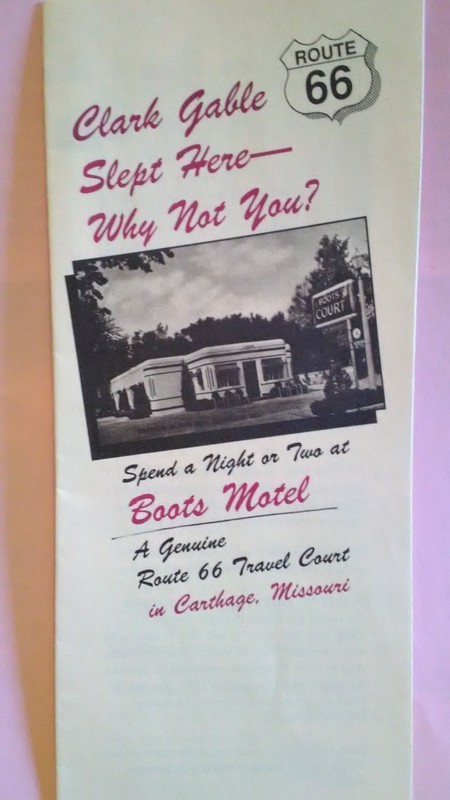 Sanborn Map detail of Boots Court showing configuration of rooms (D) and covered auto parking (A).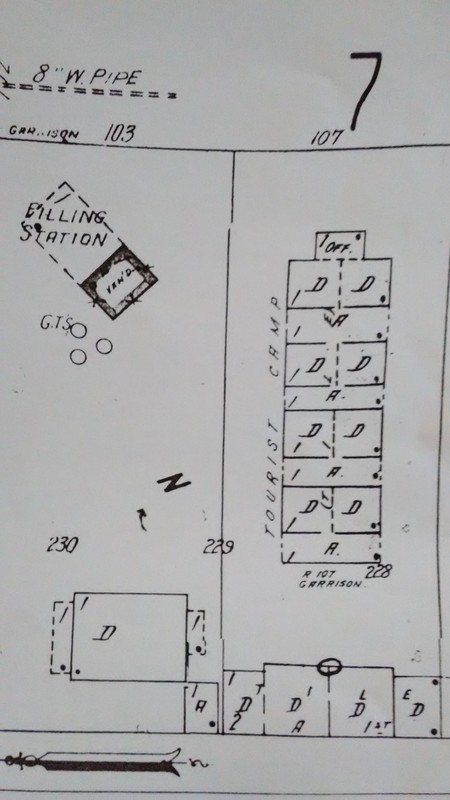 Digitization on CLIO is part of Powers Museum's "Digital Carthage" project in honor of Carthage's 175th Anniversary Celebration (March 28, 2017 through March 27, 2018).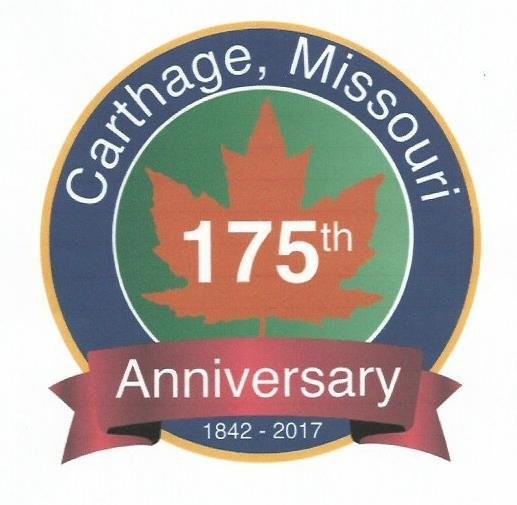 Funding for the Walking in the Wards tour was made possible by a grant from the Missouri Humanities Council and the National Endowment for the Humanities, Spring 2017.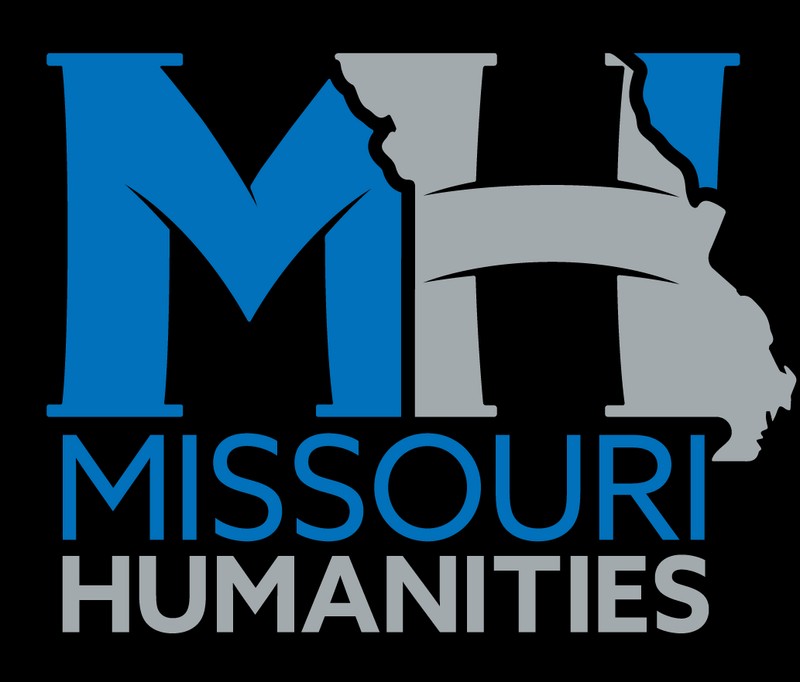 Backstory and Context
Boots Court is of Art Deco design from the 1930s and early 1940s featuring streamlined curves and Black speed lines on its facade accented by green neon lights. The property has carports for almost all units and once had gas pumps located near the front office (foundation for pumps still visible). The motel boasted in its heyday of having "A radio in every room" as well as having tile showers, floor furnaces, thermostat control and air conditioning making it a thoroughly modern building. The original sign with the radio boast, still hangs out front. Boots Court is one of the best known and most photographed lodging establishments on Route 66.
Sources
"Going to Bat for The Boots. "Show Me Route 66 Magazine, volume 21, number 4, no year given, pages 12-13.
The Boots Motel: A Tangible Link to the Past.  Publisher location unknown: Friends of the Mother Road, 2003.
Image Sources
Brochure in Boots Motel Vertical File at Powers Museum.

Sanborn map in Boots Motel Vertical File at Powers Museum.

Additional Information