Black Hawk Hotel
Introduction
A hotel has occupied this location in Cedar Falls from the construction of the Winslow House in 1853. That hotel was destroyed in a fire in the late 1870s and replaced by the current structure a few years later. The building was completely redesigned in 1914 by Waterloo architect John Ralston. Following the redesign, which combines aspects of the Second Empire and Mission style of architecture, the hotel re-opened as the Black Hawk. The hotel maintains its historic feel with a lobby that looks much as it might have appeared in the early 1900s along with redesigned rooms that blend modern amenities with a historic feel.
Images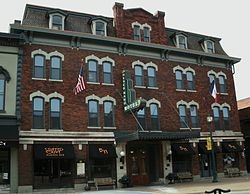 Backstory and Context
A wood frame stagecoach hotel was built at this location1853 and operated as the Winslow House until 1858, when an additional floor was added and the hotel was known as "the Western." In the 1860s, the hotel was renamed the Carter House. In the late 1870s the present Second Empire building was built and named the Davis House. The ownership of the hotel transferred to the Burr family in 1885 and it was renamed Burr's Hotel. Architect John Ralston, from Waterloo, was hired by a group of investors in 1914 to redesign the hotel building. It was at this time that the hotel was named the Black Hawk Hotel.

The end result was the interesting combination of Second Empire and Mission architecture that is evident in the hotel lobby and exterior. The Blackhawk is listed on the National Register of Historic Places and was recently awarded the 2003 Redevelopment Investor Award presented by the City of Cedar Falls and the Chamber of Commerce.

Sources
The Black Hawk Hotel. http://theBlackhawkhotel.com/Black-hawk-hotel. Accessed September 24, 2017. http://theBlackhawkhotel.com/our-history.


Additional Information