Robert Harper House
Introduction
Built between 1775 and 1782, the Robert Harper House is the oldest surviving structure in the Lower Town of Harpers Ferry. It bears the name of Robert Harper, who established the town of Harpers Ferry and died before the house was completed. After Harper's death in 1782, the property was divided between his niece, Sarah Harper Wager, and his wife's relative, Robert Griffith. In 1832, a wedding took place at the house between Sarah's daughter, Sarah Ann, and Noah H. Swayne, who would later be one of Abraham Lincoln's Supreme Court Justices. The house remained it the Swayne family for generations. Today, the Robert Harper House is now part of Harpers Ferry National Historical Park and Harpers Ferry Historical District.
Images
The Harper House in the mid-twentieth century. A porch was added sometime after this.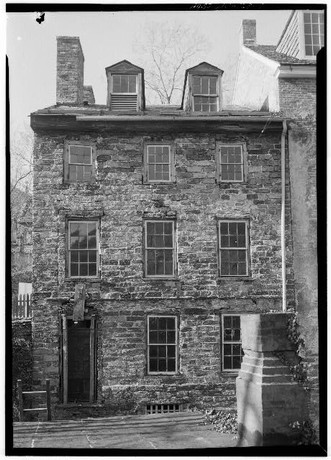 A measured drawing of the Harper House from the Historic American Buildings Survey.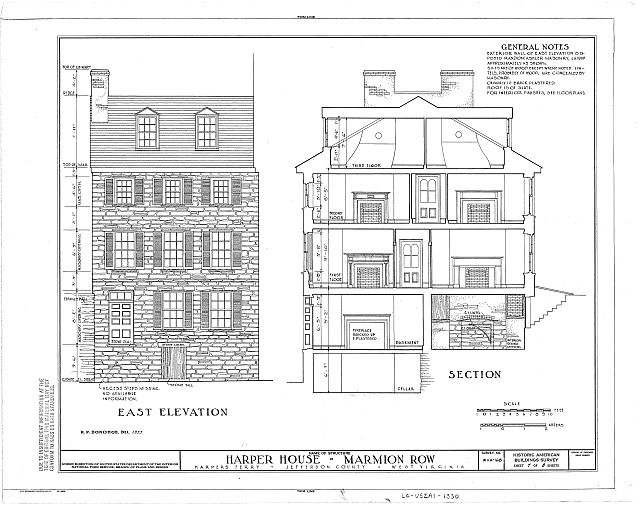 Historic Black and white photo of the Robert Harper House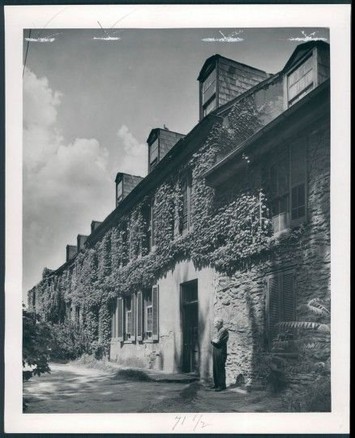 Historic postcard from Harpers Ferry displaying the Robert Harper House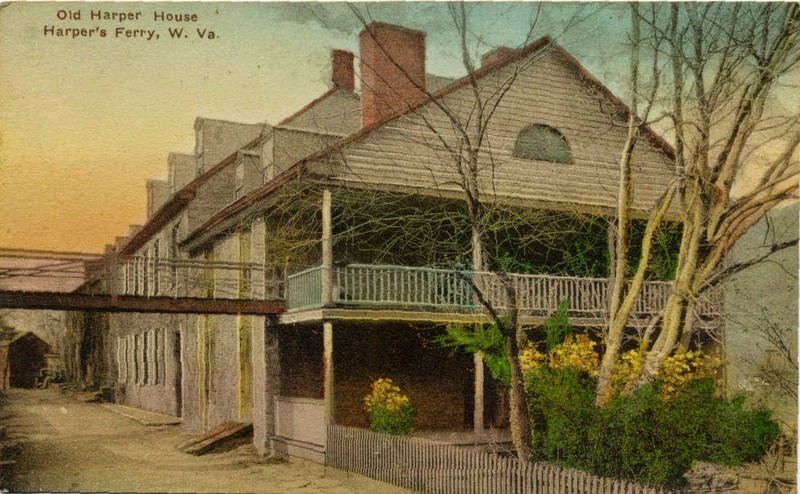 Backstory and Context
As the oldest structure in Harpers Ferry, the Harper House is a touchstone to the town's earliest history. In what was then western Virginia, the Potomac and Shenandoah Rivers were significant highways for transporting people and goods within the colonies. The confluence of these rivers, known as "the Point," was a strategic place for settlement, transportation, and industry. In 1733, Peter Stephens established a ferry across the Potomac to connect Virginia and Maryland. In 1751, Robert Harper, a millwright and builder from Philadelphia, was traveling through a gap in the Maryland mountains, known as "the Hole," to construct a Quaker meeting house in the Shenandoah Valley. When he came upon the confluence of the Potomac and Shenandoah Rivers, he recognized its potential. He purchased Stephens's property, including his log cabin and ferry business, and sought additional patents from Lord Thomas Fairfax that gave him access to land on both sides of the Potomac River, totaling 125 acres. In 1763, the state of Virginia designated the town of "Shenandoah Falls at Mr. Harper's Ferry."1
In 1775, Harper began building a stone structure to serve as his home and tavern on a hilltop overlooking the Lower Town. Harper operated a successful ferry business on the Potomac and a sawmill on the Shenandoah. These early industries laid the foundation for larger operations in the nineteenth century, including factories, a
federal armory
, a
railroad
, a canal system, and a number of mills on
Virginius Island
. After Harper's death in 1782, the property was divided between his niece, Sarah Harper Wager, and his wife's relative, Robert Griffith. In 1832, a wedding took place at the house between Sarah's daughter, Sarah Ann, and
Noah H. Swayne, who would later be one of Abraham Lincoln's Supreme Court Justices. The house remained it the Swayne family for generations.2

Harpers Ferry prospered until the Civil War, which devastated the local economy and dispersed its population. Yet events of the Civil War, particularly John Brown's raid, solidified the town's historical significance. Harpers Ferry rebuilt itself as a tourist destination with convenient connections on the B&O Railroad and C&O Canal.3
By the twentieth century, Harpers Ferry had been flooded numerous times and fell into disrepair. Harpers Ferry National Historical Park was established in 1944. When conducting inventory of local monuments, the National Park Service marked the Harper House as "1A," acknowledging it as the "first" structure in the park. The Harper House was also the Park's first major restoration effort, done in coordination with the Shenandoah-Potomac Garden Club. Women's clubs, motivated by postwar patriotism, advocated for the restoration of places important to America's past. Both the National Park Service and the Garden Club recognized the Harper House's dire physical conditions. Their collaboration is an example of federal and local organizations working together to save historic places. The Harper House, restored to the 1850s appearance, opened to the public in 1965 and was a stop on the Garden Club's Historic House and Garden Tour. A living history program was added in the 1970s. Today, the Harper House remains a destination for visitors to Harpers Ferry.4
Sources
1. National Park Service, "Robert Harper," Harpers Ferry National Historical Park; National Park Service, "Harpers Ferry Historic District," National Register of Historic Places; Moyer and Shackel, The Making of Harpers Ferry National Historical Park, 1-2; Nasby, Harpers Ferry, 47.
2. Moyer and Shackel, The Making of Harpers Ferry National Historical Park, 1-10.
3. Moyer and Shackel, The Making of Harpers Ferry National Historical Park, 17-18.
4. Moyer and Shackel, The Making of Harpers Ferry National Historical Park, 71-83; Nasby, Harpers Ferry, 48.

Moyer, Teresa S. and Paul A. Shackel. The Making of Harpers Ferry National Historical Park: A Devil, Two Rivers, and a Dream. Roman Altamira Press, 2008.

Nasby, Dolly. Harpers Ferry: Then and Now. Arcadia Publishing, 2007.

National Park Service. "Harpers Ferry Historic District." National Register of Historic Places Inventory-Nomination Form. Prepared by Harpers Ferry Planning Commission. Washington, D.C.: National Park Service, Department of the Interior, 1979. http://www.wvculture.org/shpo/nr/pdf/jefferson/79002584.pdf

National Park Service. "Robert Harper." Harpers Ferry National Historical Park. Accessed September 2017. https://www.nps.gov/hafe/learn/historyculture/robert-harper.htm
Additional Information