Rocky Hill Castle
Introduction
Rocky Hill Castle was a historic plantation house in Courtland, Alabama. The historic house began construction in 1858 and finished in 1861. The plantation was founded by James Edmund Saunders who was an attorney and planter in the mid-1820s. The house served as an Confederate Hospital during the American Civil War. In the 1920s there was a major decline of upkeep and the house was finally demolished in 1961.
Images
Last photo of the house taken in 1935 as part of the Historic American Buildings Survey.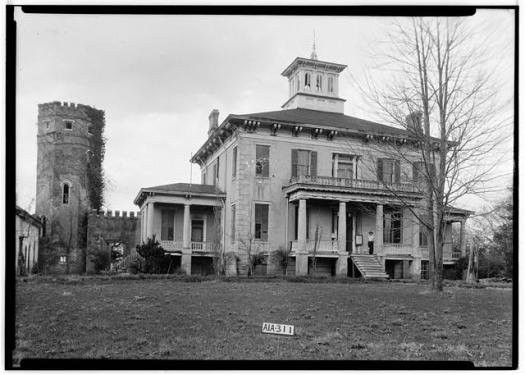 The front parlor and the spiral staircases that were common in plantation houses in the south.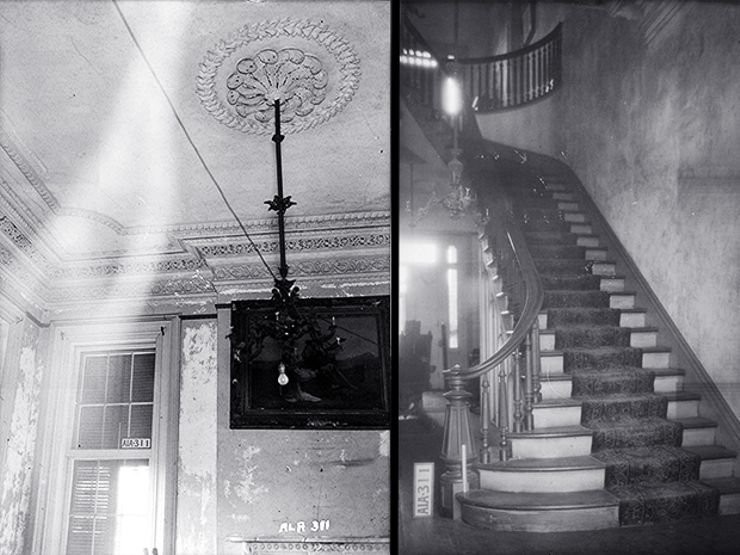 The entrance to the dining room was taken by Alex Bush in 1935 as part of the Historic American Buildings Survey.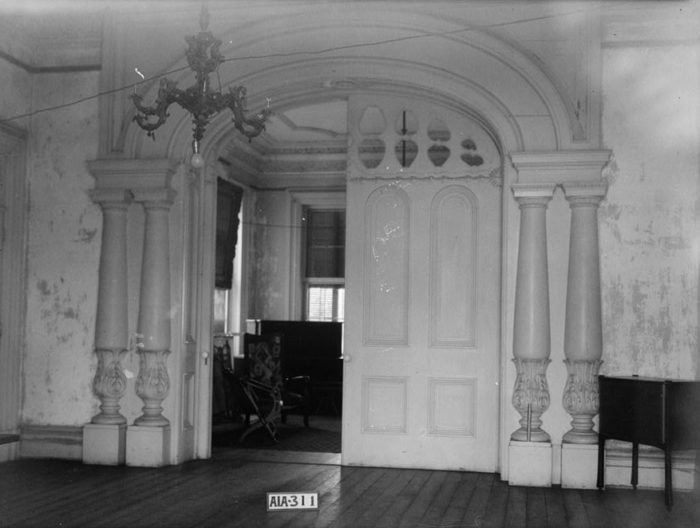 The Gothic Revival Tower where James Edmund Saunders kept a eye on the slaves in the field.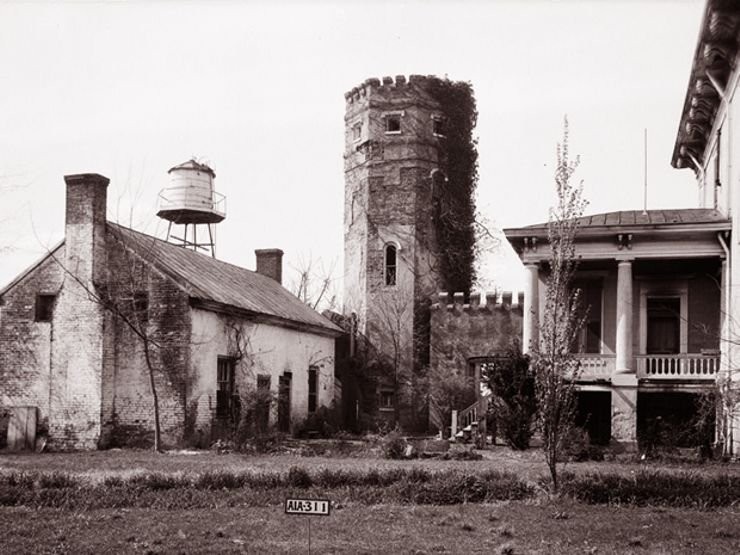 Backstory and Context
Rocky Hill Castle was founded by Col. James Edmonds Saunders and his wife in Courtland, Al in 1820. Saunders was a lawyer and planter who wanted a large grand house. Mr. Saunders hired a French architect in 1958 after he demolished his first house. There were many claims that Mr. Saunder's could not afford the architects bill and refused to pay. The French architect later died and rumors spread that he came back to haunt the house chipping away at the foundation in the cellar.

The plantation house had one of the most interesting architectural designs of its time. The architect used a combination of Greek Revival and Italianate designs for the plantation house. The house had a large Gothic Revival tower in the back used to supposedly keep an eye on the slaves out in the vast field. It was also said the tower was used as slave quarters. The house served as a hospital during the Civil War and several fallen soldiers were buried at the family cemetery.

After James Saunder's death, Rocky Hill Castle was passed down to his grandson, Dr. Dudley Saunders. According to the locals, the house was abandoned in the 1920s due to unexplained ghostly activity that happened daily. Once Dr. Dudley's family left the plantation, the property fell into disrepair. The house had another purchaser, H.D. Bynum, in the 1920s but they did not reside in the house. H.D. Bynum used the property for its farmland, and it was finally demolished in 1961.


Sources
Grey, Orrin. "A Ghost in the Room: The Haunted History of Rocky Hill Castle."
The Line Up
, 25 Mar. 2016, the-line-up.com/rocky-hill-castle. Accessed 30 Sept. 2017.


"The Story Behind This Haunted Castle In Alabama Will Chill You To The Bone."
OnlyInYourState
, www.onlyinyourstate.com/alabama/story-haunted-castle-al/. Accessed 30 Sept. 2017.
Additional Information