Morgantown High School
Introduction
Morgantown High School, also styled as "MHS", is a renowned public school in Morgantown, West Virginia that holds many memories for alumni near and far. Situated in the South Park Historic District, this large school complex continues to be a cornerstone of educational history in Monongalia County since 1927. Many notable alumni such as Don Knotts and Emily Calandrelli are former Mohigans.
Images
An exterior perspective of the building's main entrance featuring a view of the original structure in the current day.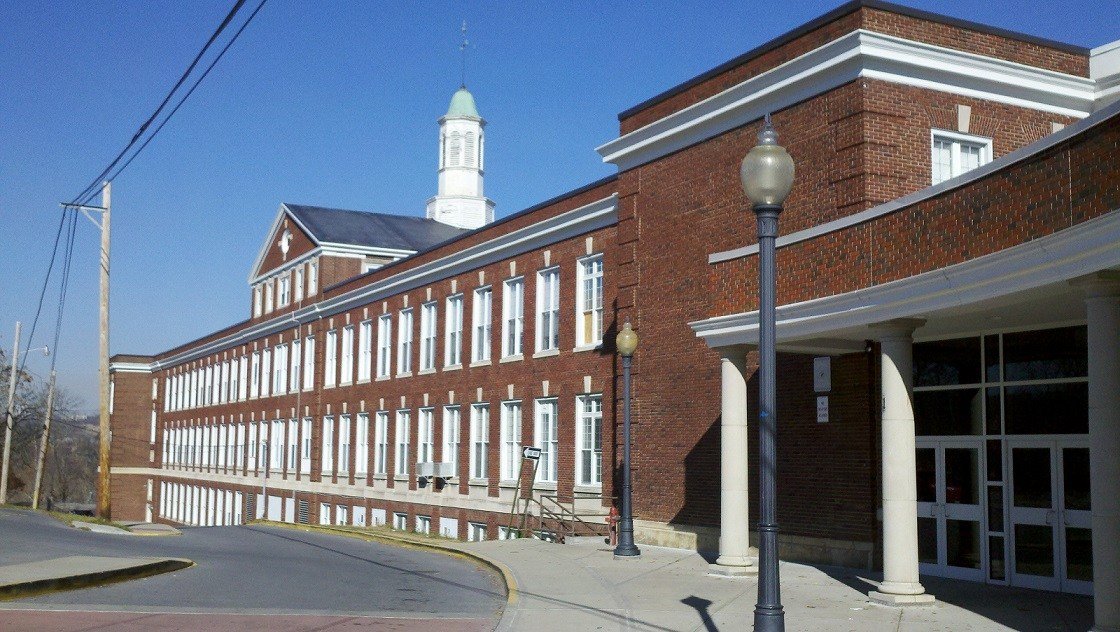 An interior perspective of the school's Pony Lewis Field and original structure.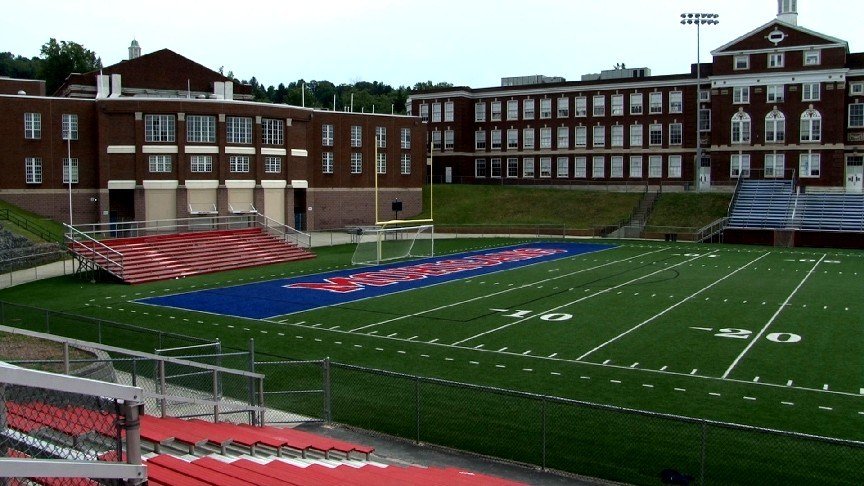 Reading the script for an upcoming Morgantown High School play in 1941 is Don Knotts as a junior, pictured in the lower left-hand picture. Courtesy of West Virginia and Regional History Center.
'Excavation for Morgantown High School-18 feet deep. (Wall Street is shown here).' ca. 1940. Courtesy of West Virginia and Regional History Center.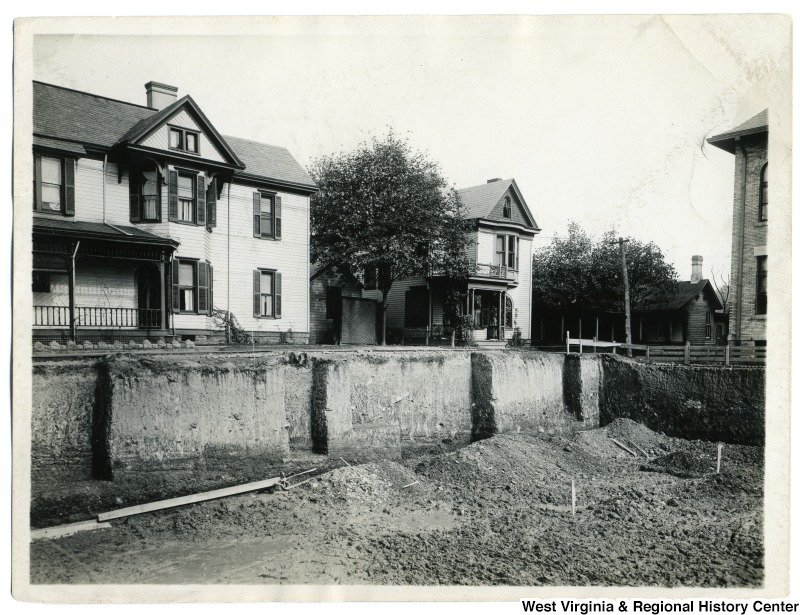 Group seated on the stage of the Morgantown High School auditorium before an audience. Date unknown. Courtesy of the West Virginia and Regional History Center.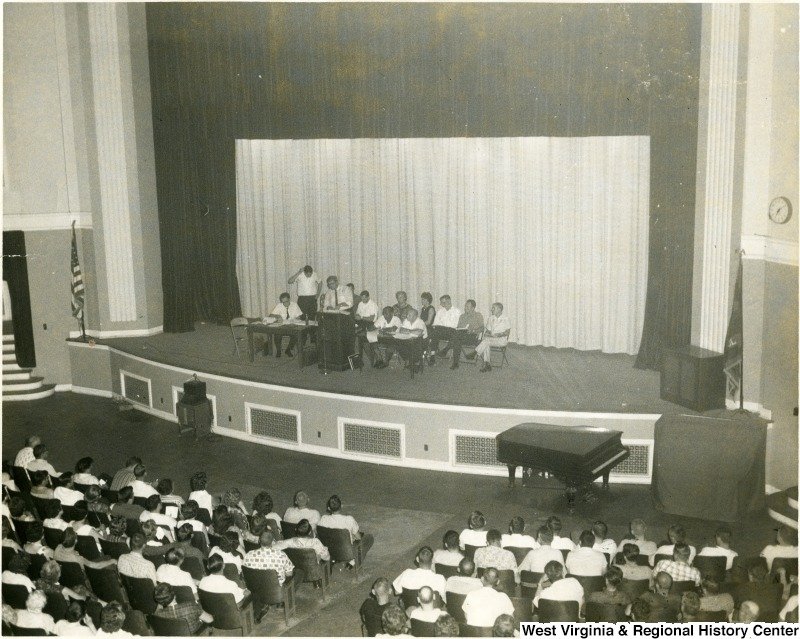 Photograph featuring the first constructed building of the complex. This front facade is currently the indoors and integrated into the main lobby. ca. 1940. Courtesy of the West Virginia Regional History Center.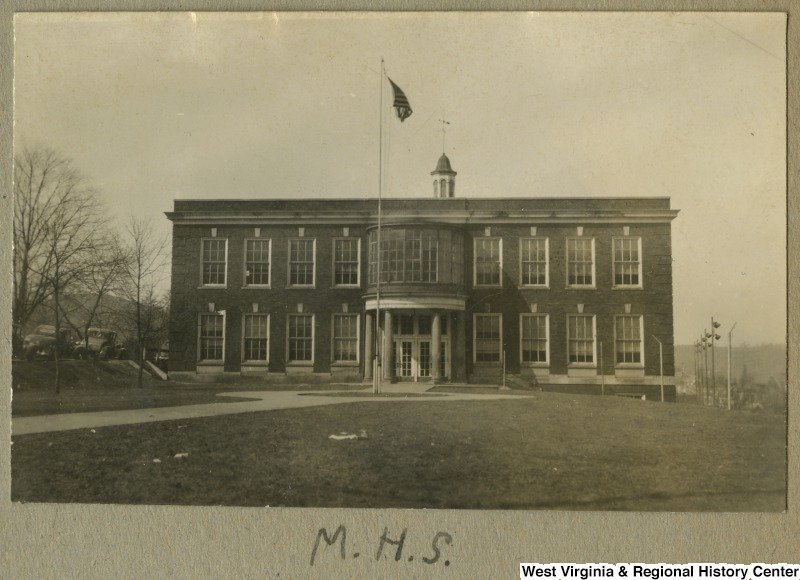 View of the interior facade of "shop" building featuring the tall smokestack. Date unknown. Courtesy of West Virginia and Regional History Center.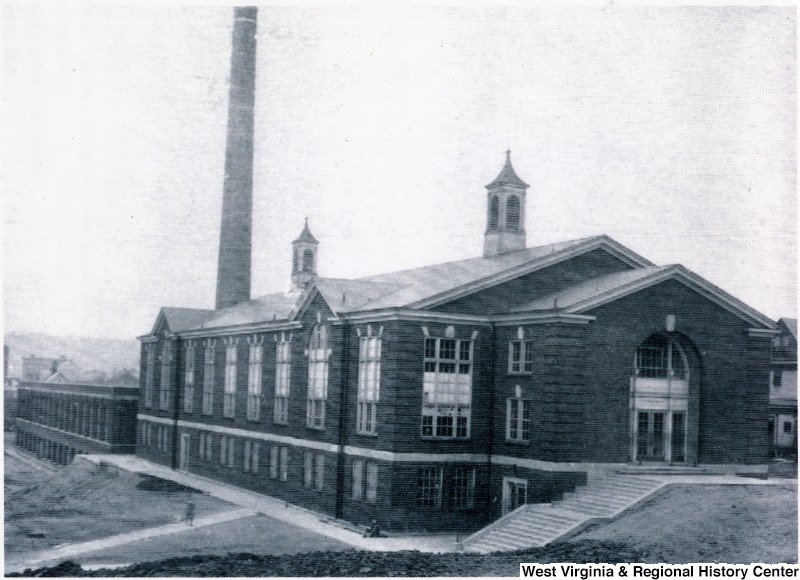 Backstory and Context
Morgantown High School was not always housed at its current famous location nor discerned by its recognizable name. It formerly resided in the building originally intended for the Monongalia Academy and was called the Morgantown Graded School. A two-story frame structure with a colonial style featuring two porticoes was attractive for a schoolhouse so it was purchased by the Commissioners of Morgantown Independent district in 1868 for $13,500. Later in 1882, high school level courses were added and held in the auditorium, thus beginning the institution's high school history. On January 11, 1897, this building burned down and the Board of Education decisively rented rooms in various venues around downtown Morgantown to house classrooms until a new building could be attained. After several years of building hopping around town, the Board was able to obtain money, land, and plans in order to construct a brand new building.1
By 1926, the institution began to transition into its current South Park site. The original buildings of MHS were constructed by C.D Keyser & Co. Builders of Bellaire, OH and designed by architect E.B Lee hailing from Pittsburgh, PA. Lee envisioned this school with the unique design of a capital "U" shape in a set of four buildings and the football field within. The administration building was "334 feet long, 88 feet wide and 3 stories high, except in the center where there is an extension making the fourth story."
The gymnasium was "166 feet long with an extension lobby 18 feet by 72 feet 3 inches wide. This building is an imposing structure of two stories and basement. It is built of brick, reinforced concrete, and steel." The style was modern colonial to emulate an impressive schoolhouse. It was believed to be one of the best physical education buildings in this section of the country at the time. Another building was designated as the shops and cafeteria building. It is a two-story structure 212 feet long by 72 feet wide. Funds were not initially sufficient to equip this building at the beginning. Funding was a general issue that even prevented the auditorium from even being built until 1980.2
Morgantown High School began to pull in high enrollment rates once the new buildings were completed. By 1933-34 there were 1,442 students attending classes. During these years MHS charged tuition fees that which exhibit the increasing demands of education and the cost of living in Morgantown. The first fee was set at 50 cents/month but through multiple changes each year it eventually became $15.00/month by 1930-33. But the very next year in 1934 the county unit was created and the tuition fees were abolished.2 Then by 1956-57 MHS employed a total of 29 teachers which was the highest amount in the county at the time.3
To people unfamiliar with the MHS mascot, the name "Mohigan" may look like a typo, but in fact, it is an original word! It was derived from the first letters of the first school newspaper called the Morgantown High Annual. Since the word sounds like the Native American tribe, the Mohicans, the mascot was inspired by such.4
More Education Statistics regarding MHS
According to 1943 statistics, West Virginia claimed the lead on a national survey of the population of children 5-7 years old. Yet, the state was unfortunately ranked 36th in expenditures per pupil. This situation caused an intense need for schools across the state to educate this abundance of children. 
Data collected during the Biennial Period (ending in June of 30, 1944) demonstrates that there were noticeable effects of World War I on the school system due to a 50% increase in trade and industrial class enrollment rates. Due to this interest and vigor, nine new Day Trade schools were added throughout the state, MHS being one of those. 
By 1946, Monongalia County ranked fourteenth in average college training years of teachers and principals with 3.37 years.5
Modern Additions
Morgantown High School has expanded from its original design plan significantly. In The History of Morgantown High School, it anticipates the school of the future will need a larger campus for its activities and its service as a community center. In many ways, this goal has been achieved. The school has repurposed various sections of the buildings such as the band rooms, art wing, and science wing but also have constructed new edifices such as an athletic house and press box supporting local athletics.
Notable Alumni and Organizations
Don Knotts
American Actor
In the early 1940s, young Jesse Donald "Don" Knotts attended MHS and began his acting career in school theater productions. Most famously known for his role as Barney Fife in the Andy Griffth show in which he won 5 Emmy awards, he is boasted as one of the prized school alumni.6 Learn more about him here.
Emily Calandrelli
Current Science TV host on Xploration Station and Bill Nye Saves the World
Emily Calandrelli grew up in Morgantown, West Virginia and attended Morgantown High School then moved to West Virginia University. There she became a Truman Scholar, was named to the USA Today all-academic team, won the Barry M. Goldwater Scholarship, and was voted Ms. Mountaineer. 7
The Red and Blue Marching Band
The MHS marching band is nationally recognized as one of the country's premier high school marching bands. Its inception in 1927 by Charles Stump created a legacy that continued to grow due to its enthusiasm and hard work put in by students and teachers alike. When the band was first created, there were 53 members while now they boast an impressive enrollment of nearly 300 members.8 The band participated in the Macy's Thanksgiving Day Parade in NYC, the 2013 Tournament of Roses Parade in Pasadena, CA., the 2014 National Cherry Blossom Festival Parade in Washington, D.C., and most recently in December 2016 represented West Virginia in the 75th Anniversary Commemoration Parade of Pearl Harbor in Honolulu, Hawaii.9
Sources
1. History of Morgantown High School, 1882-1935.
2. The High School. West Virginia Regional History Center Printed Ephemera. Accessed November 15, 2017. https://printedephemera.lib.wvu.edu/imageviewer/wvulibraries:55926/digitalImage/pdf.
3. Our Schools. Vol. 1-3. Charleston, WV. 1947.
4. The Mohigan. Internet Archive Wayback Machine. Accessed November 17, 2017. https://web.archive.org/web/20061013181048/http://boe.mono.k12.wv.us/mhs/academics/mascot.html.
5. Our Schools. Vol. 1-3. Charleston, WV. 1947. 
6. Don Knotts. IMDB. Accessed November 30, 2017. http://www.imdb.com/name/nm0461455/.
7. The Space Gal. Accessed December 05, 2017. http://www.thespacegal.com/.
8. History of Morgantown High School, 1882-1935. 
9. Mohigan Band. Accessed December 05, 2017. http://www.mohiganband.com/about.
Additional Information