Deutsch Clothing Co. and Whitsett Clothing Co. (former), 141 East Third Street
Introduction
Another example of older commercial buildings built in the 19th century being updated in the 20th century with a new "modern" facade treatment. Two 1880s commercial storefronts were united with a new brick facade after a fire in late 1917. The left store was the long-time home to A. B. Deutsch's Clothing Company and the right store was an even older establishment belonging to J. M. Whitsett's Dry Goods Company. Both Deutsch and Whitsett served the public into the 1920s. In 1922 Whitsett claimed to have "shipped the first car load of merchandise ever sent west of Springfield on the new [rail]road." (1) The goods were "bought from Samuel C. Davis, the oldest wholesale dry goods merchant in St. Louis. Carthage was a small town then, but a prosperous and growing one." (2) This was in 1870. His store at the time was at this location but in a frame building. This structure is within the National Register of Historic Places Carthage Courthouse Square Historic District (see link below).
Images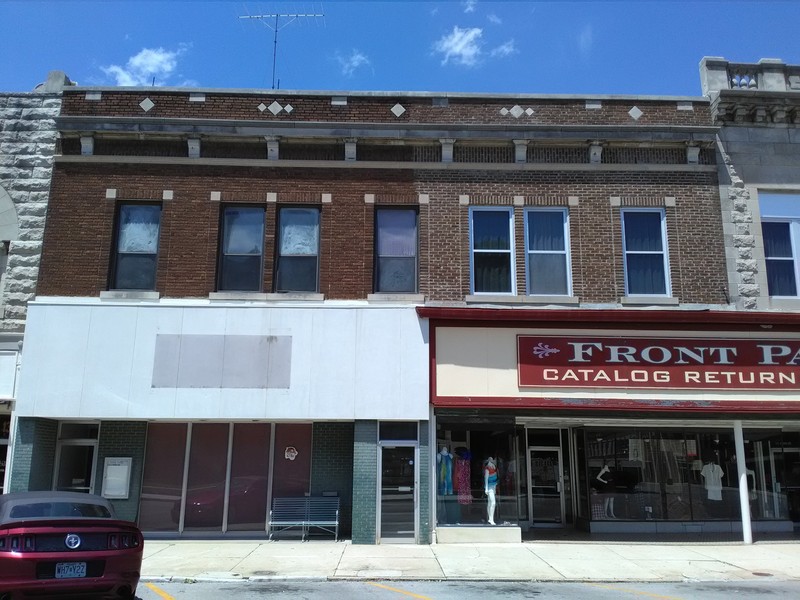 Deutsch and Whitsett stores to left of Central National Bank Building (building at right edge of view) c 1910-12, before being remodeled.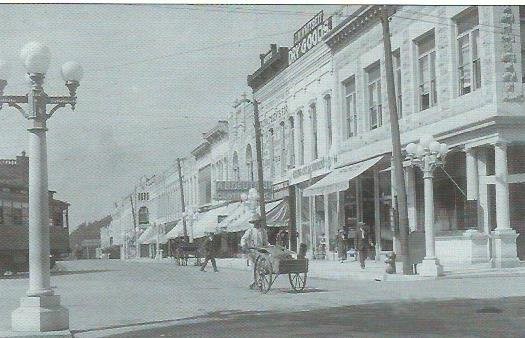 Deutsch Clothing Company ad from Carthage High School yearbook. Former Powers Museum exhibit mount.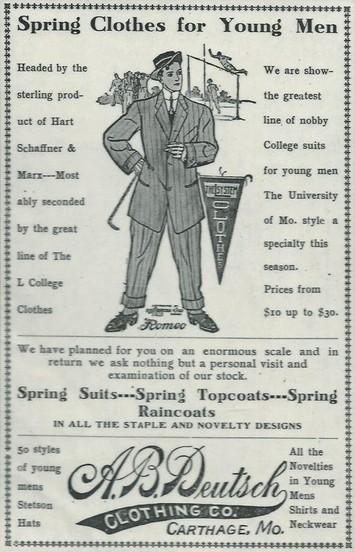 J M Whitsett's Dry Goods ad from 1888 Carthage City Directory. Former Powers Museum exhibit mount.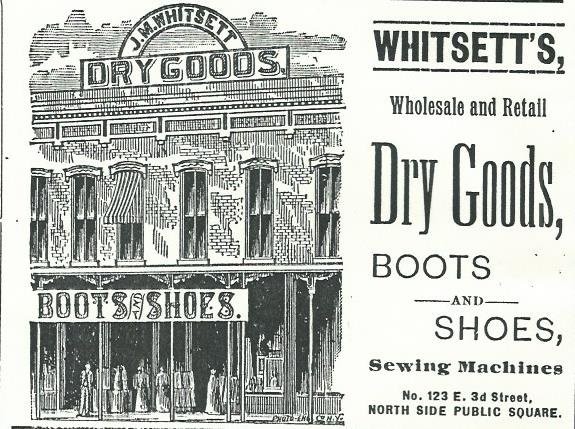 Interior lining of Stetson hat sold by A B Deutsch Clothing Company displayed during 175th Anniversary of Carthage exhibit at Powers Museum in 2017. It was worn by Dr. Everett Powers.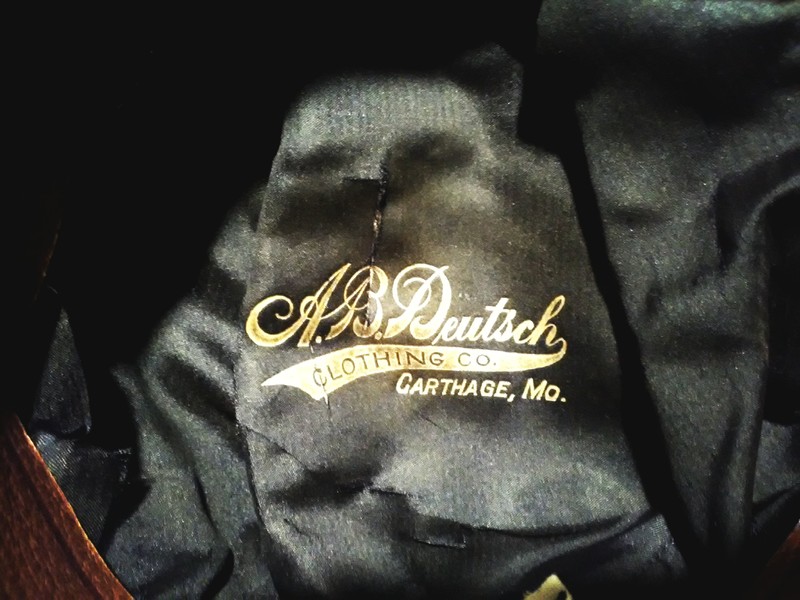 Another image of the hat sold by the Deutsch store and formerly owned by Dr. Powers.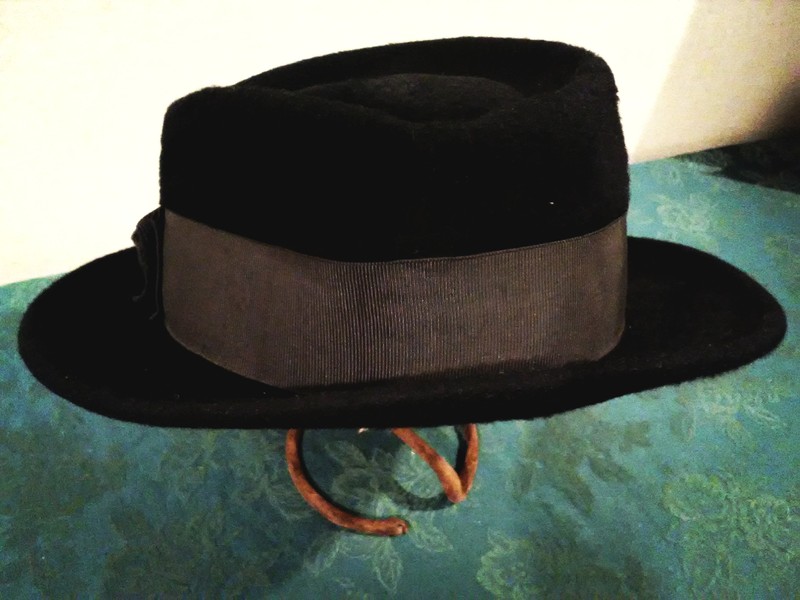 Digitization on CLIO is part of Powers Museum's "Digital Carthage" project in honor of Carthage's 175th Anniversary Celebration (March 28, 2017 through March 27, 2018).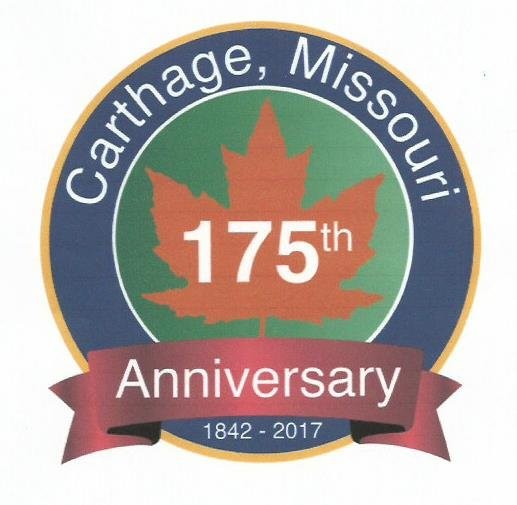 Funding for the Walking in the Wards tour was made possible by a grant from the Missouri Humanities Council and the National Endowment for the Humanities, Spring 2017.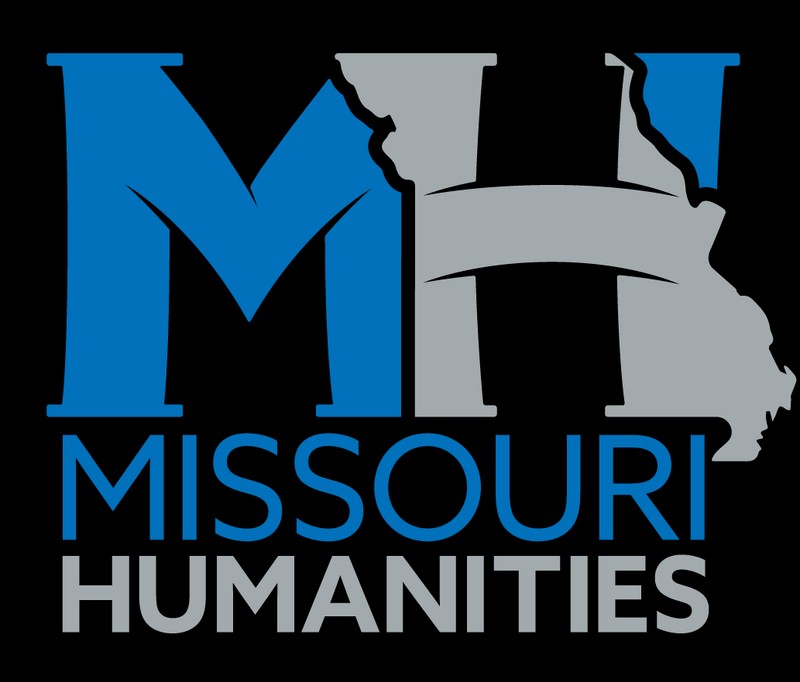 Backstory and Context
By the late 1920s, more remodeling was done to this structure to create a totally new storefront for the J. C. Penney store from part of this building and part of the building next door in the Central National Bank structure. This store served the community for many decades. The Front Page store featured in the Google view closed in late 2018. The property currently is being developed into offices, an event center and a fitness center associated with the Fair Acres Y.M.C.A. (see Clio entry for same on south side of town).
In 1975 a Carthage limestone marker was added outside the J. C. Penney store in the concrete sidewalk that acknowledges former local resident James Scott, ragtime composer (see Clio entry for former Central National Bank building located next to this property, 149 East Third Street).
Sources
"A Handsome New Store." Carthage Evening Press, July 18, 1918, no page.
"Just Four Men Still Live in Carthage Who Had Stores Here When Press Was Started." Carthage Evening Press, March 25, 1922, page 7. (1 & 2)
Powers Museum Vertical Files: Whitsett's Store, J.C. Penney Store, Deutsch Store.
Image Sources
2017 Photograph by Michele Hansford

Real Photo Postcard of buildings in Powers Museum Collection.

Deutsch advertisement former Powers Museum exhibit illustration.

Whitsett advertisement former Powers Musuem exhibit illustration.

Hat in collection of Powers Museum.

Hat in collection of Powers Musuem.

Additional Information