Dorsey's Knob
Introduction
Dorsey's Knob is one of the highest points in the Morgantown area and has featured prominently in local history. A known site to native peoples, the area around Dorsey's Knob has been inhabited for almost twenty millennia. In the 1700s, Dorsey's Knob was a strategically important defensive site. Additionally, various owners of the property encompassing Dorsey's Knob have all been important individuals to the development and fabric of Morgantown. These days, Dorsey's Knob is a park maintained by the Board of Park and Recreation Commissioners (BOPARC). It attracts visitors and tourists and features lodging, disc golf, nature trails, and miles of uninterrupted views of the surrounding area.
Images
Native American burials being unearthed, taken May 26, 1935.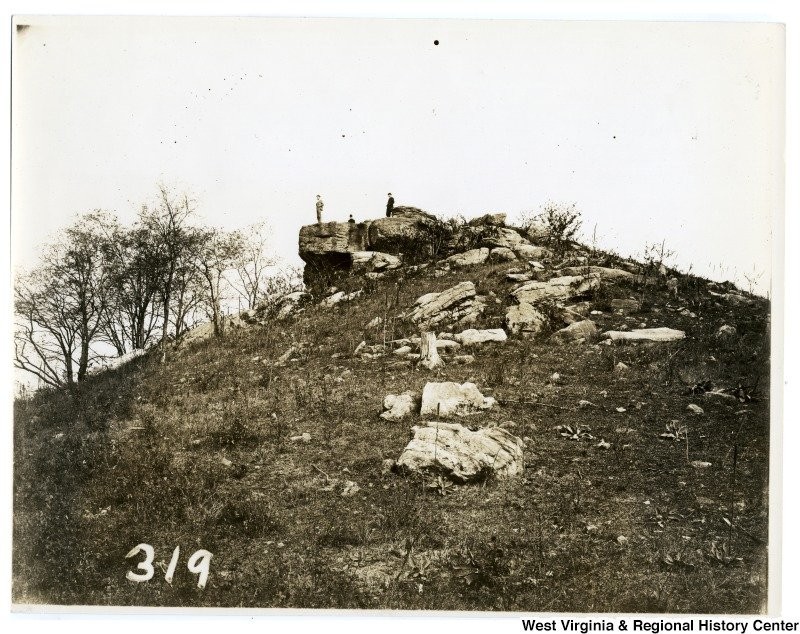 Undated photo of Dorsey's Knob, viewed from a frozen Monongahela River.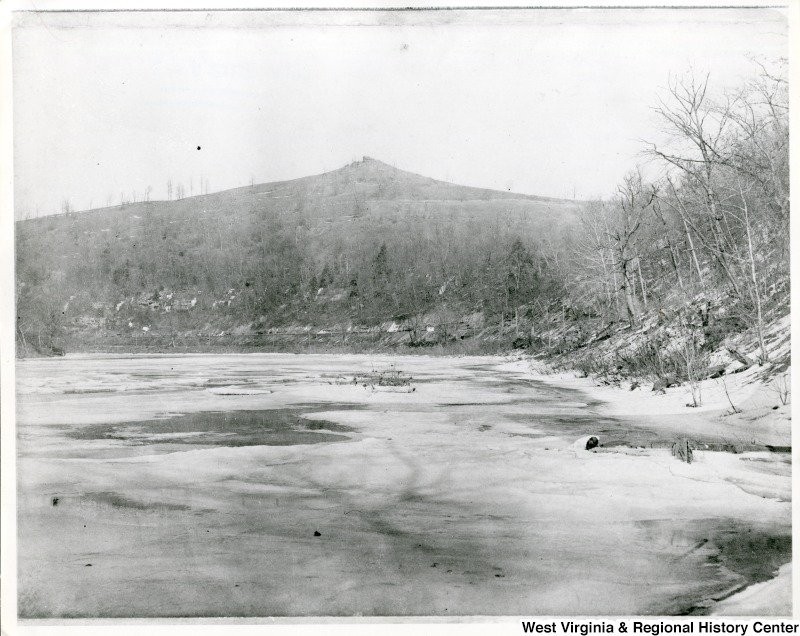 An old photo of Sky Rock, at the summit of Dorsey's Knob.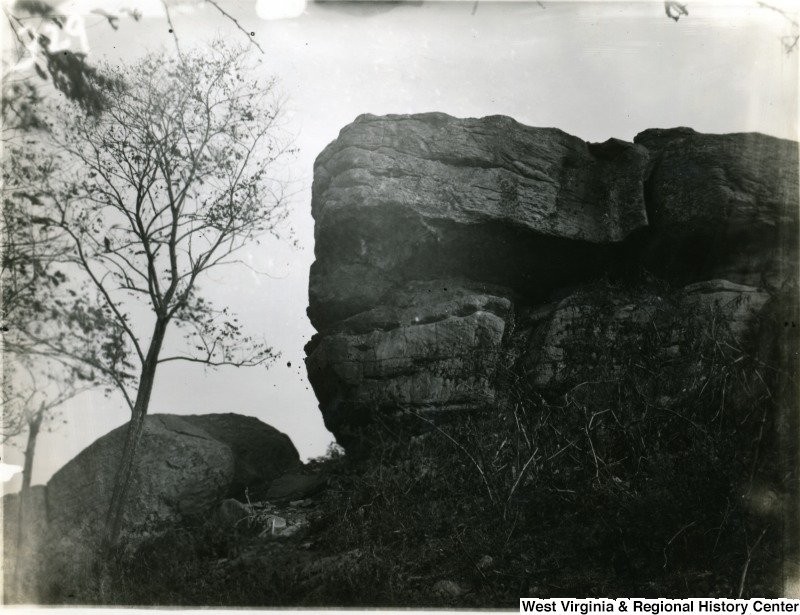 Pictured here is the summit of Dorsey's Knob and Sky Rock, ca. 1890-1910.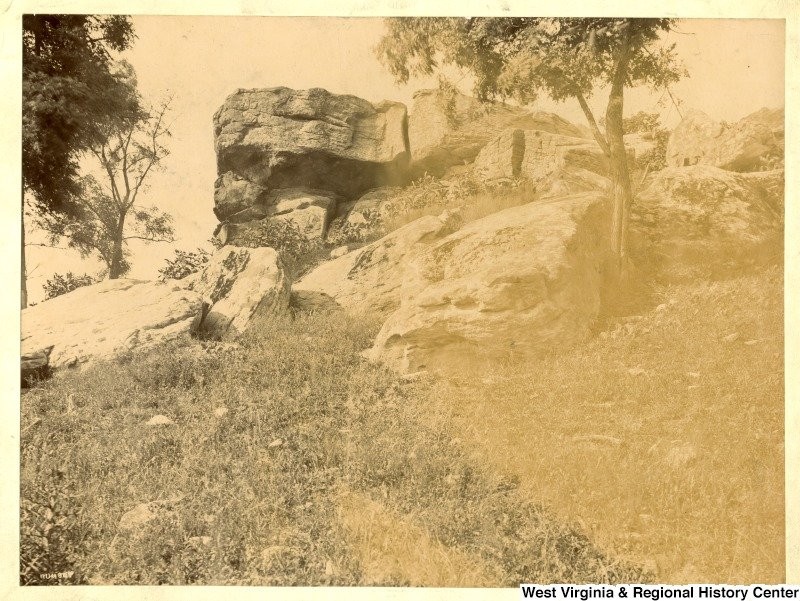 An undated photo showing two women and a man beside Sky Rock.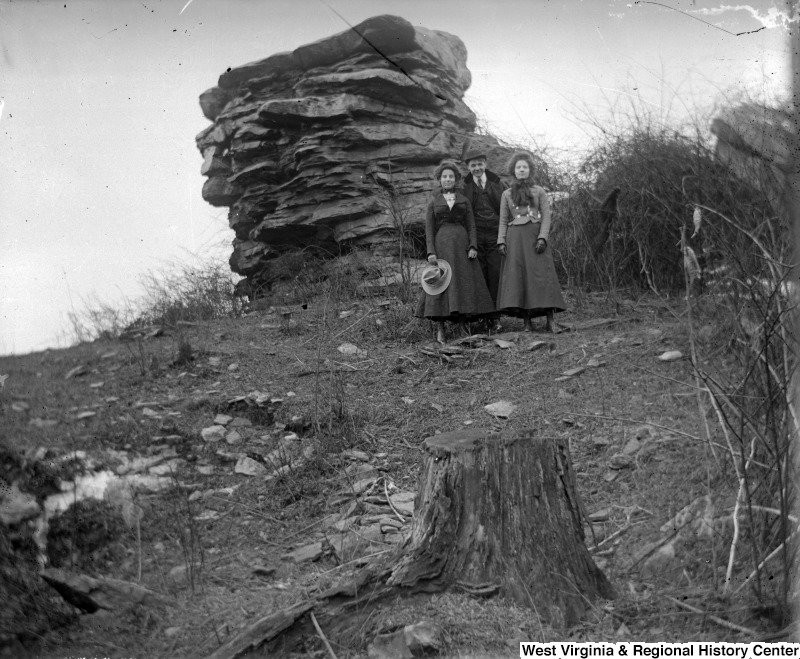 On top of Sky Rock, miles of the Morgantown area are visible. Photo taken November 11, 2017.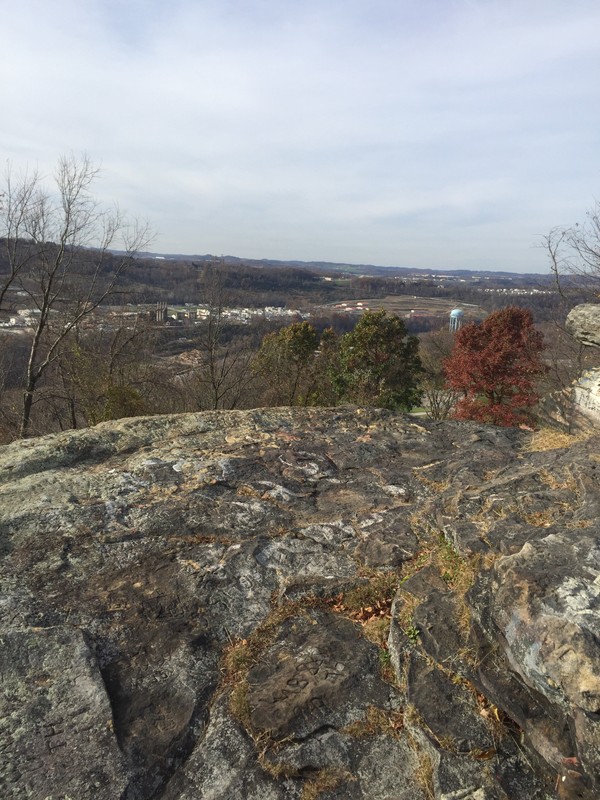 View from Sky Rock. Photo taken November 11, 2017.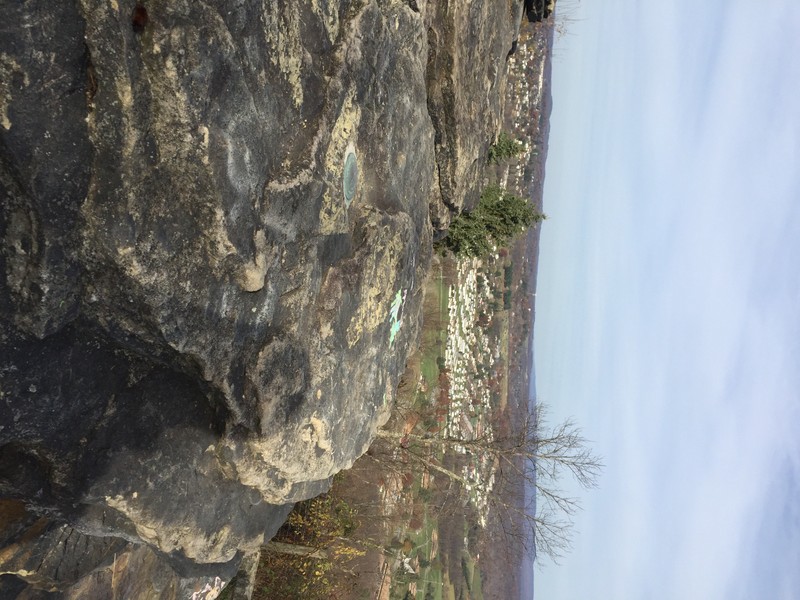 View from Sky Rock. Photo taken November 11, 2017.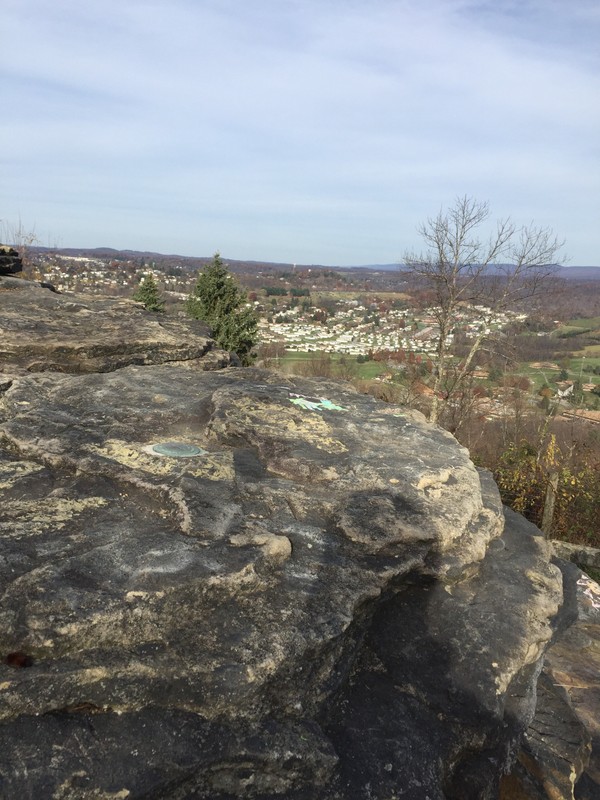 In 2016, the Spirit Wall was hit with major water damage. It was dismantled and restored to its original design before being reinstalled..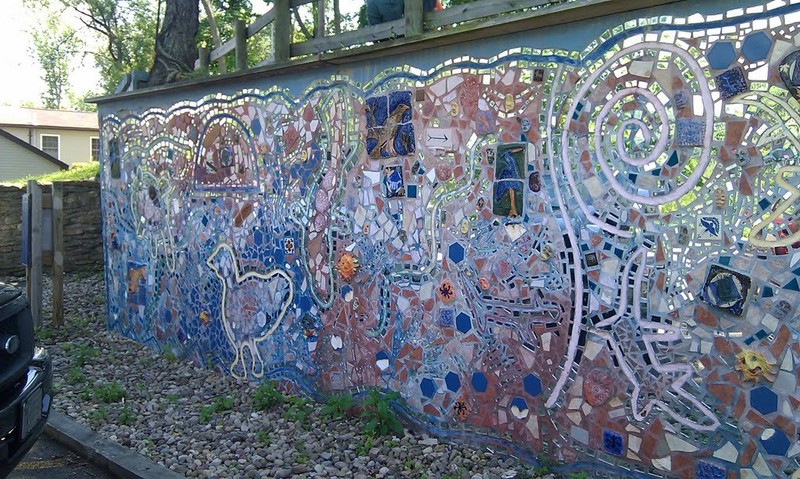 Backstory and Context
Dorsey's Knob was not always the elevated landmark it is today. Approximately 300 million years ago, Dorsey's Knob was part of a rock layer known as the Lower Pittsburgh Sandstone. Over time, Dorsey's Knob rose and eroded to become the Sky Rock Summit. Around 17,000 BCE, the first hunter-gatherers entered the region around Dorsey's Knob. By 900 CE, a people referred to as the "Monongahela People" inhabited land along the river that shares their name. Their villages and agricultural ventures were numerous and there continued to be a strong native peoples' presence until the English and French invaded the region in the 1700s. 
Most of the Morgantown area was contested by Native Americans and European settlers until the Treaty of Paris in 1763. While the treaty most favored the English, clashes between them and Native American continued until the American Revolutionary War. During this tumultuous time, several forts were erected in the Morgantown area, including one in the immediate vicinity of Dosey's Knob. The Cobun [Coburn] family was given a parcel of land located near Cobun's Creek and present-day Dorsey's Knob in 1770, and Cobun's Fort was built in this area of the Morgan District. This land parcel was two miles from present-day Morgantown, and across from Decker's Creek. Johnathan Cobun is credited with establishing this land and the fort that was built upon it. 
At the time Cobun constructed his namesake fort, there were still Native Americans occupying land opposite the fort and Cobun's Creek. This made the fort was prone to attacks and in 1778, Cobun's Fort was burned to the ground by a group of Native Americans. There is no documentation of who owned or lived on the land after the fort's destruction until 1803, when George Dorsey of Elk Ridge, Maryland was sold the Cobun farm by Johnathan Cobun. It was under Dorsey's ownership that the nearby summit became known as "Dorsey's Knob". 
The property was passed through the Dorsey family throughout the nineteenth century. Warren C. Dorsey, a prominent member of the Morgantown community and Board of Education member, owned Dorsey's Knob when it became a popular tourist attraction. As Morgantown and West Virginia University grew, so did the attraction to Sky Rock and the surrounding area. After Warren Dorsey's ownership it is not clear precisely who possessed the land, but in 1882 the area was still privately owned by the Dorsey family. Sometime in the mid-twentieth century, the property changed hands to a new family, the Fawleys. The Fawleys established a local music store which is still in operation today as Fawley's Music. The road leading up to the park is named after O. B. Fawley.
It was not until 2002 that the Board of Park and Recreation Commissioners (BOPARC) was able to purchase seventy acres of Dorsey's Knob from then owner O.B. Fawley. After the transaction, the area was renamed Dorsey's Knob Park and the original house was renovated into a lodge. The renovated lodge can host up to sixteen people and is popular for weddings, graduation parties, and weekend trips. A disc golf course, walking trails, and playground were also installed during BOPACs ownership to make the area more attractive to more tourists and visitors to the area. In 2006, a work of art called the Spirit Wall was installed in the park by Philadelphia muralist Isaiah Zagar, with the help of other local artists. The mural was inspired by Native American artwork and features themes of turtles, deer, and Native American beliefs and stories. 
Sources
"Dorsey's Knob: A View Across Space and Time." Plaque. Dorsey's Knob Park, Morgantown, WV.
Willey, S. T. History of Monongalia County, West Virginia, From its first settlements to the present time. 1883. pp. 39, 42, 59-60, 648-651, 691.
Native American Studies program to host Anishinabe storyteller July 18. WVU. July 13, 2016. Accessed July 12, 2018. https://eberly.wvu.edu/news-events/eberly-news/2016/07/13/wvu-native-american-studies-program-and-board-of-parks-and-recreations-to-host-anishinabe-storyteller-july-18.
Image Sources
Courtesy of the West Virginia & Regional History Center, WVU Libraries.

Courtesy of the West Virginia & Regional History Center, WVU Libraries.

Courtesy of the West Virginia & Regional History Center, WVU Libraries.

Courtesy of the West Virginia & Regional History Center, WVU Libraries.

Additional Information