World War I Memorial Flagpole, Juneau Park, Milwaukee
Introduction
This World War I Memorial was dedicated to those that served in World War I between 1917-1918. The flagpole was created by Benjamin Franklin Hawkins,and financed by the City of Milwaukee. The flagpole is one of the central features of Juneau Park and made possible by the city and the members of the Service Star Legion, a women's organization, picked the flagpole to represent the World War I veterans.
Images
This photograph of the World War I Memorial Flagpole in a shot where it stands today in Juneau Park in Milwaukee, Wisconsin.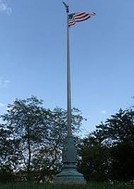 This photograph shows the base with its inscription, the words above it stating "of those that served" with the stars to represent the Service Star Legion.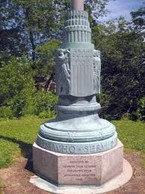 A closer shot of the base of the flagpole showing the "of those that served" and the bas relief above it.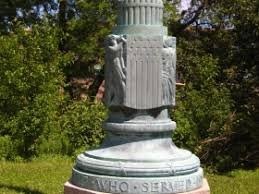 This is photograph of the groundbreaking ceremony for the World War I Memorial Flagpole on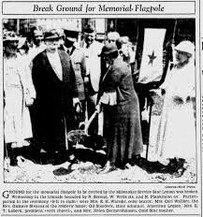 This photograph is a shot of the bronze eagle that sits atop of the flagpole with its wings sculpted open.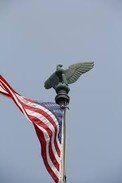 Backstory and Context
This memorial flagpole was completed in 1936. The base is made from granite and features an eagle in bronze at the top of the flagpole. The original location was on a small piece of triangle shaped land bounded by North Second Street, North Plankinton Avenue and West Wells Street.

The Service Star Legion, a women's organization in Milwaukee, was charged with finding a design for the World War I veterans memorial. The Service Star Legion wanted a "dough boy" design to honor the veterans, but was rejected. There were already other dough boy monuments in Milwaukee. Seventeen designs were submitted to the Legion and finally the flagpole that stands today was the one chosen. The American artist, Benjamin Franklin Hawkins', a sculptors, design was decided upon. The committee commented, of the flagpole, "this is graceful and impressive, but it doesn't express a thing." The groundbreaking ceremony for the flagpole was on August 1, 1934. The dedication ceremony was held on November 11, 1934 known as Armistice Day.

Seven hundred and fifty Milwaukeeans lost their lives during World War I and this flagpole honors them. The flagpole stayed in its original location until June 4, 1979 when it was moved closer to the World War Memorial Center as part of the Mac Arthur Memorial Week celebration held June 7-14 each year.

The original design sat on two octagonal granite stones, but when moved to its new location now sits on only one. An eagle with open wings sits atop the flagpole. The stars around the base represent the Service Star Legion and is inscribed on the base with "of those that served."

In the 1960s, the original location of the flagpole was the site of demonstrations against the Vietnam war. The reason being that the draft office was across the street from the flagpole and that is where the young men picked up their draft orders.

Additional Information