Los Gatos Crash Memorial
Introduction
Holy Cross Catholic Cemetery in Fresno is the final resting place of 28 Mexican workers who died in a plane crash in 1948. The workers were buried in a mass, unmarked grave and it was not until 2013 that a marker was placed at the site of their burial. The crash inspired the Woodie Guthrie song, "Deportee."
Images
Los Gatos crash memorial dedication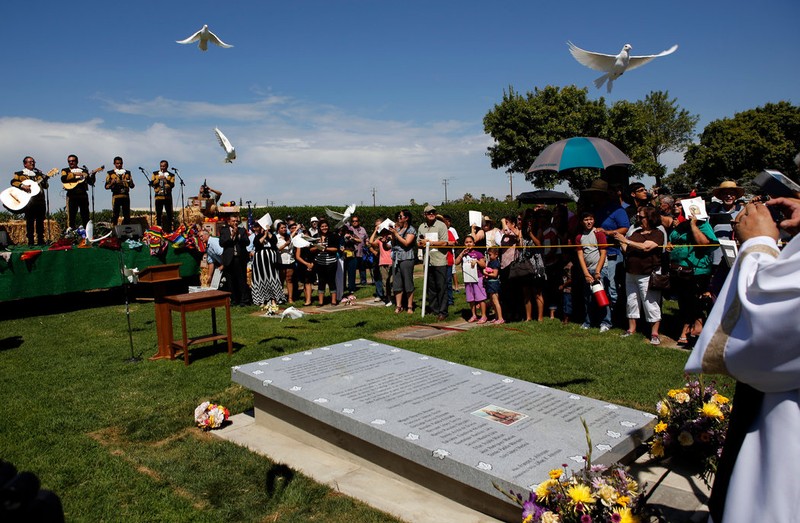 The original grave marker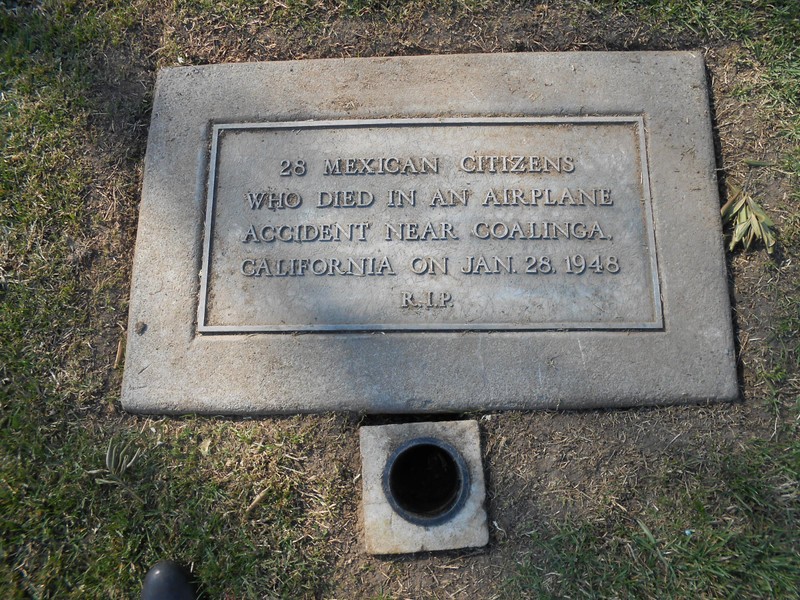 Newspaper headline about the crash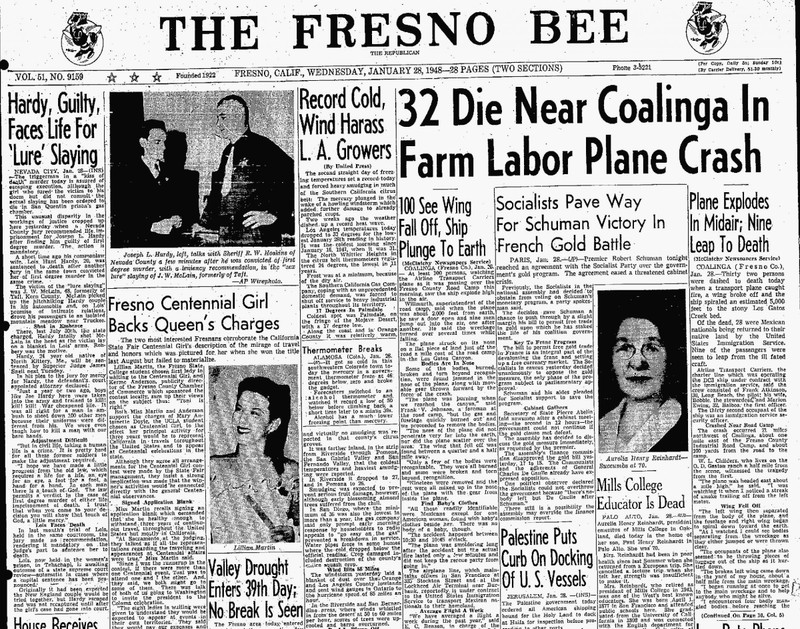 Backstory and Context
The plane, which was chartered by US Immigration and Naturalization Service, carried 32 people, most of whom were Mexican farm laborers. Some were part of the bracero program and were returning home, having reached the end of their contract, and others were in the United States illegally and were being deported to Mexico.
The flight departed on January 28, 1948, and after making a stop in Oakland, the plane headed toward Burbank for refueling. Workers on the ground in Fresno reported seeing the plane trailing smoke shortly before the port wing was torn off, spilling some of the passengers out of the fuselage. The plane crashed into the Diablo Mountains near Los Gatos Creek, exploding on impact. Everyone on board—the 28 workers, three crew members, and an immigration guard—were killed.
The Mexican passengers were buried in a mass grave at Holy Cross Catholic Cemetery in Fresno, with their grave identifying them simply as "28 Mexican citizens who died in an airplane accident." News accounts of the accident identified the American victims but identified the Mexican victims only as "deportees." The treatment of the Mexican victims angered Woodie Guthrie, and his anger led him to compose the folk song "Deportee (Plane Wreck at Los Gatos)".
The grave of the Mexican workers remained unmarked until September of 2013, when a marker was placed at their grave site. Hundreds of people attended the dedication ceremony, where renditions of "Deportee" were performed.
Sources
Wollan, Malia. 65 Years Later, a Memorial Gives Names to Crash Victims. New York Times. September 03, 2013. Accessed January 07, 2017. http://www.nytimes.com/2013/09/04/us/california-memorial-names-crashs-forgotten-victims.html.


Additional Information