Merrehope
Introduction
This beautiful home is one of the more historic homes in Meridian. It is owned and operated by Meridian Restorations Foundation, which was formed in 1968 to save and restore the building. Merrehope is available to rent for conferences, weddings and other events. Visitors to the home will get a glimpse as to what life was like for the families who lived here in the 19th and early 20th centuries. The home was added to the National Register of Historic Places in 1971.
Images
Merrenhope was originally built in 1859 as a cottage and later expanded by future owners. It is a house museum today.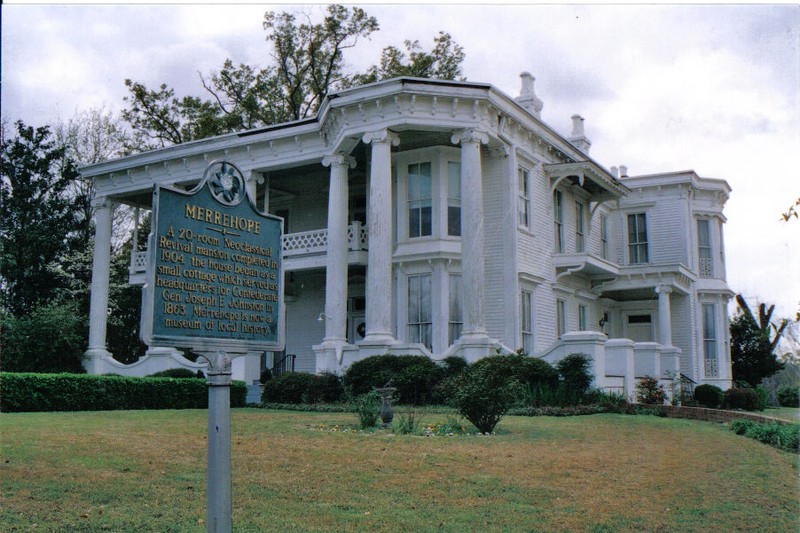 Backstory and Context
The earliest part of the home, a cottage, was built in 1859 by W. H. Jackson and his wife Juriah, whose father deeded the land to the couple a year earlier. During the Civil War, the house was spared from destruction. In December 1863, Confederate General Leonidas Polk and his family lived in the house, which was still the cottage at that point. Polk used the house as his headquarters; he was tasked with defending eastern Mississippi. In February 1864, Union forces commanded by General William T. Sherman attacked Meridian, forcing the Confederates to leave. The house, fortunately, was untouched.

Subsequent owners expanded and renovated the house. Between 1915-1968 it was rented out, used as a boarding house, and then divided in eight apartments. The foundation bought it in 1968 and it has been undergoing a slow process of restoration ever since.
Sources
Maddox, Dawn. "Merrehope." National Park Service - National Register of Historic Places Nomination Form. December 9, 1971. https://npgallery.nps.gov/GetAsset/a87596cc-d8ae-42f4-9351-8e8717676865.

"Merrenhope." Accessed September 7, 2017. http://www.merrehope.com/history.html.

Photo: Dudemanfellabra, via Wikimedia Commons
https://en.wikipedia.org/wiki/Merrehope#/media/File:Merrehope_1.JPG

Additional Information