The First Congregational Church
Introduction
Made of stone, the First Congregational Church is one of the architectural highlights of Metheun. The cornerstone was laid in September 1881 without ceremony. On May 13, 1882, the Rev. J. H. Selden was ordained in the church. The Transcript story of the ordination was accompanied by a cut of the church which showed the old vestry.
Images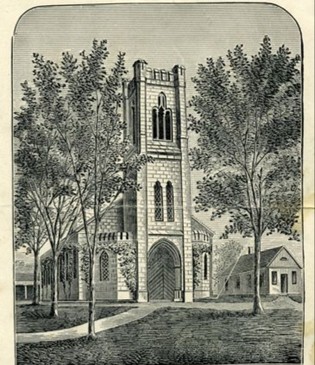 Backstory and Context
In 1880, the Methuen Transcript reported that architect C. W. Damon of Haverhill completed plans for the Congregational Vestry (Phillips Chapel), which was to be built of stone, 30 x 73 feet. While the new building was under construction, the old one was to remain in use. It was moved to a vacant site in front and later to a site on Railroad Street owned by David Nevins. The old vestry was used for a few years as a Mission School.
C. Willis Damon, was born in Pawtucket, R.I. and died in Haverhill in 1916. He was a graduate of M.I. T. and taught drawing in the Boston Public Schools before joining his brother Charles Page Damon to form the firm of Damon Brothers. C. Wills Damon seems to be the better known of the two and is credited with design of the Haverhill City Hall, Portsmouth Court House and Tilton Seminary in New Hampshire. Locally he was responsible for the Phillips Vestry of the First Congregational Church, a house for Daniel W. Tenney at the corner of Broadway and Pleasant Street, the Tenney Stock Stable and renovations to the Tenney Gate House. Local carpenter Jesse A. Towne did the carpentry work and a new Sanborn furnace, made locally was installed to heat the building.

- Description courtesy of Dan Gagnon, historian.
Additional Information