Tenney Gatehouse
Introduction
This gatehouse is all that is left of the sprawling Tenney estate.
Images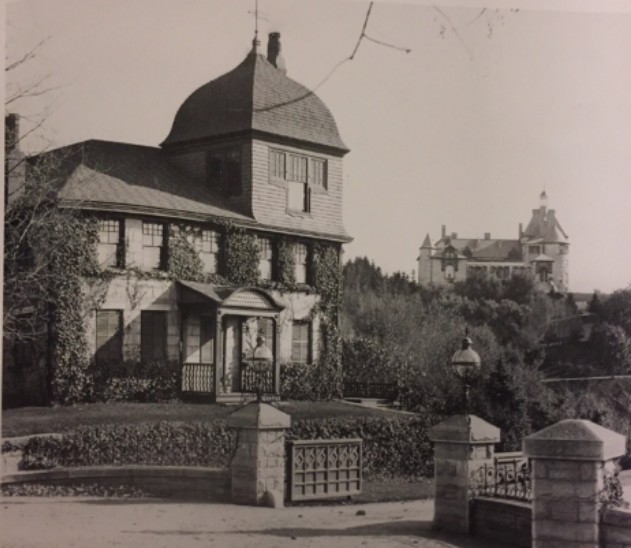 Backstory and Context
According to Ernest Mack of the Methuen Historical Commission, the house at 37 Pleasant Street was built by Richard Whittier (brother of Ebenezer Whittier) between August and November of 1830. Originally a rough stone farm house, the building was purchased in April 1882 by Charles H. Tenney, who converted it to the elegant gate house which is presently being restored by the Tenney Gate House Assoc.
The Methuen Transcript reported on September 1, 1883 that the veneer of cut stone, a tower, and other Queen Anne style features were being added. Architect C. Willis Damon, who also designed the Stock Stable for Charles Tenney, was born in Pawtucket, R.I. and died in Haverhill in 1916. He was a graduate of M.I. T. and taught drawing in the Boston Public Schools before joining his brother Charles Page Damon to form the firm of Damon Brothers. C. Wills Damon seems to be the better known of the two. Locally he was also responsible for the Phillips Vestry of the First Congregational Church and a house for Daniel W. Tenney at the corner of Broadway and Pleasant Street.
Tenney had begun developing his estate, building walls and opening roads in 1882. In the next several years, the roads were macadamized, ponds built, ornamental trees planted. Additional property was acquired for the estate, which eventually totaled 75 acres. The name Fair View Park and Grey Court, begun in 1890 was completed three years later. The gate house is the only structure of the extensive estate to survive intact and can be seen in many of the historic photographs of Grey Court.
This building possesses integrity of location, design, setting, materials, and workmanship, and meets the criteria of the National Register of Historic Places. - Description courtesy of Dan Gagnon, historian.