Holly Bluff Site
Introduction
Also known as the Lake George Site, Holly Bluff is one of largest prehistoric sites in Mississippi. At its peak, there were at least 28 mounds here, all of which surrounded a tall, 55-foot central mound, called Mound A. The natives who lived here belonged to the Plaquemine culture—one of the many cultures that comprised the Mississippian civilization—which existed in the lower Mississippi River basin area. Archaeologists conducted several excavations in 20th century and discovered numerous artifacts, including ceramics, shells, and animal bones. They also discovered many burials and evidence of structures on the top of mounds. The site also features remnants of an earthen wall and trench on three sides of the site; the fourth side was the river. It is believed that the wall was built for defensive purposes. Given its size and scope, Holly Bluff was declared a National Historic Landmark in 1964.
Images
Artist Herb Roe's rendering of what the Holly Bluff site may have looked like from above.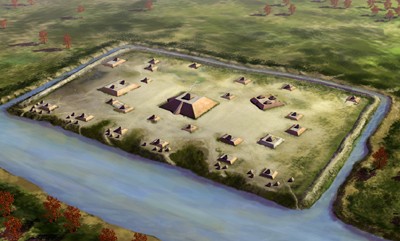 Backstory and Context
Ancient peoples began living at this location beginning around 1500 B.C. However, mounds did not begin to be built until around 800 A.D. The chief or tribal leader's home was likely on top of Mound A, since it was the biggest of the mounds. The site was abandoned sometime around 1500 A.D. Some of the mounds are still visible today from Satartia though they have been damaged and degraded due to erosion, looting, and cultivation.
Sources
"Lake George Mounds." Mississippi Department of Archives and History. Accessed September 5, 2017. http://trails.mdah.ms.gov/mmt/lakegeorge/index.html.

Photo: Herb Roe, via Wikimedia Commons
https://en.wikipedia.org/wiki/Holly_Bluff_Site#/media/File:Holly_Bluff_Aerial_HRoe_2016.jpg