Christ Church, Philadelphia
Introduction
Built between the years 1727-1744, Christ Church, in Philadelphia's Old Town, is more than just a first-rate example of Colonial Georgian architecture and historic site. Known as the "Nation's Church" due to the number of colonial leaders who worshipped there at one time or another, it is still an active Episcopalian parish. It traces its origins back to 1695 when the parish formed as a colonial branch of the Church of England and has been faithfully serving its parishioners ever since. It was added to the National Register of Historic Places and designated a National Historic Landmark both in 1970. It is open to the public on a daily basis and group tours are available.
Images
A view of Christ Church and its iconic spire which was the tallest structure in North America from 1754-1810.
The simple yet elegant interior of Christ Church as seen from the back balcony.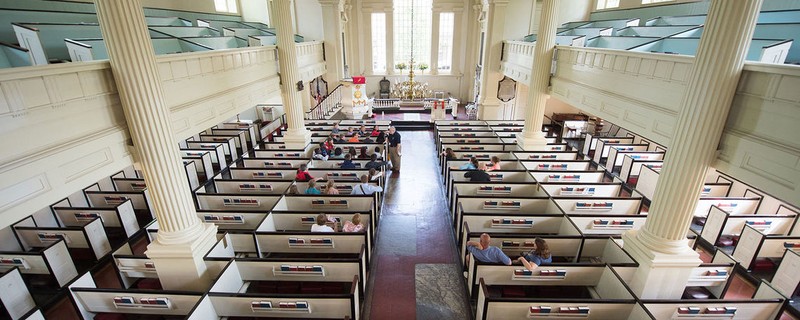 The 14th century baptismal font used to baptize William Penn.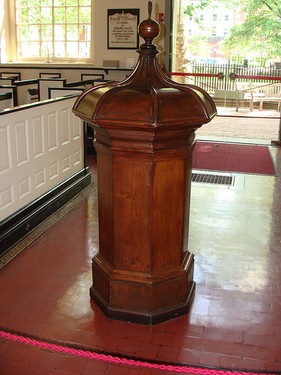 J. L. G. Ferris' "General Washington at Christ Church" from c. 1908.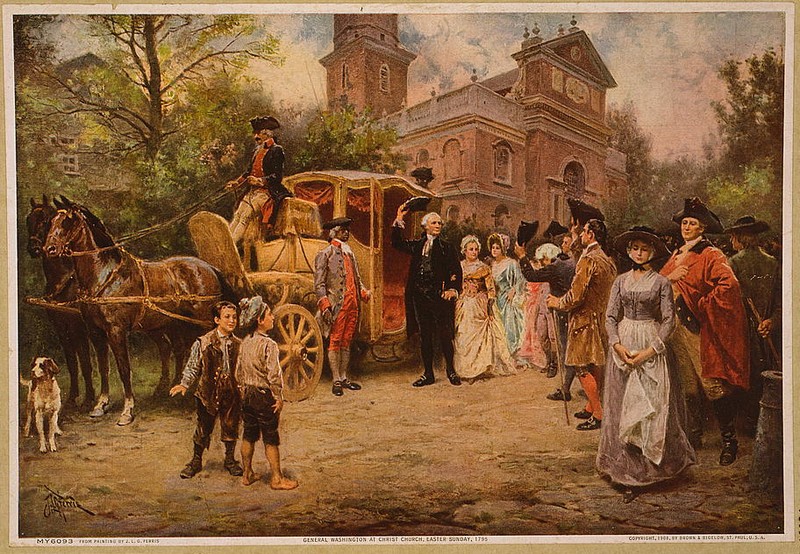 An 1800 view of Christ Church as drawn in a plate from "Birch's Views of Philadelphia."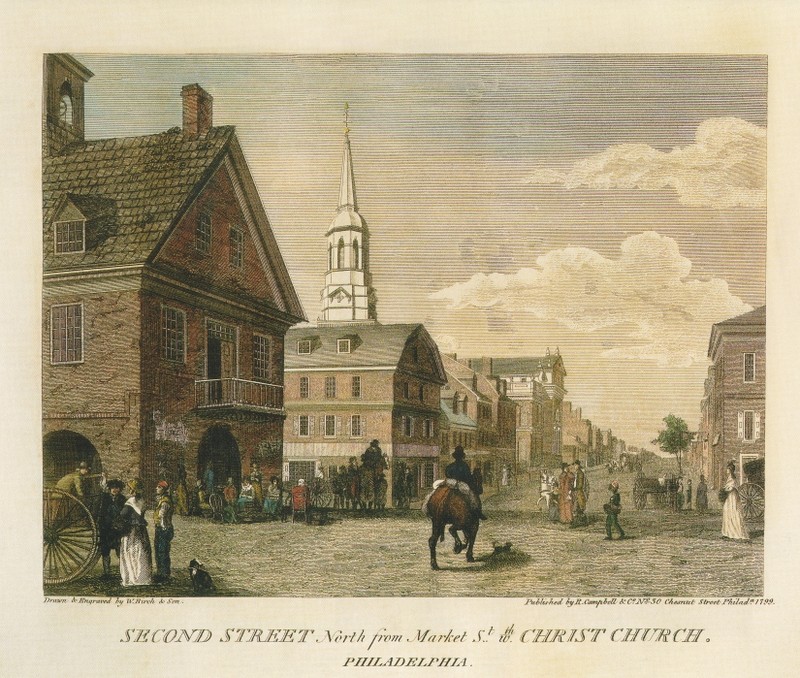 Backstory and Context
The first church built at the corner of Market and 2nd Streets was done so in 1696 and was a small wooden and brick structure. It managed to house the growing congregation until a new church began to take shape in 1727. This new church was of a simple, yet elegant design and its architect has been lost to history. However, we do know that construction was overseen by a local physician named John Kearsley and that is was modeled after the London works of Christopher Wren. When it was finally completed in 1744 its unassuming design featured clean lines, arched windows, fluted columnns and wooden pews painted white. It would eventually become instrumental in the founding of the Protestant Episcopal Church after the Anglican Church fell out of favor during the Revolutionary period.
The architectural feature that the church is best known for, its 60-meter tall spire, was not added until 1754 and remained the tallest structure in North America until 1810. The spire was designed by Robert Smith and none other than Benjamin Franklin organized the lottery used to finance its construction. During its first century, Christ Church was the site where 25% of Philadelphia's free and enslaved Blacks were baptized and it was also home to a religious school for slaves. During the two Continental Congresses, most of the delegates worshipped at the church. Those who attended services at the church reads like a "who's who" of colonial and early American leaders, to include: George Washington, Benjamin Franklin, Betsy Ross, Robert Morris, Benjamin Rush, John Penn (grandson of William), Francis Hopkinson, John Adams and Absalom Jones (the first African-American Episcopalian priest).
This truly authentic historic site is also home to a collection of artifacts, archives, and genealogical material. Its artifact collection includes a 14th century baptismal font donated by All Hallows Church in London which was used to baptize William Penn in 1644, a 1769 pulpit built by Thomas Folwell, communion silver presented by Queen Anne c. 1710, a baptismal bowl by Philip Syng Sr. c. 1715 and a 1740 chandelier. Historian and author, David McCullough, said of Christ Church, "No other church has played a more significant role in our nation's birth." Given the fact that it is visited by over 250,000 people annually, many others surely agree with his assessment.
Sources
Peterson, Charles. "The Building of Christ Church." Christ Church Philadelphia. Accessed September 1, 2017.http://www.christchurchphila.org/Historic-Christ-Church/Church/Scholarly-Articles/The-Building-of-Ch...
"History" Christ Church Philadelphia. Accessed September 1, 2017. http://www.christchurchphila.org/Historic-Christ-Church/Burial-Ground/History/96/
"Mysteries and History of Christ Church in Philadelphia." Historical Society of Pennsylvania. January 13, 2011. Accessed September 1, 2017. https://hsp.org/blogs/hidden-histories/the-mysteries-and-history-of-christ-church-in-Philadelphia
Pompilio, Natalie. "Christ Church: not just for tourists." Philly.com. May 18, 2014. Accessed September 1, 2017. http://www.philly.com/philly/living/20140518_Christ_Church__Not_just_for_tourists.html
Additional Information