Richard Yates
Introduction
"Home of Richard Yates Civil War Governor of Illinois 1845-1873"
Images
East State St. 400 block, in front of Our Savior's Hospital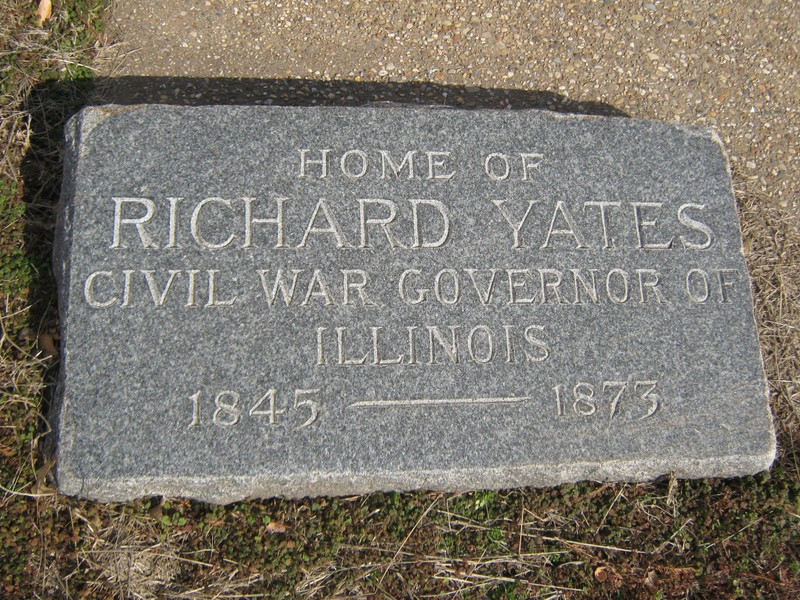 Backstory and Context
At 453 East State Street, the former home of Richard Yates lies. He was born January 18th, 1815, and was in the first ever class to graduate from Illinois College. Throughout his career, Yates met Abraham Lincoln on several occasions and shared similar values to him. After Illinois College, Yates got a law degree and began participating in politics and became a very prominent member of the Whig party. Although Abraham Lincoln was not in the Whig party, he gave a recommendation on Richard Yates' behalf for reelection on the congressional district.
When Yates lost the election, he focused his energy on helping Abraham Lincoln's senate and eventual presidential campaign from 1860-1864. After Abraham Lincoln took office, Richard Yates was appointed as governor of Illinois and remained there through the American Civil War, in which he kept close contact with Lincoln. Until Lincoln's eventual death before the end of the American Civil War, the two would remain close friends. Richard Yates is quoted as being one of the very last people Lincoln visited before his death.

Sources
Bohn, Roger E. "Richard Yates: An Appraisal of his Value as the Civil War Governor of Illinois," Journal of the Illinois State Historical Society Spring/Summer 2011, Vol. 104 Issue 1/2, pp 17–37 in JSTOR
Cole, Arthur Charles. The Era of the Civil War 1848–1870 (1919), the standard scholarly history; vol 3 of the Centennial History of Illinois
Hicken, Victor, Illinois in the Civil War, University of Illinois Press. 1991. ISBN 0-252-06165-9.
Portrait and Biographical Album of Champaign County, Illinois, Chapman Brothers, Chicago, 1887 – online as part of Illinois History, an ILGenWeb project