CBGB, Birthplace of Punk (1973-2006)
Introduction
Known as the birthplace of punk music, CBGB was a club that opened in 1973 on Bowery Street in Manhattan. The founder of CBGB was Hilly Kristal, who had opened previous music venues with less success. Unlike his previous venues, CBGB became the center of rock music in New York City. The club helped launch bands like Blondie, Misfits, and the Ramones. CBGB closed in 2006 after over thirty years in the New York City music scene. The former club is now occupied by a retail store that features posters of many of the bands that performed here along with the original bar and other memorabilia. According to the owner of that store, high-end fashion designer John Varvatos, he only decided to acquire the space after learning that a bank planned to buy and demolish the building. Varvatos reached out to the former creative director of the Ramones and with his blessing, acquired the space and worked to preserve as much of the feel of CBGB as possible.
Images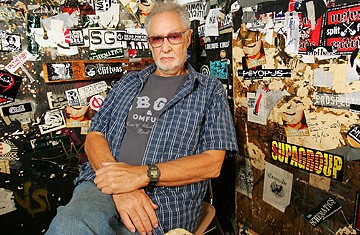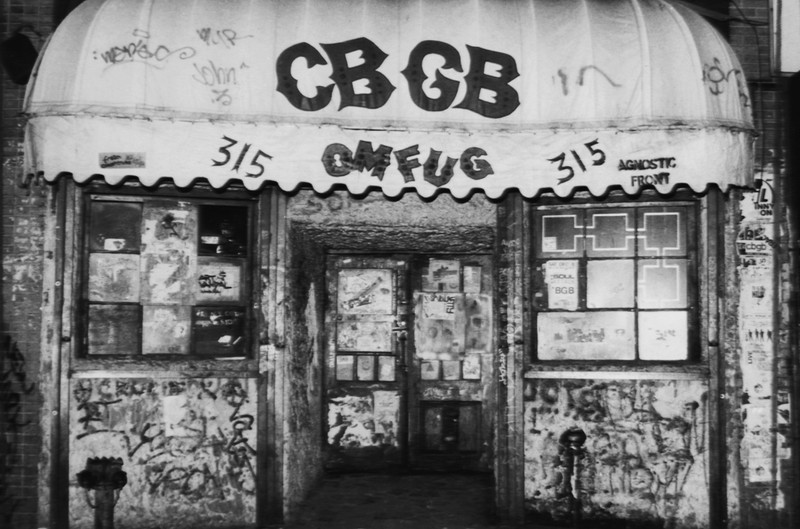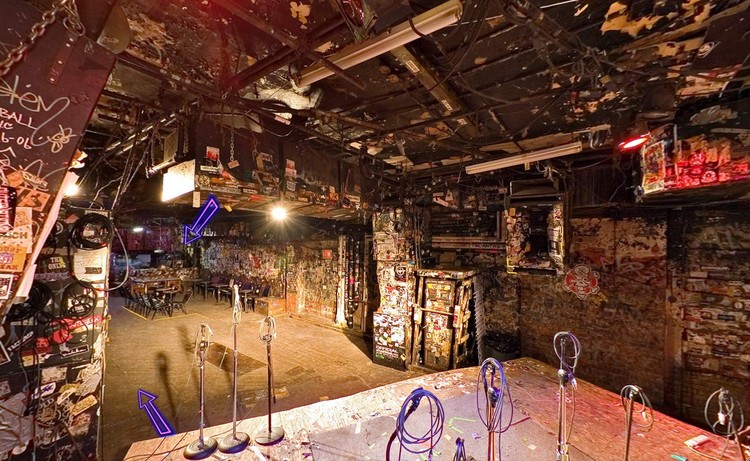 Backstory and Context
CBGB, which stands for country, bluegrass, and blues, was opened in 1973 by Hilly Kristal. The club, located on Bowery Street in Manhattan, shaped into a music venue, unlike anything Kristal could have seen. It quickly became a huge success in the Rock music world, hosting bands willing to play original songs. Most clubs at the time were only willing to host bands who played covers of songs from popular records out at the time. Luckily, Kristal realized New York City needed a venue for up and coming artists, where they could display their own music. By providing these artists a place to play, Kristal helped shape the Punk music scene that emerged out of his club.

Many popular bands, most unknown when they first appeared, graced CBGB's stage. In fact, bands like the Ramones, Blondie, Talking Heads, and Misfits used the stage at CBGB to help shape their voice in the music industry. As the club advanced though, bands with a variety of styles played the stage. Throughout the 1980s, hardcore punk bands like Murphy's Law and Youth of Today played at CBGB. Many bands associated with the Rock scene of the 90s also played there, including Sum 41, Green Day, and Korn. The club hosted artists from other music genres as well such as Country music star Alan Jackson. Without CBGB, many of these bands would have never been discovered.

After providing music to guests for over thirty years, CBGB was forced to shut down in 2006 because of a dispute between Kristal and his landlord. The dispute had to do with upscaling the area on Bowery Street where CBGB was located. The club no longer fits in with the shops and restaurants that now surrounded it, and the landlord ordered Kristal to either adapt to gentrification or move on. He decided to move on.

Patti Smith was the last person to perform on CBGB's stage. Kristal hoped to open another venue styled after CBGB, but he died of cancer in 2007. The building where the club was once located was added to the National Register of Historic Places in 2013 and those willing to accept that the former mecca of punk rock is now home to a high-end designer that sells $88 "Bowery Live" t-shirts can still visit the former club. From the perspective of the current owner, designer John Varvatos, his decision to place a store in this location saved the building from a developer that intended to raze the building and place a bank where CBGB once stood.
Sources
"CBGB is the Undisputed Birthplace of Punk." CBGB. Accessed Web, 8/25/17. http://www.cbgb.com/about.

Soltes, John. "CBGB's Hilly Kristal: An Original to the End." Time. 8/30/07. Accessed Web, 8/25/17. http://content.time.com/time/arts/article/0,8599,1657752,00.html.

"CBGB & OMFUG: Punk Music History on the Bowery." Bowery Boys History. 5/28/10. Accessed Web, 8/25/17. http://www.boweryboyshistory.com/2010/05/cbgb-omfug-punk-music-history-on-bowery.html.


Additional Information