Ridpath Hotel (Ridpath Club Apartments)
Introduction
The Ridpath Hotel is comprised of two historic buildings: a tall multi-story, high-rise tower completed in 1952 -- one of the first "International Style" buildings west of the Mississippi -- and an attached four-story brick commercial building built in 1905. The building served as Spokane's most highly regarded first class hotels through the 1980s. Though it stood vacant by 2008, the Ridpath is now in the process of becoming a new apartment complex.
Images
By ArchSpokane - Own work, CC BY-SA 3.0, https://commons.wikimedia.org/w/index.php?curid=18740714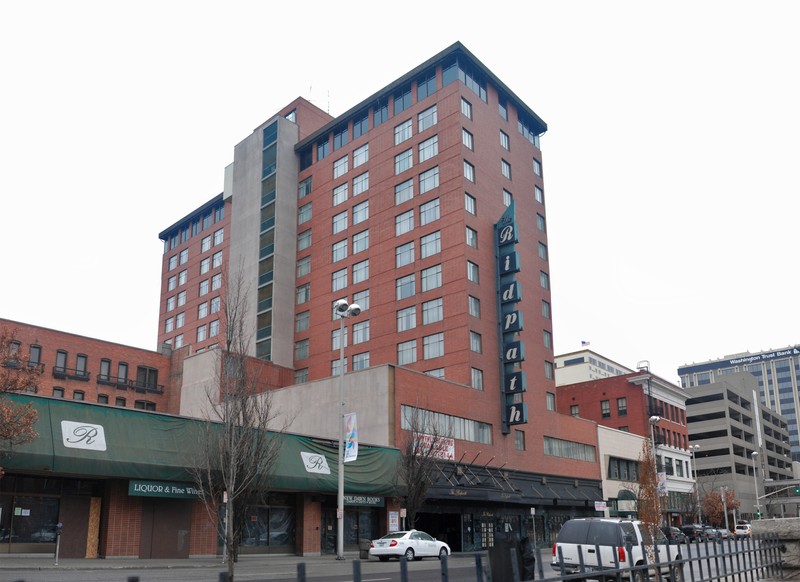 Original four-story hotel, after the 1950 fire. Source: Spokesman-Review Photo Archive.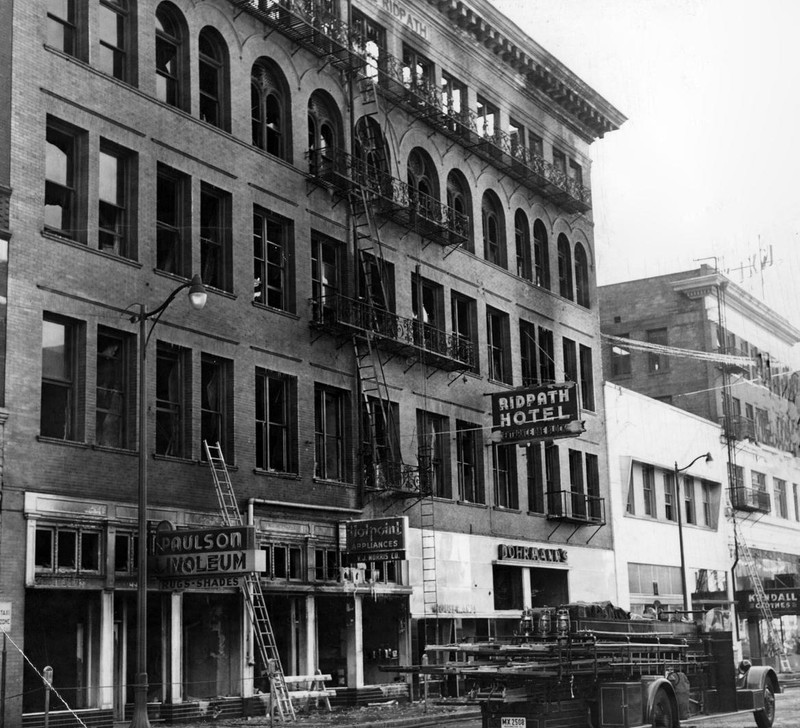 1919: Women in swimming pool (likely YWCA meeting) at original four-story Ridpath Hotel.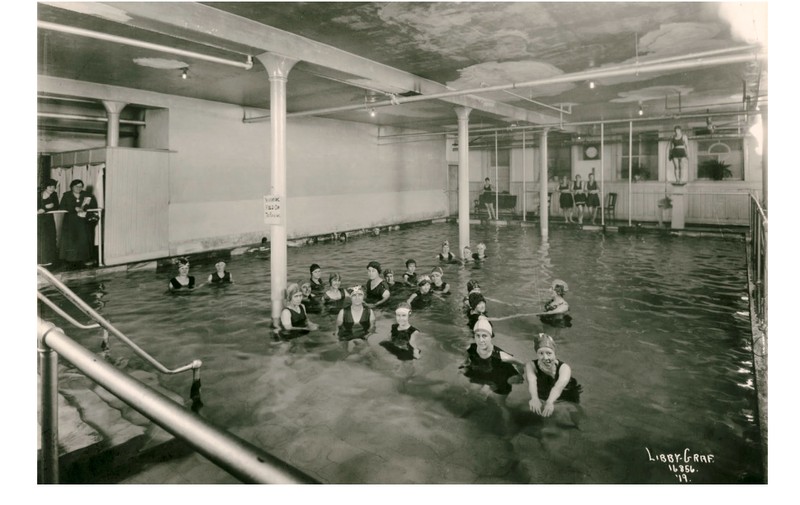 Backstory and Context
Though the first, four-story commercial section opened its doors in 1905, the tower built in the 1950s stood as one of Spokane's tallest buildings and included several modern innovations, such as a drive-in lobby and below-ground parking garage. For example, the Ridpath Hotel provided a convenient "drive-in lobby" at grade with a below-ground parking garage.
After the destructive city fire in 1889, building codes changed significantly in Spokane, leading to many more brick buildings, as well as steel-reinforced brick skyscraper-style buildings, usually drawing upon the Chicago School for inspiration. However, from 1905 until the 1950s, the Ridpath remained a small, 4-story hotel whereas the Davenport at 12 stories stood tall and reigned as Spokane's most prominent, luxurious hotel.
During the 1940s, notably after World War II, the U.S. economy grew significantly, and most Americans sought to move on from the difficulty associated with the Great Depression and World War II. However, in 1950, yet another fire ravage Spokane's downtown region, including nearly destroying the popular 4-story hotel that had been in operation since 1905. After recovering from that fire, and restoring the Ridpath, Spokane enjoyed a small building boom during the 1950s, marked by embracing the architectural philosophy idea shared by most in the nation of "form follows function."
Opened in 1952 (for a cost of $3 million), the new 13-story Ridpath Hotel included 300 climate-controlled rooms, bars and restaurants, a drive-in lobby, underground parking, and lavish furniture and ornamentation that cost nearly $450,000. The hotel quickly grew to be Spokane's most popular location for VIP guests, weddings, conventions, and numerous social occasions, which continued through the 1980s.
It's popularity waned during the late twentieth and early twenty-first centuries, and in 2008 went vacant. But, the Ridpath is now undergoing a transformation to an apartment complex known as the Ridpath Club Apartments.
Sources
"History of the Ridpath Hotel." The Spokesman-Review(Spokane), June 18, 2011. http://www.spokesman.com/picture-stories/history-ridpath-hotel/

Porter, Lynn. "Local group turning Spokane hotel into Ridpath Club Apartments." Daily Journal of Commerce(Seattle), July 19, 2017. http://www.djc.com/news/re/12102404.html

Yeomans, Linda. "Nomination Form: Ridpath Hotel." National Register of HIstoric Places. Published September 5, 2013. https://www.nps.gov/nr/feature/places/pdfs/13001000.pdf








Additional Information