Burns-Belfry Museum and Multicultural Center
Introduction
Located in a historic church, the Burns-Belfry Museum and Multicultural Center aims to preserve the cultural history of Oxford, particularly the town's African American history. It serves as a museum and meeting place for non-profit organizations. The Center is operated by the Oxford-Lafayette County Heritage Foundation, which was established in 1996. The church building itself was constructed in 1910 by an African American Episcopal congregation, replacing an earlier wooden structure that had become too small. The museum currently features an exhibit about the area's African American history, but plans are in place to create other exhibits that explore other cultures such as the Chicksaw Indians and settlers.
Images
The Burns-Belfry Museum and Multicultural Center opened in 2008 after a few years of restoration.
The sign outside the Burns-Belfry Church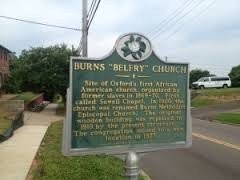 Backstory and Context
The Burns-Belfry Museum and Multicultural Center is dedicated to preserving the history of Oxford, Mississippi and its African American residents. Located in a historic church that was constructed by an African American congregation, the museum pays homage to its roots and educates visitors today about the sacrifices of their ancestors.

The land on which the church stands was once owned by a freed slave named Harriston Stearns, whose owner's widowed wife deeded him the property in 1867. Harrison then donated this portion of the land to Burns Methodist Episcopal Church, which was founded in 1867. Harrison became one of the first three freedmen to serve as alderman in Oxford in 1870.

A white frame building was constructed on the land after it was acquired by the church. However, by 1910 the church had outgrown the structure and was in need of a larger facility. The church congregation came together to fund and construct a new church building. Some members of the church mortgaged their homes to donate to the project, while others volunteered their time to assist with construction.

The congregation remained in the church it constructed in 1910 until 1974, when it moved to a new building. Before being acquired by the foundation, it was last owned by author John Grisham. He agreed to sell the building to the foundation in 2002, thereby saving it from demolition.
Sources
1. Walton, Gerald W. "A History of the Burns-Belfry Project." Accessed August 24, 2017. http://www.burns-belfry.com/project_history.php.

2. Burns-Belfry Museum & Multicultural Center. Mississippi Hills. Accessed July 06, 2019. http://www.mississippihills.org/directory/listing/burns-belfry-museum-multicultural-center.


Additional Information