John Coltrane House
Introduction
The former home of jazz legend, John Coltrane, is located in the Strawberry Mansion neighborhood of Philadelphia, across the street from Fairmont Park. Coltrane is often credited with transforming jazz music by incorporating musical modes instead of chord progression for harmony. John Coltrane's music is still influencing artists today, not only in jazz but all genres of music. Known to friends and musix lovers as "Trane," John Coltrane lived in this modest rowhouse, which was built in the early years of the 20th century. Coltrane lived here and entertained friends at this address from 1952 until he moved to New York City in 1958. He maintained ownership of the property until his death in 1967, when the home became the property of his cousin, Mary Alexander. Coltrane was on of the most influential and significant jazz musicians of, not just his era, but of all time. In recognition of his significance, the John Coltrane House was designated a National Historic Landmark and placed on the National Register of Historic Places in 1999. It 2004 the house was purchased by Norman Gadson, who worked to restore the house right up until his death. Gadson's daughter continues her father's dream, creating the John Coltrane House as a non-profit organization that works to restore the home and open it to the public.
Images
The Coltrane House and adjacent John Coltrane Center are both in need of restoration.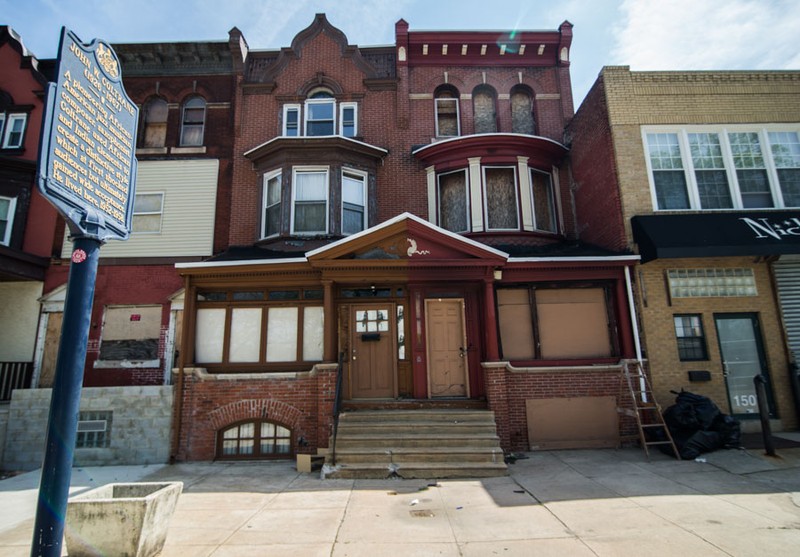 The historical marker placed in front of Trane's former home after it was designated a National Historic Landmark in 1999.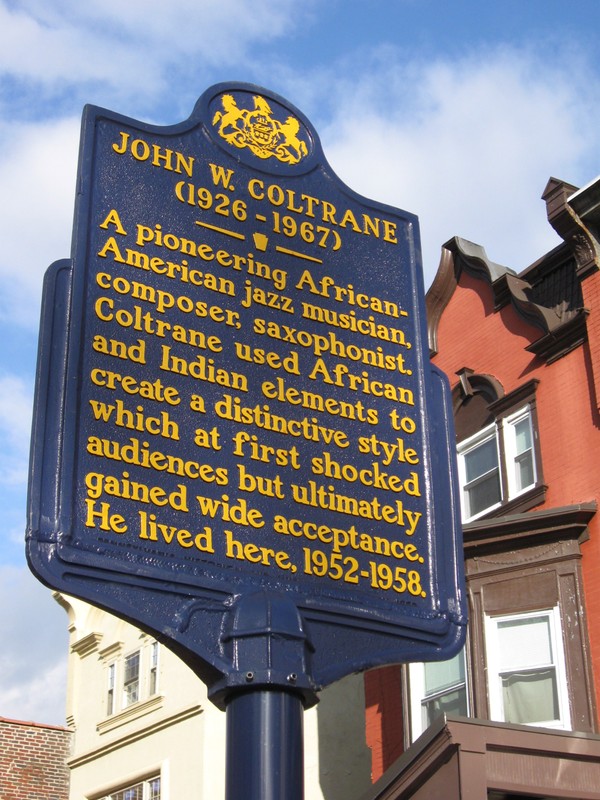 This Coltrane mural is located five blocks from his former home in the Strawberry Mansion neighborhood.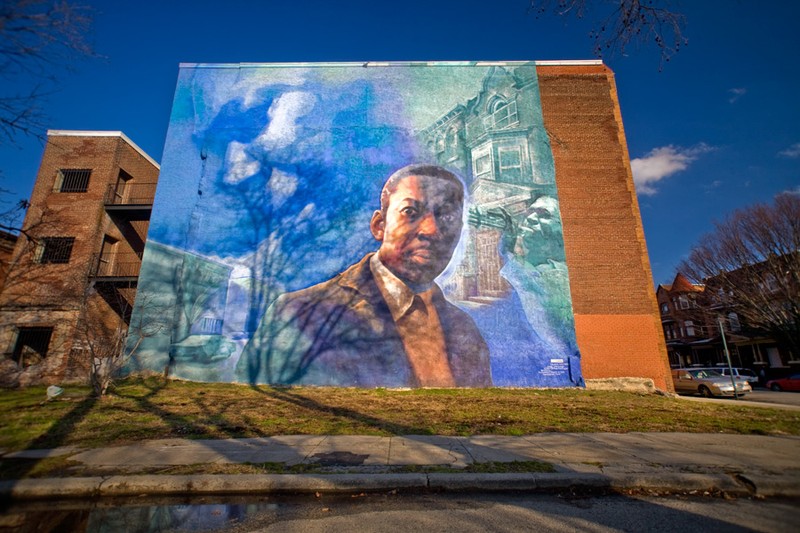 From left to right, Miles Davis, "Cannonball" Adderley, and John Coltrane in the recording studio...not a bad jazz trio.
Backstory and Context
Coltrane moved to Philadelphia from North Carolina in 1943 shortly after graduating from high school. He then enrolled in the Ornstein School of Music until he joined the U.S. Navy in 1945. He served in Hawaii, playing in the U.S. Navy Band, until discharged in 1946 when he returned to Philadelphia. He then continued his musical career as he mastered both the tenor and alto saxophone. He, for a short time, was a member of Dizzy Gillespie's Band beginning in 1949. It was also around this time, unfortunately, that Coltrane became a heroin addict.
Coltrane purchased the rowhouse on 33rd Street in 1952 for the price of $5,146 with the assistance of a G.I. loan. It is thought that this house, and others in the neighborhood, were designed for middle class Philadelphians by E. Allen Wilson. Coltrane moved into the colonial revival home with his mother, Alice; cousin, Mary Alexander; and family friend, James Kinzer. His future wife, Naima, a converted Muslim, would join them later. They were married in 1955.
As described in the home's National Historic Landmark nomination form, the home became "…intimately connected with the life of one of the most significant figures in American music of the 20th century." For it was here that Coltrane lived while he played with Johnny Hodges, Dennis Sandole and Miles Davis as he experimented with free jazz based on modal accompaniment rather than chord progressions. It was also while he lived on 33rd Street that he composed his first solo album and overcame his addiction in 1957. As the '50s progressed, Trane began to spend more time in New York City playing with such influential musicians as Thelonious Monk at the famous Five Spot. Eventually, Coltrane and Naima would leave Philadelphia for Long Island, New York. However, he used his Philadelphia home, now in the hands of his cousin, often as he toured. John Coltrane died in 1967 at the young age of 40 from liver cancer.
The Coltrane House stayed in the possession of Coltrane's cousin, Mary, until it was sold in 2004. Since that time, there have been many efforts to restore the house, but none have come fully to fruition. The John W. Coltrane Cultural Society was founded in 1984, but restoration efforts were sporadic and haphazard at best. The John Coltrane House is a Philadelphia non-profit that is currently striving to restore the historic home, but questions of ownership have hampered their efforts. As of this writing, the future of the John Coltrane House remains in doubt.
Sources
Lewis, Michael. "National Historic Landmark Nomination Form." United States Department of the Interior/National Parks Service. July 5, 1998. Accessed August 24, 2017. https://npgallery.nps.gov/pdfhost/docs/NHLS/Text/99000628.pdf
Klauber, Bruce. "Coltrane crumbles: the jazz legend's neglected house in Philly." Philadelphia Weekly. November 2, 2016. Accessed August 24, 2017. http://www.philadelphiaweekly.com/news/coltrane-crumbles-the-jazz-legend-s-neglected-house-in-philly...
Rilling, Donna. "Historic American Building Survey: John Coltrane House." National Park Service. Summer, 2000. Accessed August 24, 2017.http://cdn.loc.gov/master/pnp/habshaer/pa/pa3800/pa3863/data/pa3863data.pdf
Bacher, Danielle and Jonathan Brayner. "Strawberry Mansion: John Coltrane's House of Blues." Philadelphia Neighborhood. June 17, 2009. Accessed August 24, 2017. https://philadelphianeighborhoods.com/2009/06/17/strawberry-mansion-coltrane%E2%80%99s-house-of-blue...
Mote, Christopher. "At Coltrane House, Getting Closer To The Dream." Hidden City Philadelphia. March 25, 2013. Accessed August 24, 2017. http://hiddencityphila.org/2013/03/at-coltrane-house-getting-closer-to-the-dream/
Additional Information