Chung Wah Cemetery
Introduction
Established in 1906, this historic cemetery serves as a reminder that Folsom once had a bustling Chinese community of several thousand people for whom discrimination and segregation was an everyday occurrence that persisted even in death. Chung Wah cemetery is listed on the National Register of Historic Places, but is no longer open to the public.
Images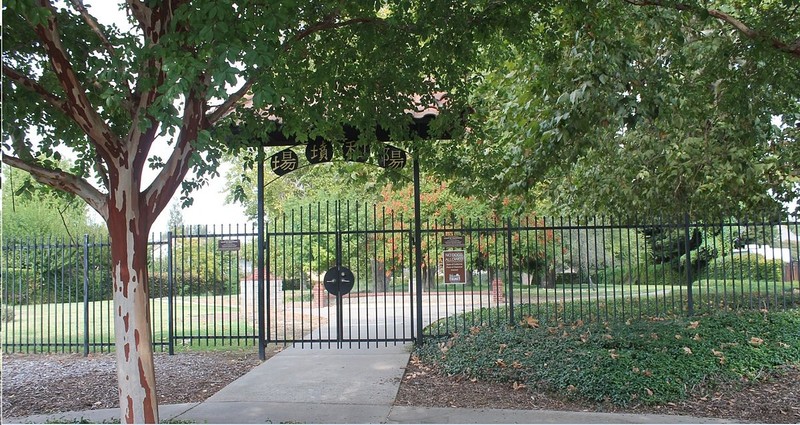 Backstory and Context
Drawn by gold mining related jobs in the area, Chinese immigrants flocked into Folsom. One of two cemeteries established by and for the Chinese-American community, Chung Wah Cemetery dates to 1906. The graves appear to be positioned haphazardly, which suggests that many of the grave markers were destroyed over time or that grave markers were never created. Many people were buried in shallow graves and many of the graves were deliberately unmarked, as some Chinese believed that an unmarked grave was less likely to be disturbed. The cemetery is marked with numerous indentations where bodies were exhumed; some were reburied elsewhere in the cemetery and others were returned to China.

In 1967, vandals broke into the cemetery, dug up numerous graves, took jewelry and other valuables from caskets, and left bones scattered on the ground. Some of the valuables taken from the graves were later traced to San Francisco pawn shops. In spite of the vandalism, the cemetery remains largely intact, and is one of the only remaining traces of Folsom's Chinese population.
Sources
Accessed August 23, 2017. https://npgallery.nps.gov/NRHP/GetAsset/df36b01e-b951-4b3e-b3c8-a4667703f728?branding=NRHP.