Sacramento Memorial Auditorium
Introduction
Sacramento's Memorial Auditorium opened in 1927, providing the city with an impressive stage for professional performances. It is named in honor of service members who died in World War I. With the exception of a ten-year period, the venue has hosted everything from concerts to high school graduations to gubernatorial inaugurations for almost a century. It seats 3,850 and continues to host events today. The building is now listed on the National Register of Historic Places and is part of the Sacramento Convention Center Complex.
Images
The Memorial Auditorium has unique architectural features inspired by medieval Europe and the Byzantine Empire.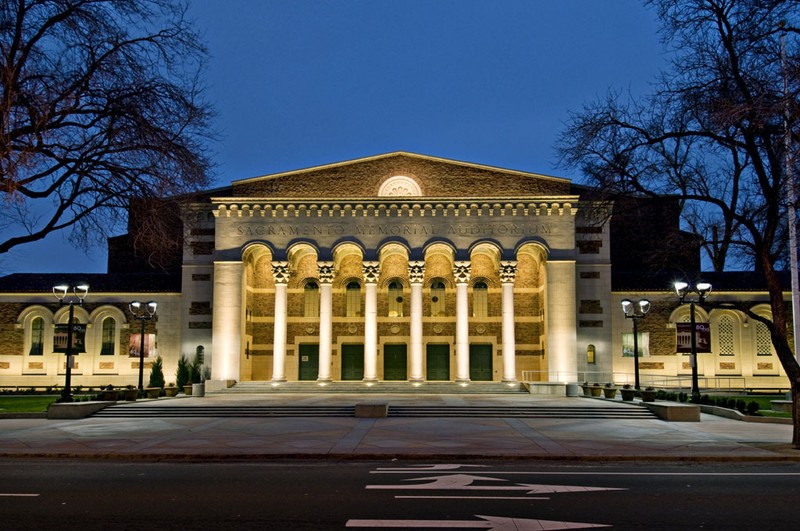 Backstory and Context
When Sacramento's Memorial Auditorium opened in 1927, it was lauded as "a most significant step in the growth of Sacramento" and "a monument to the arts."1 The auditorium, funded by $1 million worth of municipal bonds, was part of a larger initiative in the early twentieth century to improve the city. Along with better utilities, new water systems, and the city's first college, Sacramento also invested in the arts, building the Memorial Auditorium to offer citizens and visitors professional symphonies and choral performances.

The Memorial Auditorium was dedicated to those who gave their lives in World War I. City Engineer Allan J. Wagner and City Architect James S. Dean collaborated with outside consultants to construct the Memorial Auditorium, including G. Albert Landsburgh, who designed a number of theatres, and Arthur Brown, Jr., whose architectural firm designed Berkeley City Hall and Stanford University's library. The land on which the Memorial Auditorium is built was given to the city by John A. Sutter, who settled the area that is now Sacramento. The land originally held the Mary J. Waters Grammar School, which was razed to build the auditorium. This was not without controversy, as one of Sutter's heirs, arguing that the land was intended only for parks and schools, sued the city. The auditorium was nonetheless constructed and opened on February 21, 1927.
The auditorium incorporates distinct architectural features and building materials, such as columnns, arches, a clay tile roof, terra cotta and plaster trimmings, and brick in five shades of color. Together, these features are an amalgamation of architectural styles found in early European Renaissance buildings. At the time of the auditorium's construction, the City Architect, James S. Dean, characterized this building as Byzantine, an architectural style developed by the Byzantine Empire in medieval times. The auditorium's short arches and grand columnns along its flat, rectangular façade evoke this style.
Since its opening, the Memorial Auditorium has hosted a plethora of performances and events, which contribute to its diverse history. The first few events held at the auditorium included an Odd Fellows dance, a Saturday Club concert, and the opera Aida. It then began hosting athletic events, including wrestling and basketball, and added auto shows, flower shows, dance contests, fundraisers, graduations, and conventions to its resume. Governors James Rolph, Frank Merriam, and Culbert Olson hosted their inaugural balls at the auditorium. It continued to provide a stage for performers ranging from opera companies to the Rolling Stones and the Beach Boys into the late twentieth century.
The auditorium closed from 1986 to 1996. During that time, it fell into disrepair and had to be restored before its reopening in 1996. It is now part of the Convention Center Complex and is listed on the National Register of Historic Places. Since its reopening, the auditorium has hosted numerous performers, including Michael Buble, Melissa Etheridge, the Doobie Brothers, Duran Duran, and Death Cab for Cutie. The auditorium hosted Governor Arnold Schwarzenegger's inauguration, while many area high schools hold their graduations on the stage, making it a site of historical importance for the state and individuals.
The Memorial Auditorium continues its tradition of being a multi-purpose venue. Current plans to renovate the auditorium again will help ensure it remains part of Sacramento's arts and culture scene. While renovations will update sound and lighting systems, provide new seating, and improve facilities for both staff and visitors, preservationists are dedicated to retaining its unique historic character.
Sources
1. qtd. in National Park Service. "Sacramento Memorial Auditorium." National Register of Historic Places.
"About." Sacramento Memorial Auditorium. Accessed April 2018. http://www.sacramentomemorialauditorium.com/About
Large, Steve. "Renovation Project Hopes To Revive Sacramento's Memorial Auditorium." CBS Sacramento. December 7, 2016. Accessed April 2018. http://sacramento.cbslocal.com/2016/12/07/renovation-project-hopes-to-revive-sacramentos-memorial-auditorium/
"Memorial Auditorium." Visit Sacramento. Accessed August 20, 2017. https://www.visitsacramento.com/conventions-meetings/meeting-facilities/memorial-auditorium/

"Memorial Auditorium Renovation." Downtown Sacramento Partnership. Accessed April 2018. https://www.downtownsac.org/project/memorial-auditorium-renovation/
National Park Service. "Sacramento Memorial Auditorium." National Register of Historic Places Inventory-Nomination Form. Prepared by Christopher P. Taloff and Robert R. Selway III. Washington, D.C.: National Park Service, Department of the Interior, 1977. Accessed April 2018. https://npgallery.nps.gov/GetAsset/07fd9112-837a-4fe8-ba0f-f53ed410f56f
Additional Information