Bump Block (A.K.A. Hotel Carlyle, Carlyle Care Center)
Introduction
Built on land originally owned by the Northern Pacific Railroad, the Bump Block (Carlyle Hotel) became a longtime Spokane Single Resident Occupancy (SRO) hotel. Built immediately after the devastating 1889 fire that ravaged the town, the hotel was one of the first brick structures in the downtown region. Its arrival stands as a reminder of the growth attached to Spokane resulting from settlers arriving into the area during the late 19th and early 20th century period, including many transients that found SROs desirable.
Images
By Murderbike - Own work, Public Domain, https://commons.wikimedia.org/w/index.php?curid=3273624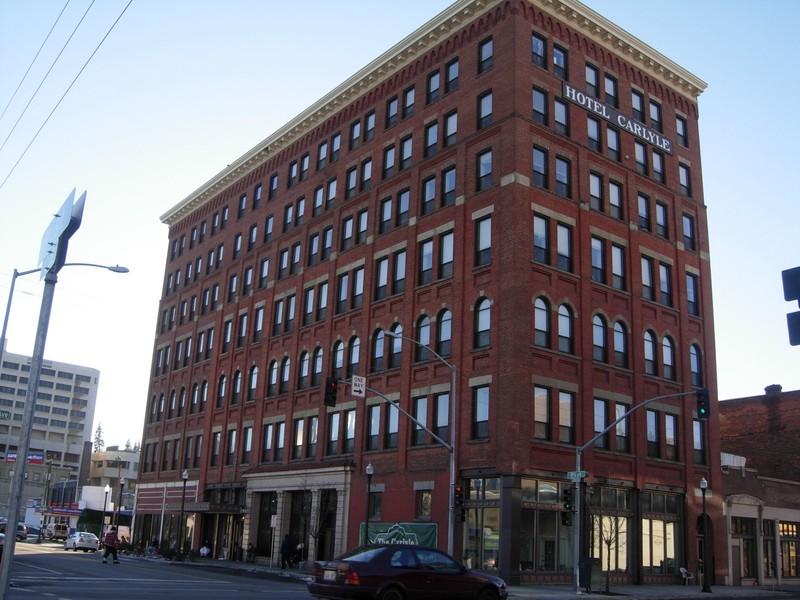 Source: Historic Spokane - http://properties.historicspokane.org/property/?PropertyID=1743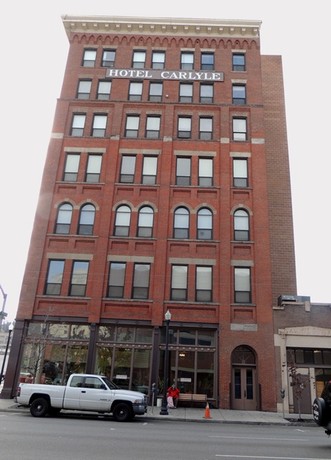 Backstory and Context
Spokane experienced several periods of growth during the late 19th and early 20th centuries, which included the arrival of many transients who stayed in single room occupancy (SRO) hotels such as the Carlyle (Bump Block) Hotel. The building provides evidence of Spokane's growth primarily based on those choosing to move and settle in Spokane.

The destructive Spokane fire of 1899 inspired new types of construction, and the Carlyle embodies that idea as one of Spokane's first post-fire brick buildings. The Bump Block name comes from its original financier, Gile O. Bump who, in a genuine representation of that era, made his money as a carriage manufacturer. Moreover, the original owner of the property was the Northern Pacific Railroad; railway companies of the 19th century usually owned much of the land used by its trains.
The hotel changed private and bank ownerships several times for nearly two decades until Spokane businessman John Hieber purchased the building in 1908 and subsequently funded its expansion. The new hotel opened its doors in 1909, and advertisements found in the city directory noted that the hotel offered 150 rooms (all "first-class"), as well as modern conveniences such as phone and elevator services. Additionally, the advertisements made sure to mention that the hotel catered to both regular guests and transients.
Numerous changes in ownership and functions occurred throughout the 20th century. Indeed, after World War II, the Carlyle included apartments in addition to its hotel rooms. Over time in the 1950s and 1960s, the aged of the building no longer made it as appealing thus began catering to lower income residents, which resulted in a transition back to a bonafide SRO hotel.
Today, though it stands as one of Spokane's oldest hotels, it is now known as the Carlyle Care Center, a 127-bed assistance center that serves those in hospice care, who would otherwise be homeless, are transitioning out of nearby hospitals, or are ordered by courts to find residential care facilities.
Sources
Emerson, Stephen, "Nomination Form: Carlyle Hotel," National Register of Historic Places. July 10, 2000. https://npgallery.nps.gov/GetAsset/642fa0ca-47d9-4422-a250-2fe60dc83572

Stratton, David H. 2005. Spokane & the Inland Empire: An Interior Pacific Northwest Anthology. Pullman, Wash: Washington State University Press, 2005.

Wohlfeil, Samantha. "Carlyle Care Center to stop providing assisted living for 127 people with chronic mental health issues." Inlander (Spokane), April 26, 2017. https://www.inlander.com/Bloglander/archives/2017/04/26/breaking-carlyle-care-to-stop-providing-assi...


Additional Information