W. H. Stark House
Introduction
This beautiful historic home was built in 1895 by wealthy businessman William H. Stark. It was designed in the Queen Anne style which is often characterized by the incorporation of bay windows and turrets. William and his family lived here until his death in 1936. His wife Miriam's father, Henry J. Lutcher, was the successful co-founder of the Lutcher and Moore Lumber Company, which figured prominently in the city's economy until 1970. The home, which is owned and operated by the Nelda C. and H.J. Lutcher Stark Foundation, has been restored and features Stark family furniture, art, and various household items on display. It was added to the National Register of Historic Places in 1976.
Images
The W. H. Stark house was built in 1895 and is operated by the Nelda C. and H.J. Lutcher Stark Foundation.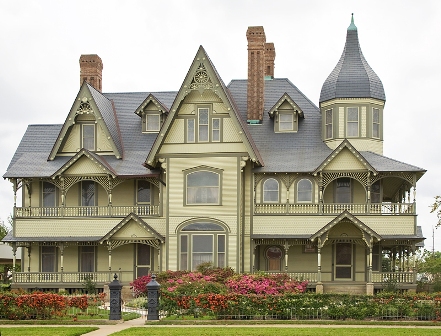 Earliest known photo of the Stark House, taken during the February snowstorm of 1895.
The Stark family, W.H., Miriam, and H.J. Lutcher Stark posing in their library c.1900.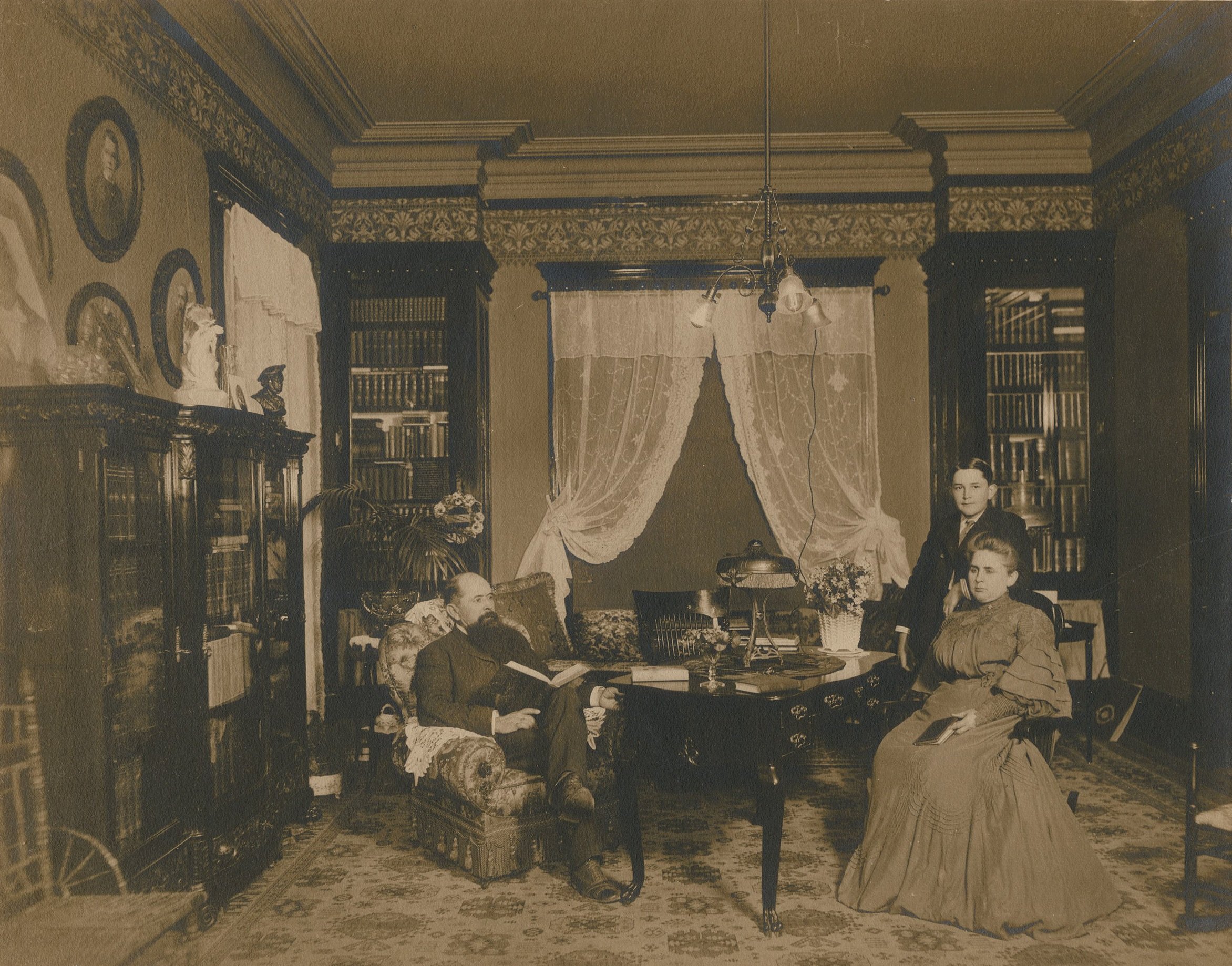 Backstory and Context
William Henry Stark was a local lumberman and industrialist who lived from 1851 to 1936. A native born Texan, W.H. hailed from San Augustine Texas, and moved to Orange in 1871 to take advantage of growing business opportunities in the area. Among other things he operated a livery stable, a mercantile, and worked in the area lumber mills. In 1877 he met Miriam Lutcher, who moved with her family from Williamsport Pennsylvania. Miriam's father, Henry Jacob Lutcher, was co-founder of the Lutcher & Moore Lumber Company, an industrial scale lumbering operation that he moved to Orange. After years of courting, W.H. and Miriam were married in 1881.

A few years after marrying, W.H. joined the Lutcher family lumber concern. With his business experience and practical knowledge, W.H. rose rapidly. In 1887, W.H. and Miriam had their only surviving child, a son named H.J. Lutcher Stark. Between 1893 and 1895, the Starks built their Queen Anne style Victorian house, including an adjacent carriage house and servant's quarters. It would be their home for the rest of their lives.

At the turn of the 20th century Mr. Lutcher began to feel the effects of age, and increasingly his son-in-law took over responsibilities for the Lutcher & Moore Lumber Company. When Mr. Lutcher passed away in 1912, W.H. Stark assumed his role as President of LMLC. W.H. diversified the family interests into insurance, banking, cattle, and numerous other fields. He was active in both the community and the state, helping lead the charge for deep water access in Orange and serving one term as a regent for the University of Texas.

Miriam Stark was also very active, hosting both social and educational events as well as starting a local reading contest that continues to this day. She used her wealth to collect a vast array of art, rare books, and artifacts. She amassed a variety of decorative art pieces, including hundreds of pieces of American Brilliant Cut Glass. In 1925, she committed to donating her rare book collection to the University of Texas and worked with librarians at the school to add to the collection throughout the rest of her life.

Eventually their son, H.J. Lutcher Stark, took control of the family's business concerns. W.H. and Miriam continued to live at their Green Avenue home until they both died in 1936. W.H. passed away first and Miriam followed about six weeks later. They were just shy of their 55th wedding anniversary.

Their son kept his boyhood home as storage for his mother's collections. When Lutcher Stark passed away in 1965, he left the majority of the family fortune to his wife, Nelda, and the charitable organization they started together, the Nelda C. and H.J. Lutcher Stark Foundation. The Foundation, under Nelda's leadership, began to restore the W.H. Stark House in 1971. After 10 years of meticulous work, the home was opened as a historic house museum in 1981.
Sources
Rienstra, Ellen. Stiles, JoAnn. The Long Shadow: The Lutcher-Stark Lumber Dynasty. Austin, Texas. University of Texas Press, 2016.

"House." W. H. Stark House. Accessed August 16, 2017. http://starkculturalvenues.org/whstarkhouse/explore/house.

Wooster, Robert. "Lutcher, Henry Jacob." Handbook of Texas Online. Accessed August 16, 2017. https://www.tshaonline.org/handbook/online/articles/flu13.

Photo: Nelda C. and H.J. Lutcher Stark Foundation

Additional Information