Stark Museum of Art
Introduction
The Stark Museum of Art contains one of the country's premier collections of American Western art. It was established by the Nelda C. and H.J. Lutcher Stark Foundation in 1978. It primarily houses the art and artifacts Nelda and Lutcher Stark collected during the decades prior to its opening. The collection is comprised of paintings, sculptures, photographs, decorative arts (mainly glass and porcelain works), and Native American art. Artists represented include Georgia O'Keefe, William Herbert Dunton, and John James Audobon. The museum also features a library and archives, which contains over 7,800 volumes covering a wide range of subjects, rare books and manuscripts—including Audobon's personal five volume set of "The Birds of America"—and Stark family papers.
Images
Opened in 1978, the Stark Museum of Art is one of the nation's premier museums of American Western art.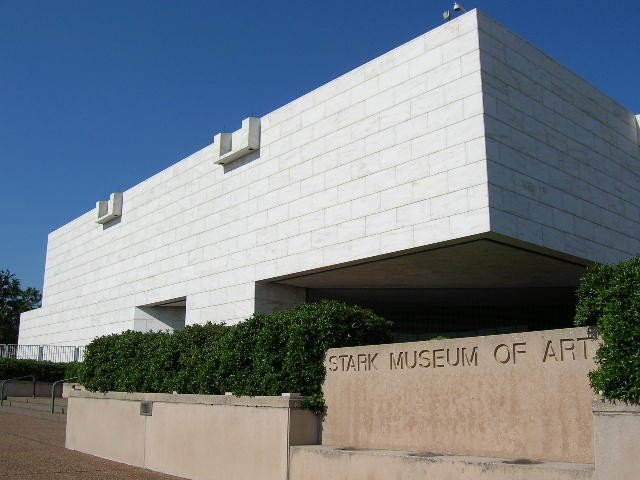 Backstory and Context
H.J. Lutcher Stark's interest in art began at a young age, as his mother, Miriam, was an avid art collector. Lutcher started to collect his own works as an undergraduate in college. His success in the banking, insurance, manufacturing, oil, and lumber industries enabled him to collect for the rest of his life. He was drawn to images of the natural world and particularly the American West. His wife, Nelda, shared his interest in art as well and they collected art together beginning in the 1940s. In 1961, together they created the Nelda C. and H.J. Lutcher Stark Foundation to assist education and enrich life in Southeast Texas. Unfortunately, Lutcher died in 1965 before he could see the museum come to fruition. Under Nelda's leadership, the Foundation opened the Stark Museum of Art in 1978. Nelda Stark passed away in 1999, but both her and her husband's legacies live on in the Stark Foundation, which operates not only the Stark Museum of Art but also the W.H. Stark House, Shangri La Botanical Gardens & Nature Preserve, and the Lutcher Theater.
Sources
"History." Stark Museum of Art. Accessed August 16, 2016. http://starkculturalvenues.org/starkmuseum/explore/history.

Photo: Public Domain, via Wikimedia Commons
https://en.wikipedia.org/wiki/File:StarkMuseum_OrangeTX.jpg



Additional Information