Lutcher Memorial Church Building
Introduction
Built in 1912, the Lutcher Memorial Church Building is one of most beautiful and architecturally significant structures in southeast Texas. The Greek Revival building is the worship space for the First Presbyterian Church, which was founded in Orange in 1878. Its most striking features are the tall dome, which stands at a height of 104 feet, and the numerous stained glass windows on the exterior walls as well as in the dome. The church was built thanks to one woman: Frances Ann Lutcher, who provided the funds for its construction and then donated it to First Presbyterian. It was added to the National Register of Historic Places in 1982.
Images
Lutcher Memorial Church was built in 1912.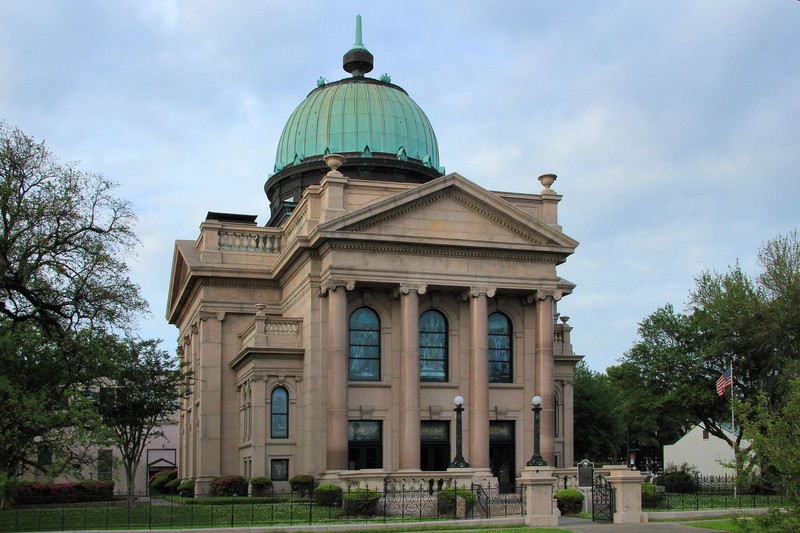 Backstory and Context
Frances Ann Robinson Lutcher was born in 1841 and married her husband, Henry J. Lutcher in 1858 in Williamsport Pennsylvania. Henry owned and operated sawmills in the booming Williamsport lumber industry. The couple had two daughters, Miriam (b. 1859) and Carrie (b. 1861). In 1877, Mr. Lutcher decided to move both his business and his family to Orange Texas, to take advantage of the lumbering opportunities the Gulf Coast provided. It was a fortuitous decision.

The family quickly adapted to Orange. The Lutchers were among the founding members of the First Presbyterian Church of Orange. Their daughters married into local families, Miriam to W.H. Stark and Carrie to E.W. Brown. Mr. Lutcher amassed an enormous amount of timberland, turning his company, the Lutcher & Moore Lumber Company, into a major industrial concern. Frances Ann, a fiery and independent woman, was active in both the community and assisting her husband. By his own admission she, "steered him clear of many a dangerous snag."

Frances Ann had many passions, including art, travel, and gardening. On a trip to the Chicago World's Fair in 1893, she purchased three award winning J.R. Lamb Studio stained glass windows which would be incorporated into the Lutcher Memorial Church. During the 1910s she was know for taking cross-country trips in her Pierce-Arrow automobile, well before the advent of highways. She also grew numerous varieties of plants, especially orchids, which she gave to troops passing through Orange on their way to the European battlefields of World War 1.

Beginning around 1900, Mr. Lutcher's health broke, and he began a long decline until he passed away in 1912. Frances Ann began constructing a new sanctuary for the First Presbyterian Church in 1908, eventually dedicating it to the memory of her husband. No expense was spared, as additional Lamb Studio windows were commissioned and one of the first air conditioning systems was included. The system drew so much power that a separate power plant building was included and a salary for an engineer to maintain the system. The building was formally dedicated on January 28th, 1912.

Frances Ann Lutcher continued her charitable works in Orange, building an opera house and hospital for the community as well. She also established and funded an endowment for the upkeep of the church building (which was also later added to by her grandsons Henry Lutcher Brown and E.W. Brown Jr.). Mrs. Lutcher passed away in 1924 while on a trip to New York City.

Interestingly, church records also claim that the first private radio station in the state was established in the building to broadcast services.
Sources
Anderson, Lisa. "Lutcher Memorial Church." National Park Service - National Register of Historic Places Nomination Form. September 9, 1982. https://atlas.thc.state.tx.us/NR/pdfs/82004517/82004517.pdf.

Rienstra, Ellen. Stiles, JoAnn. The Long Shadow: The Lutcher-Stark Lumber Dynasty. Austin, Texas. University of Texas Press, 2016.

Photo: Larry D. Moore, via Wikimedia Commons.
https://en.wikipedia.org/wiki/Lutcher_Memorial_Church_Building#/media/File:Lutcher_memorial_church_t...


Additional Information