Bryce Canyon National Park Visitors Center
Introduction
Known around the world for its crimson-colored, spire-shaped rock formations called hoodoos, Bryce Canyon National Park contains the largest concentration of these odd features in the world. The hoodoos are situated in a series of 14 amphitheaters at the eastern edge of the Paunsaugunt Plateau, which is about ten miles long. Over millions of years, water and wind erosion slowly carved the rock, creating the formations we see today, which include domes, arches, natural bridges, and domes. Around 1.5 million people visit th park each year. The park was established in 1928 after being designated a national monument in 1923. It is named after Mormon pioneer Ebenezer Bryce, who established a homestead in the area. The park's main road leads past the Bryce Amphitheater, a six square mile long hoodoo-filled depression lying below the Rim Trail hiking path. The park has overlooks at Sunrise Point, Inspiration Point, Sunset Point and Bryce Point. The visitor center includes an orientation video and several exhibits about the history of the park and the Native peoples who called this area home for centuries. The visitor center also offers information about hiking trails, activities, and nearby accommodations and events.
Images
Bryce Canyon National Park features these strange rock formations that have formed over millions of years.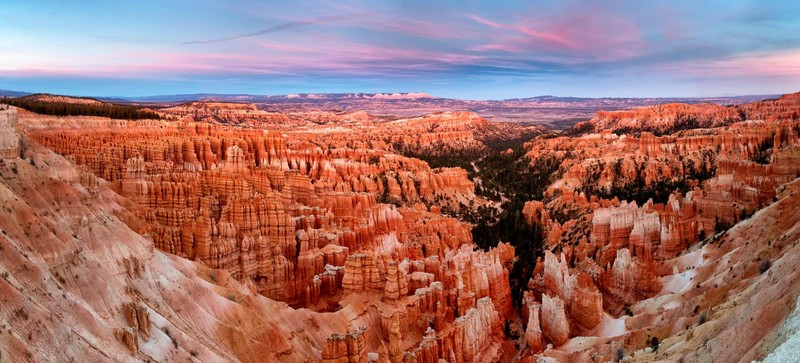 The visitor center includes exhibits about the history of the park as well as information about driving and hiking directions.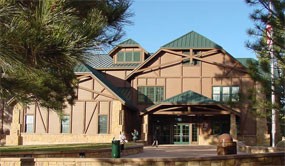 Backstory and Context
Despite its jagged, rocky landscape, humans have inhabited the area for thousands of years. Paleoindian hunter and gatherers first appeared about 10,000 years ago and were followed by Paiute Indians, who were semi-nomadic and also practiced hunting and gathering. Ebeneezer Bryce and other Mormons came in the 1800s. They dug a 10-mile long ditch to divert water from the top of the plateau to the valley below in order to plant crops (this is why the town of Tropic is called as such).
Sources
"History and Culture." National Park Service - Bryce Canyon National Park. Last updated April 28, 2016. https://www.nps.gov/brca/learn/historyculture/index.htm.

"Bryce Canyon National Park." National Geographic Society. November 5, 2009. http://www.nationalgeographic.com/travel/national-parks/bryce-canyon-national-park/

Additional Information