Zion Human History Museum, Zion National Park
Introduction
This small museum in Zion National Park offers exhibits related to the Native American inhabitants of this section of Utah, the creation of this and other National Parks, and the history of logging, railroads, and federal programs that have shaped the Park such as the Civilian Conservation Corps. The museum is open from spring to fall and is one of many attractions in this nature preserve distinguished by Zion Canyon's steep red cliffs.
Images
View of Zion National Park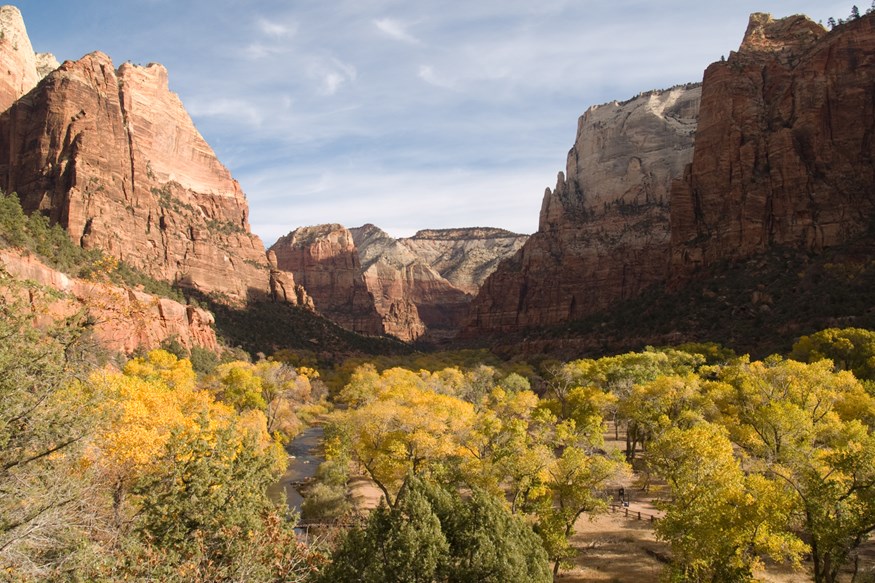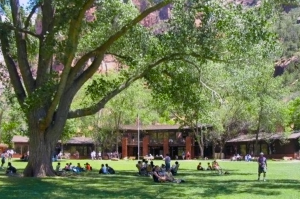 Backstory and Context
Archaeological evidence has been found throughout this park that offer clues regarding Native American life and culture. The museum contains artifacts drawn from Ancestral Puebloan (Anasazi) and Fremont cultures. There are also artifacts from Archaic cultures dating from about 7,000 BC to 300 BC, and from Southern Paiute culture, dating from AD 1250 to present day.

Zion National Park is best known for the surrounding canyon's steep red cliffs. Almost 12,000 years ago, Zion's first peoples tracked mammoth, giant sloth and camel across southern Utah. About 8,000 years ago, though, these animals died out due to climate change and over-hunting. Farming tradition archaeologists call Virgin Anasazi. The Anasazi moved southeast 800 years ago, resulting in Paiute peoples moving to this land. In the 1860s, just after settlement by Mormon pioneers, flash floods destroyed towns and drought burned the crops. Only the will to survive saw Paiute, Anasazi, and European descendants through great difficulties.
A Congressional bill designating Zion National Park was signed into law in 1919. During the 1920s, visitation to the new national park increased steadily. These visitations particularly increased after the Union Pacific extended a spur rail line to Cedar. The park today is one of the most visited parks, popular for its views, trails, and history.
Sources
National Park Service. People of the Past. October 6, 2016. Website. https://www.nps.gov/zion/learn/historyculture/people-of-the-past.htm
Utah Office of Tourism. Zion National Park. Utah Life Elevated. Website. https://www.visitutah.com/places-to-go/most-visited-parks/zion/
Additional Information