Eastern Cemetery
Introduction
The Eastern Cemetery of Portland, Maine is the city's oldest significant cemetery. With nearly 5000 marked graves dating back as early as 1718, interred in the Eastern Cemetery are some of the most influential people of Portland's long history. The graves within the cemetery have experienced various states of wear over the site's long life, but the cemetery is nonetheless much loved for its view of wide-open New England skies and the Greater Casco Bay. The last known burial was sometime in the late 1860s, though the cemetery has been open to the public for the entirety of the lifetime for respite and serenity.
Images
Public Domain photo of the Grave of Alonzo P. Stinson, Eastern Cemetery, Portland, Maine, by user Namiba of Wikimedia Commons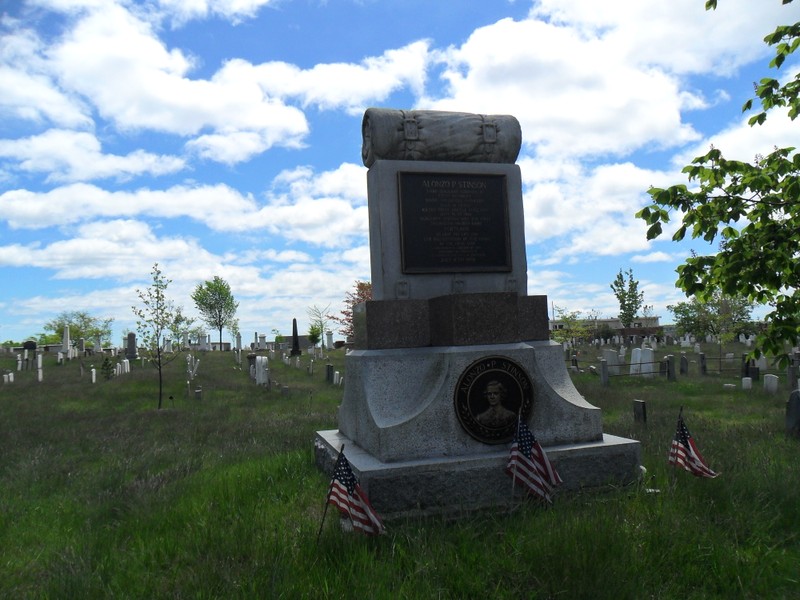 Backstory and Context
The Eastern Cemetery is framed by Congress, Mountfort, Federal, and India Street overlooking Portland Harbor and the Greater Casco Bay. Having been established in 1668, it belonged to the territory of Falmouth before Portland had even been founded as a city. While the Town of Portland was founded in 1786, the first recorded burial in the Eastern Cemetery was in 1718. Earlier burials clearly occurred, but no records were made or have yet been located of them.
Many of the graves are very simple. Those which contain carvings have few hints to the artisans who may have crafted them. Only a handful of graves have been attributed authors. Unfortunately, the oldest section of the cemetery has been the least well preserved. Many monuments have been damaged or defaced, and much historically relevant information has been lost from this section.
Over the years, various local groups have undertaken care of the cemetery, though its care has improved since its placement on the National Register of Historic Places. In the documentation for the location a group known as the Longfellow Garden Club is credited with extensive attempts to restore the Eastern Cemetery to a better state. As a result of restoration efforts, a number of new trees have been planted within the grounds. While once known for its ancient elms and cedars, only one of each tree remains, colossal reminders of what once was.
Interred in the Eastern Cemetery are a large number of Portland's earliest religious leaders including Reverend Thomas Smith of the First Parish Church. Reverend Smith's personal diary has been a repeatedly consulted source by historians researching the history of the Portland area through the 1700s. Asa Clapp, an influential merchant whose businesses fueled Portland's thriving and whose son went on to become as influential on the Portland area as he was, is buried within the Eastern Cemetery as well. Finally, Commodore Edward Preble, known as the father of the American Navy, is buried there.
Sources
NPS NRHP Nomination Paperwork for Eastern Cemetery. National Park Service. December 12, 1973. Accessed August 13, 2017. https://npgallery.nps.gov/pdfhost/docs/NRHP/Text/73000112.pdf. Official NPS NRHP Nomination Paperwork for Eastern Cemetery

Eastern Cemetery. Wikipedia.org. Accessed August 13, 2017. https://en.wikipedia.org/wiki/Eastern_Cemetery. Meta-source for general information on Portland's Eastern Cemetery

Eastern Cemetery. GeoHack. Accessed August 13, 2017. https://tools.wmflabs.org/geohack/geohack.php?pagename=Eastern_Cemetery¶ms=43_39_46_N_70_15_3_W_type:landmark_region:US-ME. Source for latitude and longitude conversions from degrees to decimal


Additional Information