Mount Vernon Baptist Church Cemetery - Grave Site of Lena Baker
Introduction
Mount Vernon Baptist Church is a small, rural place of worship in Cuthbert, Georgia. There is nothing particularly intriguing about the location itself; it is the story of a woman buried in the church's cemetery which holds significance. Lena Baker, an African American housekeeper and laundress was executed in the year 1945 for the murder of Ernest B. Knight, a gristmill worker who had hired her to take care of him as he recovered from an injury. Baker maintained her innocence throughout the entirety of the trial, but was found guilty and sentenced to death. Her execution occurred on March 05, 1945 via electrocution in the chair nicknamed "Old Sparky" at the Georgia State Prison. Ms. Baker was buried in the far back corner of the cemetery and given a small grave marker. In 2005, she was granted a full posthumous pardon.
Images
This is the mugshot taken of Lena Baker at Georgia State Prison on February 23, 1945.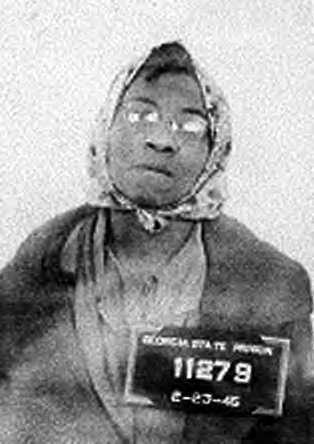 This is Baker's grave marker at Mount Vernon Baptist Church Cemetery in Cuthbert, Georgia.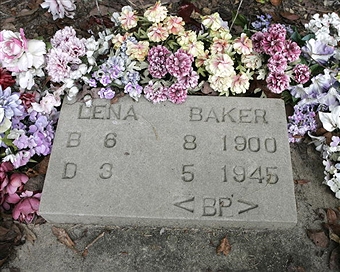 This is an image of the new headstone.
Backstory and Context
The Mount Vernon Baptist Church Cemetery is only significant because it is the final resting place of Ms. Lena Baker, a woman who lived locally and worked to support herself and her three children by cleaning homes and doing laundry. She was hired by a man named Ernest B. Knight to care for him as he recuperated from a broken leg. After some time as his employee, the two became intimate and had a sort of relationship. He was a worker at a gristmill, and Baker claimed that there would be many an occasion in which Knight would take her to the mill, but would not allow her to leave for days at a time. She recalled that he would trap her inside the building and leave for things like church or other responsibilities before returning to her.
On one particular occasion, Knight forcibly took her to the gristmill and refused to let her leave. He locked her inside the building before leaving to attend worship services. Upon returning, she noticed that he had with him an iron bar which had been used to keep the doors closed. The two had been arguing because she was very insistent on returning home, and became fearful for her life. According to Baker's testimony, Knight threatened to shoot her if she tried to leave. She tried to force her way past him and his iron rod, and used his gun to shoot him in the head. Immediately following his death, she went to the coroner and admitted to killing Knight. This occurred on April 29th, 1944.
After a short trial which lasted only one day in front of an all-white jury, Lena Baker was found guilty of the murder and sentenced to death by electrocution. The governor allowed her a sixty-day appeal period, but the sentence remained unchanged, and clemency was denied. Baker was booked at the Georgia State Prison in Reidsville on February 23rd, 1945 and executed on March 5th of the same year. Her last words were, "What I done, I did in self-defense, or I would have been killed myself. Where I was I could not overcome it. God has forgiven me. I have nothing against anyone. I picked cotton for Mr. Pritchett, and he has been good to me. I am ready to go. I am one in the number. I am ready to meet my God. I have a very strong conscience" (Phillips). Baker was the only woman to ever be executed via electrocution in Georgia.
Baker was buried behind the Mount Vernon Baptist Church in Cuthbert, Georgia. This is a small, local church with very little historical importance or recognition. The sole historical event which put the church and cemetery on the map was the life and death of Ms. Lena Baker. In the year 2005, Baker was fully posthumously pardoned and a newer headstone was given to her.
Additional Information