Neill Public Library
Introduction
The current building for Neill Public Library was completed in 1992 on a site that the city's library has occupied since 1962. The library completed a substantial addition in 2004. The origins of the city's library are in a children's summer library established by the local chapter of the American Association of University Women in 1922. It soon became a year-around facility with books for all ages and by 1940 it was fully operated by the City of Pullman. The library moved to various locations and buildings in the city until it settled into its current building.
Images
Neill Public Library (2017)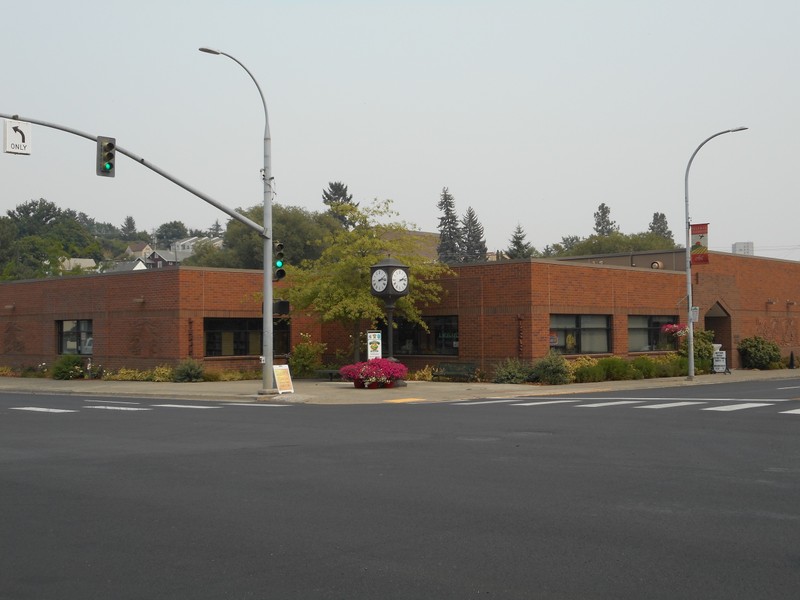 Backstory and Context
The building houses the public library for Pullman, Washington. The library includes a significant collection of northwest materials with an emphasis on the local area. The library also holds art pieces created by local artists. Friezes in its brick facade were developed and installed by artists from Seattle. The clock outside the library was designed and produced by a local engineering technician with financial support from the Friends of Neill Public Library. It was built to honor three business women associated with the city's downtown who all died in 1981. The library's parking lot was rebuilt in 2016 in a way that cleans the water draining off it before flowing into a nearby creek.
Sources
John R. Anderson. The Little Library that Could: The Origins and Development of Neill Public Library in Pullman. Bunchgrass Historian (publication of Whitman County Historical Society). 42, No. 3: 2016, pp. 5-14.