Y.M.C.A
Introduction
The YMCA, built in 1913 by the Young Men's Christian Association, was owned and operated by this organization. It is located on the corner of Second Avenue and Summers Street, immediately up the hill from the Passenger Depot. The building now serves as the Senior Center for Hinton and Summers County.
Images
May 1913 newspaper article about the opening of the new YMCA building after the 1911 fire.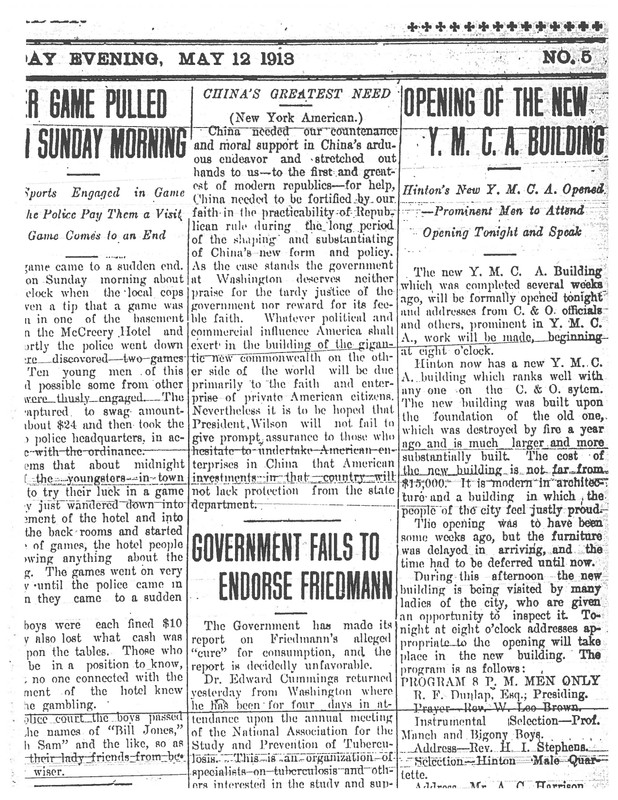 The building as it stands in 2017.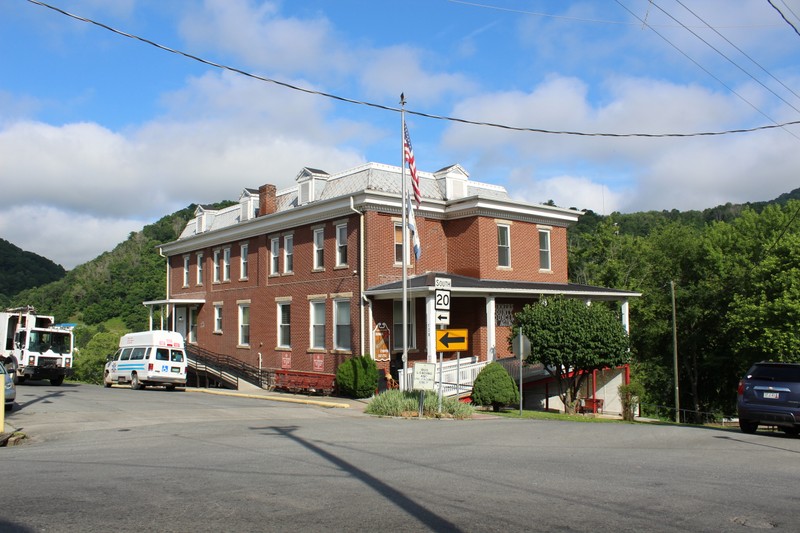 The Passenger Depot and YMCA in 1975. From C&O Historical Society archives.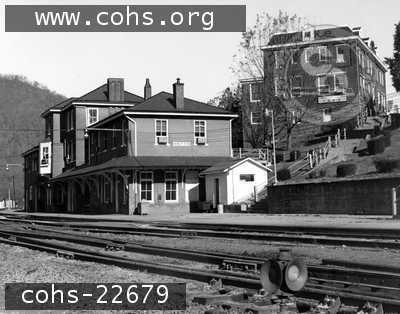 The Passenger Depot and original YMCA building from a ca. 1900 post card. From C&O Historical Society archives.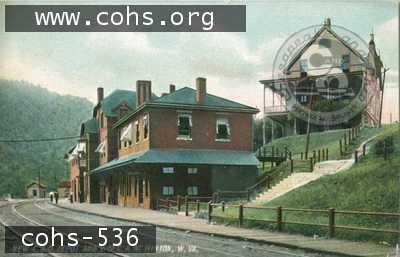 Backstory and Context
In 1891, the Chesapeake and Ohio Railroad constructed the passenger depot and the YMCA. The original YMCA building was a two-story wooden structure with a front porch. It was the first of many YMCAs on the C&O Railroad line.1 In 1904, the Democratic Vice-Presidential Candidate, Henry Gassaway Davis, campaigned from the porch of the original YMCA Building on this site.2
After a fire in 1911, the original wooden building was replaced with the brick building that stands today. It was completed in 1913 and had its grand opening on May 12,1913. The total cost for the new buildings was $15,000.3 The first floor was a large room which contained a registration desk, offices of the Manager, Secretary, and other staff. The room also contained tables and chairs available for card playing, as well as board games. It was unusual to enter the building and not find several checker games in progress. The second floor contained sleeping rooms. The YMCA was opened to accommodate employees that were away from their homes in connection to their employment with the railroad. However, if the sleeping rooms were not needed for this purpose, they were rented out to other travelers.

The building itself is one of the most architecturally significant buildings within Hinton. Built in the French Second Empire style, which was popular in the early-1900s, its character-defining element is the stylized Mansard roof and its gabled, dormer-like vents. The other notable example of the Second Empire style in Hinton was the C&O Boarding House, which was located on the corner of 5th and Summers Street. The Boarding House was demolished in 2016, leaving the Y.M.C.A as the best example of the architectural style in Hinton.
Sources
1 Robinson, Ed. Summers County. Arcadia, 2003, p. 8.
2 Miller, James H. History of Summers County: from the Earliest Settlement to the Present Time. Higginson Book Co., 1908.
3"Opening of the New Y.M.C.A. Building." Hinton Daily News. 12 May 1913.