Arthur Hardy Fire Station
Introduction
Arthur "Smokestack" Hardy was a long-serving and pioneering African American fire fighter in Baltimore. Hardy was also the founder of the first organization for African American volunteer firefighters. Hardy was well-known as a chronicler of local fire department history, taking photographs and collecting fire memorabilia throughout his life. This station was named in Arthur Hardy's honor after he passed away in 1995. Those interested in the history of local fire departments can visit a small fire museum at the home of Guy Cephas at 203 North Carey Street with advance notice. Mr. Cephas's home has a room that contains items from Arthur Hardy's collection of photographs and memorabilia and he is happy to offer tours with an appointment.
Images
Arthur Hardy Fire Station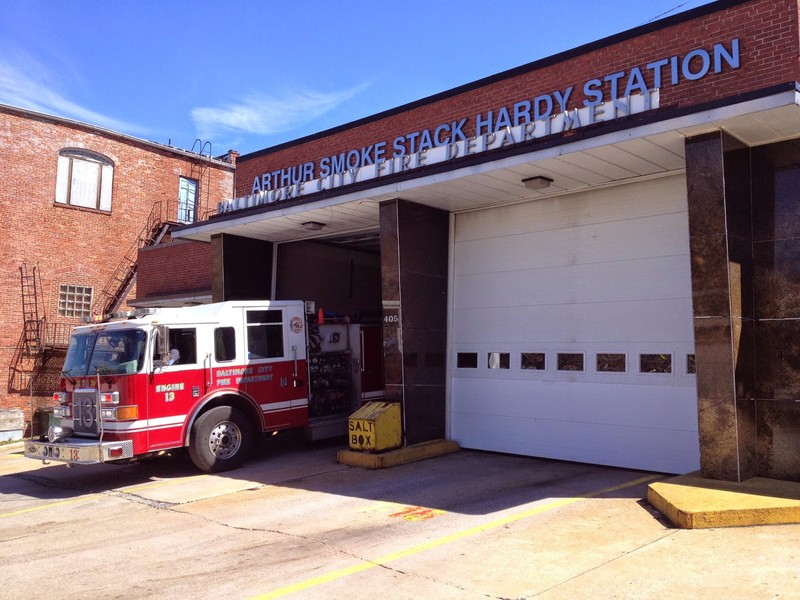 Backstory and Context
At the young age of three, Arthur Hardy's life changed as he witnessed the Great Baltimore Fire of 1904 from the roof of his grandmothers house. At that moment, relatives indicate, Hardy became fascinated with fire fighting. As a young boy he would chase fire engines, which at that time had smoke stacks on top of them. The local firemen nicknamed him "Smokestack" and the nickname stuck. Hardy's dream of becoming a city firefighter was delayed until 1942, when the city hired and trained its first class of African American volunteer firefighters to augment stations owing to the decline of available manpower.
Hardy and other residents served in unpaid positions until 1952. Between 1949 and 1952, Hardy led a campaign of his fellow auxiliary firemen to create paid positions for African American firefighters, but in 1952 the mayor of Baltimore hired ten African American firemen. Throughout Hardy's 94 years of life, he collected fire memorabilia. After his passing in 1995, Guy Cephas, a colleague of Hardy's opened a small museum in his home, using Hardy's collection as the basis of his own growing collection.
Sources
Arthur Hardy,Goodreads. Accessed 8/7/17. https://www.goodreads.com/author_blog_posts/3088828-arthur-smokestack-hardy-fire-museum.

Arthur "Smokestack". 21pw. Accessed 8/7/17. https://www.goodreads.com/author_blog_posts/3088828-arthur-smokestack-hardy-fire-museum
Additional Information