Union Trust Building
Introduction
Constructed in 1916 and financed by Henry Frick, one of America's leading industrialists the Union Trust building is an indoor shopping complex and office building that was known as the Union Arcade in its early years. The building was designed by architect and Pittsburgh native Frederick Osterling with a Flemish-Gothic design reminiscent of the Municipal Hall in Leuven, Belgium. The building is perhaps best known for its twin, chapel-like towers which sit atop its mansard roof. It was listed on the National Register of Historic Places in 1974 and designated as a historic site by the Pittsburgh Historic Landmark Foundation in 1968. Today the Union Trust Building is a mixed-use structure, with retail and office space.
Images
The Union Trust Building was modeled after the Municipal Hall in Leuven, Belgium and was completed in 1916.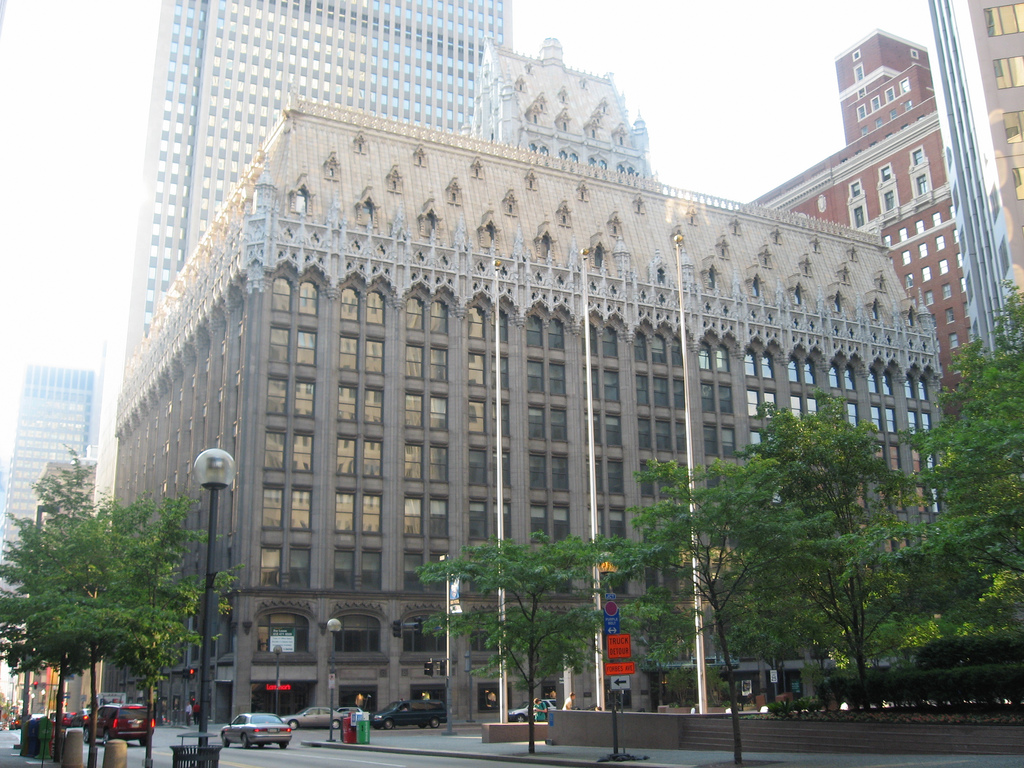 The building's mansard roof with its unique cathedral-like spires.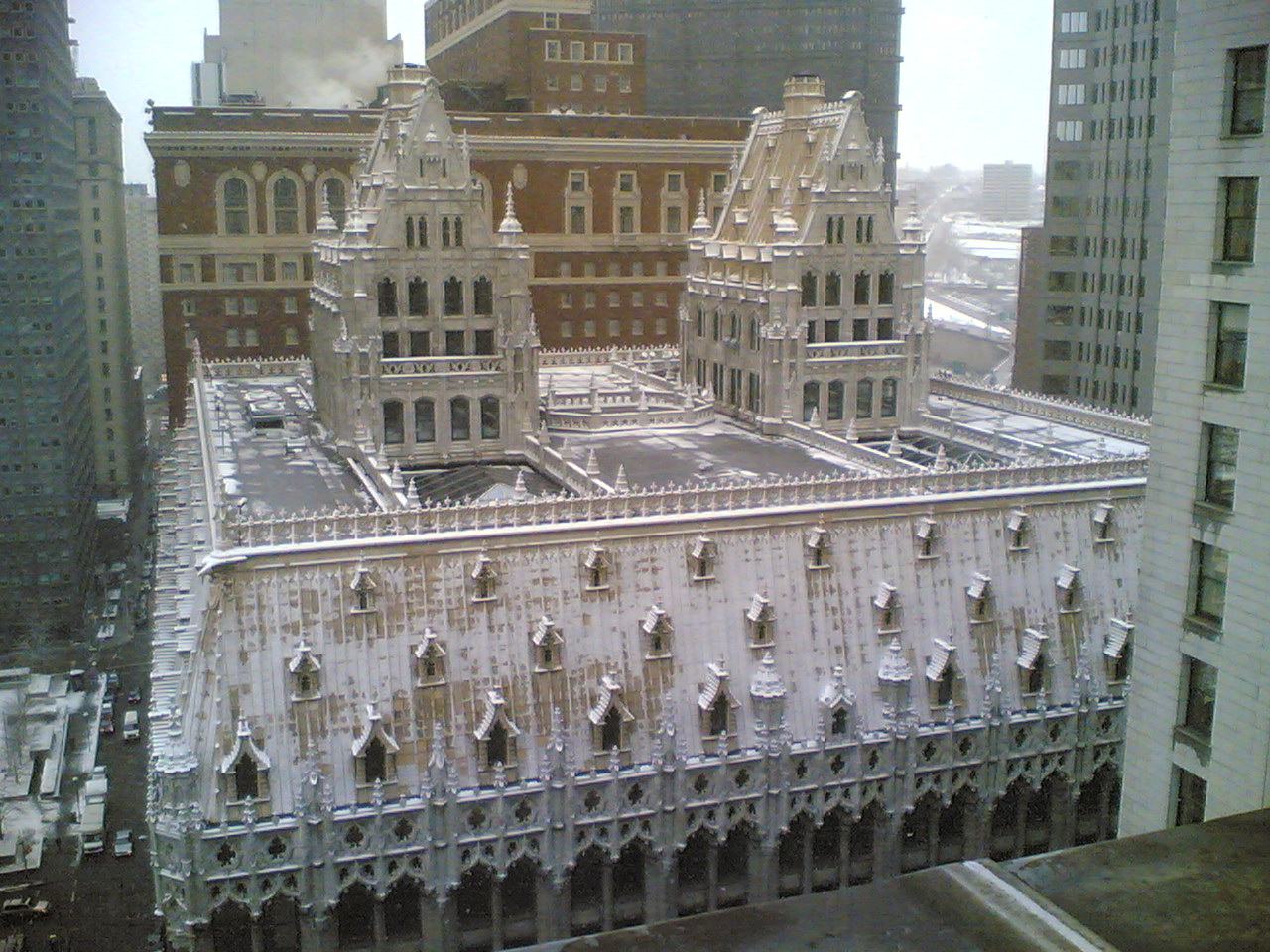 A vertical view of the building's central, 150-foot rotunda with stained-glass cap.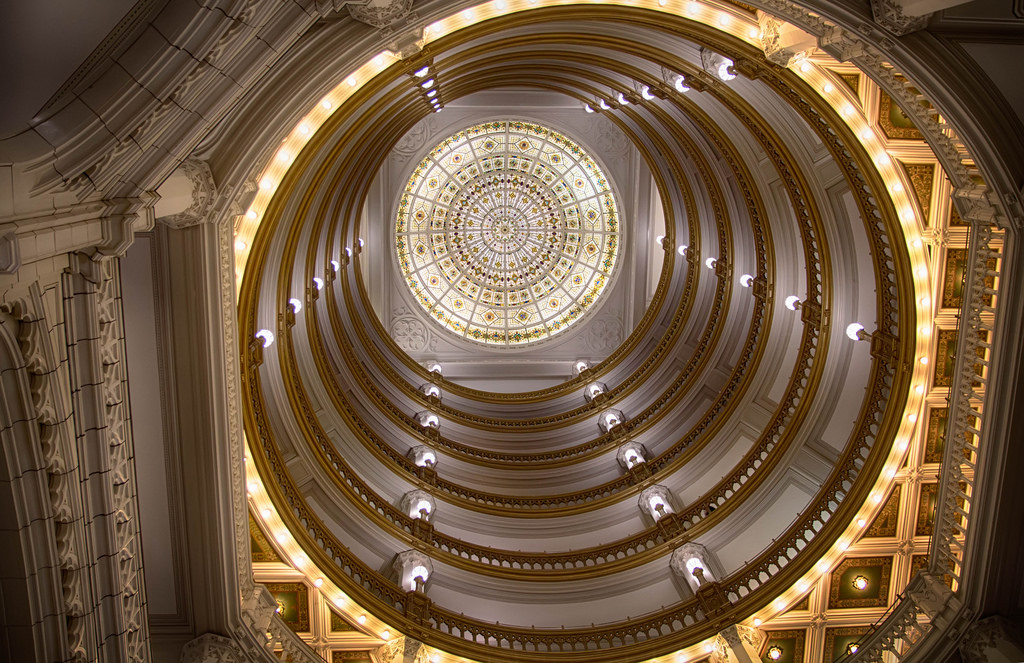 One of the building's large vaults that still remains in the basement.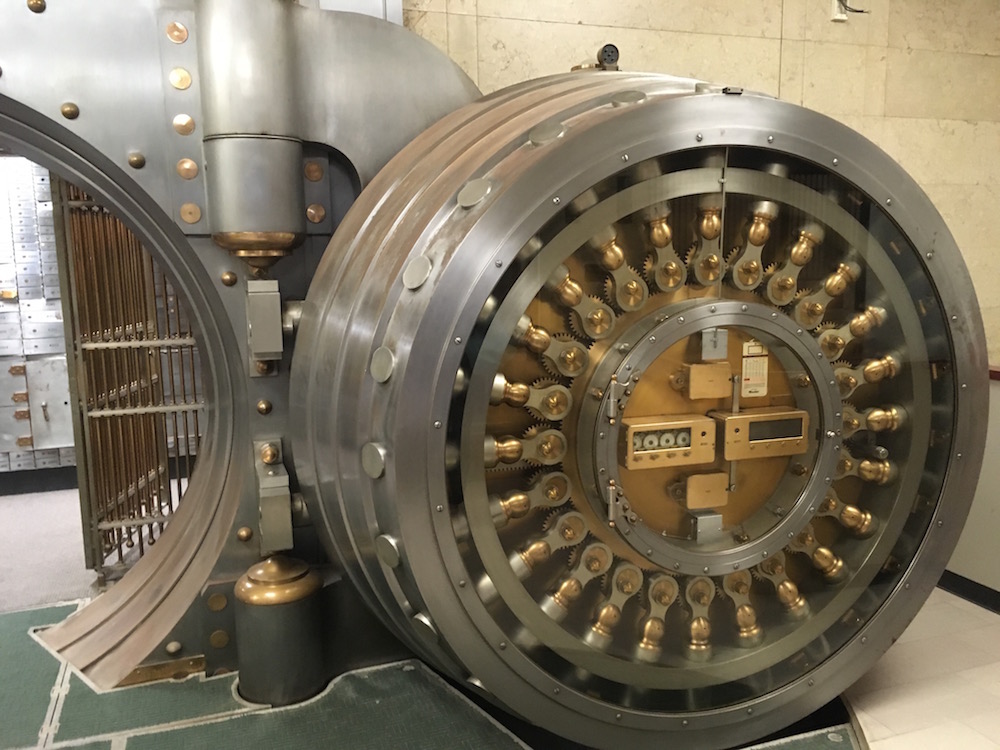 A series of photographs showing the then, Union Arcade, during construction.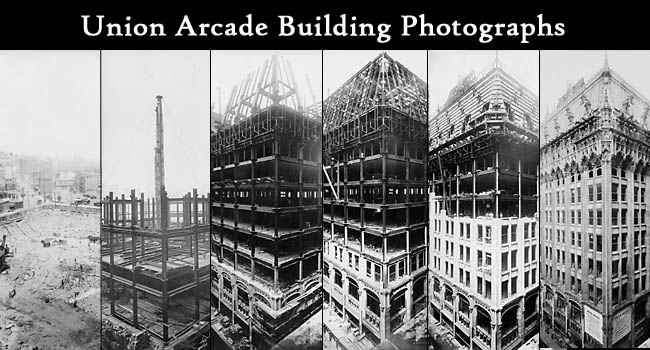 Backstory and Context
In the late 19th century, Pittsburgh's downtown area continued its transformation from a residential center to an industrial and business hub. As a result, the Roman Catholic Diocese of Pittsburgh decided to relocate its mother church from downtown to the growing suburbs, in this case, the Oakland neighborhood. It then sold the land occupied by its original church to Henry Clay Frick. Frick then used part of the acquired land to build an 11-story building that included 240 shops and galleries on its first four floors and office space on the remaining levels. The remaining space is now home to the William Penn Hotel.
Frick employed Frederick Osterling as the architect and he designed a distinctive structure in the Flemish-Gothic style. The exterior of the square building (it measures 255 feet x 255 feet) features a mansard roof with terra cotta dormers and, in a nod to the Catholic church that once occupied the space, two short towers on its roof that resemble church spires. Inside, Osterling centered the 517,000 square-foot structure around a 150-foot rotunda that is capped with a large circular stained-glass window. It features marble floors, mosaic tile ceilings, additional stained-glass windows at both main entrances on Grant Street and 5th Avenue, a 400-seat theater and two massive vaults, one with a 55-ton door, in its basement.
The building was sold to the Union Trust Company in 1923 and its first four floors were remodeled. It has been known as the Union Trust Building ever since. It was then sold to the one-time owner of the San Francisco 49ers and Pittsburgh Penguins, Ed DeBartolo Sr. in 1983 and then to the California based Mika Realty Group in 2008 for $24.1 million. The building was then largely abandoned for a time until it was sold at a sheriff's auction to the Boston based real estate and development firm, Davis Companies, for $14 million in 2014.
The building then went through a 2-year, $100 million renovation, to include the addition of a 190-space subterranean parking garage, a fitness center, conference room for up to 75, and a reception room that can seat 100. In addition, the exterior façade was cleaned and restored as was the building's roof, elevators and 10th floor theater while over 50 exterior terra cotta pieces were replaced using original molds found in the basement. Finally, large 10' x 34' photographic collages of Pittsburgh's cityscape have been added at various public spaces within the building. The lower floors still house retail space to include several restaurants, while the upper floors remain largely the home of various corporate offices.
Sources
Pitz, Marylynne. "New Union Trust banks on demand for downtown Pittsburgh office space." Pittsburgh Post-Gazette. June 22, 2016. Accessed August 8, 2017. http://www.post-gazette.com/business/development/2016/06/22/New-Union-Trust-banks-on-demand-for-offi...
Belko, Mark. "Boston company buys Union Trust Building in downtown Pittsburgh at sheriff's sale." Pittsburgh Post-Gazette. March 3, 2014. Accessed August 8, 2017. http://www.post-gazette.com/business/2014/03/03/Boston-company-butys-Uniohn-Trust-Building-in-Downto...
Perazzo, Peggy. "The Union Trust Company of Pittsburgh (The Union Arcade Building in Pittsburgh, Pennsylvania)." Through the Ages/Quarries and Beyond. January, 1926. Accessed August 8, 2017. http://quarriesandbeyond.org/states/mo/pdf/union_trust_company_of_pittsburg_pennsylvania-through_the...
Lubetkin, Steve. "Redeveloped Union Trust Building launched in Pittsburgh." Globe St. July 11, 2016. Accessed August 8, 2017. http://www.globest.com/sites/stevelubetkin/2016/07/11/redeveloped-union-trust-building-launched-in-p...
Additional Information