Heilbron House
Introduction
The ornate Heilbron House was commissioned in 1881 by German immigrant and businessman August Heilbron and designed by Nathaniel Goodell, architect of the nearby California Governor's Mansion and many other iconic California buildings. The mansion, one of the few grand old homes in downtown Sacramento to have survived demolition through the decades, is an immaculate example of the Italianate Victorian style and a rare glimpse into downtown Sacramento's historic past. The home is listed on the National Register of Historic Places.
Images
The Heilbron House is notable for its ornamentation, a common trait in the work of architect Nathaniel Goodell. Much of this was accomplished with wood embellishments, springing from Goodell's background as a carpenter.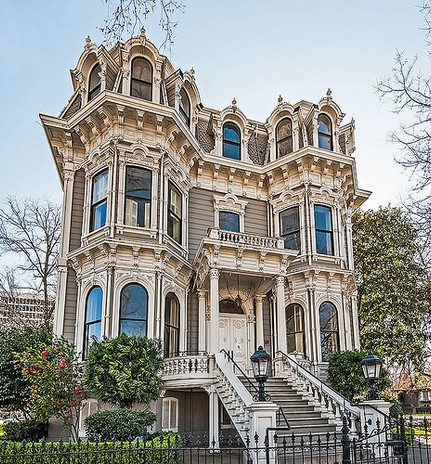 The 3-story structure has 13-foot high ceilings on the first floor and 12-foot ceilings on the second. The entire structure was build 8 feet above street level to avoid the catastrophic floods that plagued Sacramento's earlier history.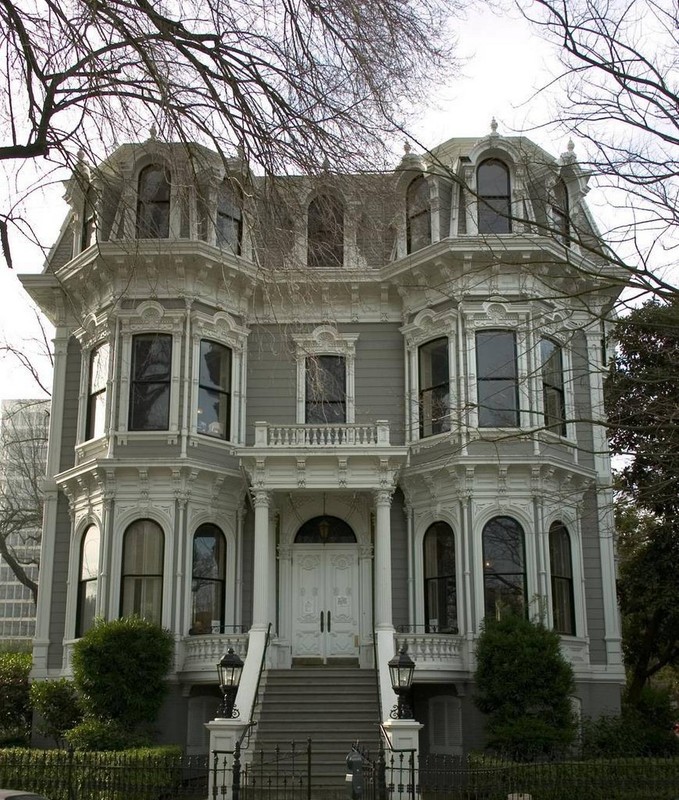 Generic illustration of a Mansard roof, one of Goodell's trademarks. All four of his surviving homes in downtown Sacramento, including the Heilbron House, have variations of this roof style.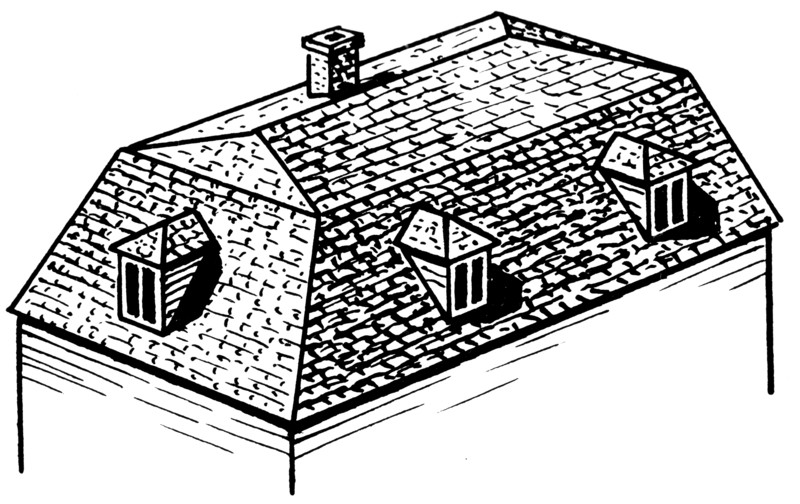 Queen Victoria's Osborne House is another notable example of Italianate Style, which consciously mimics architectural forms of the Italian Renaissance. American versions eventually developed a style all their own. (Photo by Antony McCallum).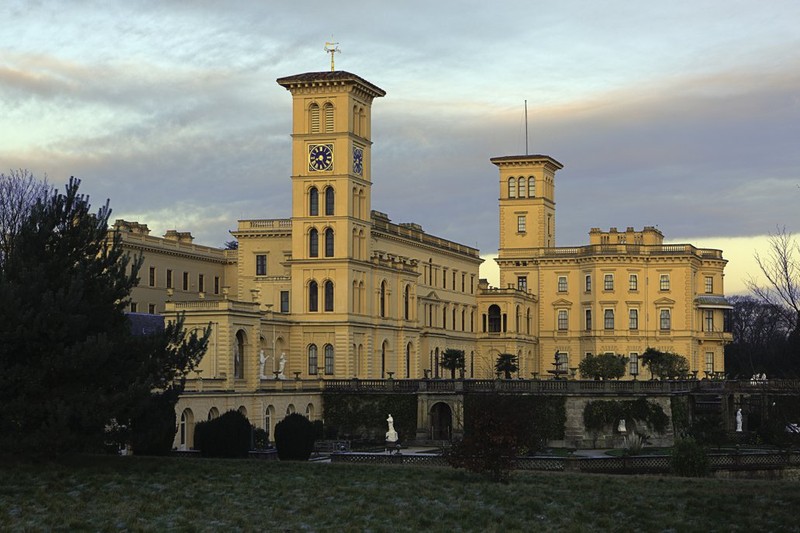 A list of 1857 naturalized citizens published in the Sacramento Union newspaper on Jan. 1, 1858. Both August and his brother Adolph are listed as having naturalized on Sept. 1, 1857.

Heilbron's background as a grocer and rancher left him uniquely positioned as an industrial-scale butcher. Pictured is a Dec. 21, 1861 ad in the Sacramento Union for Heilbron's "California Cured Bacon."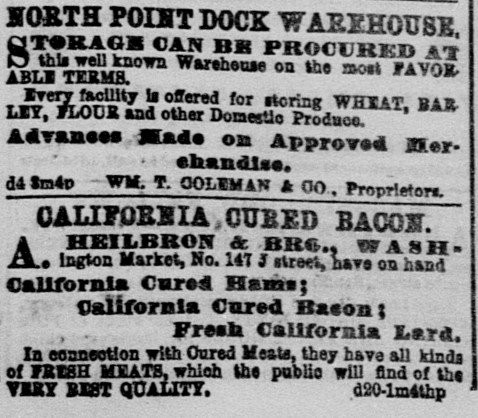 Illustrating Heilbron's widespread investments is this Oct. 19, 1865 advert in the Sacramento Union for the Union Iron and Brass Foundry, of which he is also listed as a partner.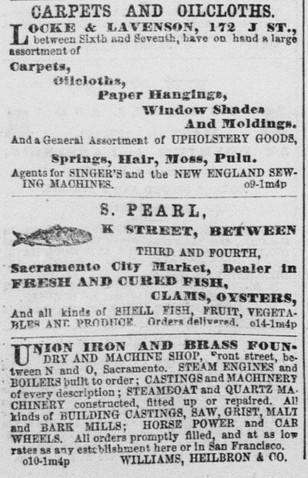 Heilbron's Sacramento Union obituary on Nov. 22, 1893 reveals his deep involvement in the community. Included is a letter from his commanding officer in the National Guard, in which Heilbron last held the rank of Major.

Edith Adele Bellmer in 1983, with the Heilbron House in background. A descendant of Heilbron, she lived in the house until 1942, and was present at its centennial in 1981. (Center for Sacramento History).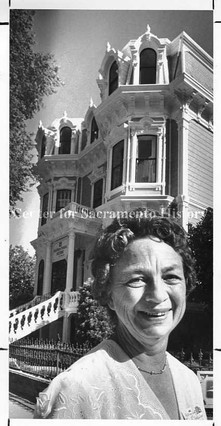 Backstory and Context
August Heilbron immigrated from Germany in 1855, close on the heels of California's Gold Rush of 1848-49. Like many of the wealthiest businessmen and "captains of industry" who emerged from the period, Heilbron made his fortune not from gold speculation, but by selling goods and services to the masses of people mining the riverbanks and mountains of the future state. One of August's brothers had preceded him to the state, and August began working in Frederick's Columbia Market grocery, then later opened up a store of his own in Sacramento.
August (often referred to as "Augustus" in contemporary newspapers) became a naturalized American citizen on September 1, 1857, and the year after entered into the cattle business with his brother, Adolph (similarly called "Adolphus" in many newspapers of the day). Their enterprise blossomed in the 1860s, marked by a substantial increase in print advertisements. August Heilbron eventually came to own a 69,000-acre ranch near Fresno upon which his cattle herds thrived. Heilbron also owned interests in business operations stretching from hardware and agricultural equipment to livestock butchering.
By 1881, he was well-established among Sacramento's business elite and a pillar of the Sacramento community, serving in the volunteer fire brigade and as a founding member of the Sacramento Hussars, a quasi-military unit with which he would be involved for the entirety of its thirty-three years before its absorption into the National Guard. In need of a house to match his reputation and to hold his sizeable family (his German wife, Louisa, and their eight children), he selected a property near the State Capitol like many other powerful California magnates of his day--including railroad tycoon and former California governor Leland Stanford. He then commissioned Nathaniel Goodell, architect of the stately Albert Gallatin mansion, to design a similar Victorian-style home.
The house was intended to be less pretentious than the Gallatin estate, however, which later became the official California Governor's Mansion. The Heilbron house adheres more stringently to the Italianate style (so named for its reimagining of Italian Renaissance ornamentation and architectural motifs) popular in the United States from 1830-1880. Goodell brought many of his trademarks to his work for Heilbron, including a a heavy use of ornamentation (especially in wood, from his background as a carpenter) and the use of the Mansard roof (a trademark of Victorian Era "Second Empire" architecture, so named after the Second Empire of Napoleon III, who ruled France during the 1860s-70s). All four of the surviving Victorian homes in downtown Sacramento were designed or renovated by Goodell, and share traits like these.
August Heilbron himself died in the house from unexpected illness in 1893, at the age of 58, but his family continued to live in the house until 1953. It was then finally sold and operated as a restaurant until 1973, when it was purchased by San Diego Federal Savings and Loan Bank. The Bank contributed nearly $700,000 to the house's restoration, in stark contrast to the many of the historic homes in the neighborhood, which were demolished to make way for government offices after World War 2.
The house was sold later to Wells Fargo Bank, then a nonprofit art gallery. Eventually, the California State Government acquired the home, which has been used since as additional offices for the state's Department of Parks and Recreation. Despite being listed on the National Register of Historic Places for decades, it was threatened with demolition as recently as 2017 to make way for a new skyscraper, but vigorous community action has saved the important home once more. Today it still stands as a rare monument to the unique early history of Sacramento's founding figures.
Sources
1. National Register of Historic Places in Sacramento County. noehill.com. Accessed August 15, 2017. http://noehill.com/sacramento/nat1976000511.asp.

2. Price, Gerald. "Heilbron House," National Register of Historic Places Nomination. Sacramento, Sacramento County, California, #036268.

3. Flynn, Katherine. Sacramento's Heilbron House Threatened by New Office Complex. National Trust for Historic Preservation. Accessed February 12, 2018. https://savingplaces.org/stories/sacramentos-heilbron-house-threatened-by-new-office-complex#.WoH9Lu....

4. "Death of August Heilbron." Sacramento Daily Union(Sacramento), November 22, 1893, Obituaries sec. Accessed from California Digital Newspaper Collection, 2/12/2018.


Additional Information