Patsy Cline Museum
Introduction
Although she attained only modest commercial success before her death in a plane crash at the age of 30, country music legend Patsy Cline (born Virginia Patterson Hensley in 1932), like Johnny Cash, now has her own museum in Nashville, which opened in April, 2017. The 4000-square-foot space, created by Cline's 58-year-old daughter, Julie Fudge (who was four years old when her mother died), and investor Bill Miller, is a memorial not only to the singer, but to the woman. The museum, predictably, has many mementos of her career, including a wall of her vinyl recordings and some authentic stage costumes. But it also recreates environments in which she lived, such as the hometown drug store in which she worked as a teenager, and the rec room of the suburban Nashville home of her final years. The new institution thus seeks to memorialize not only a singer, but a unique personality.
Images
The "record wall" at the Patsy Cline Museum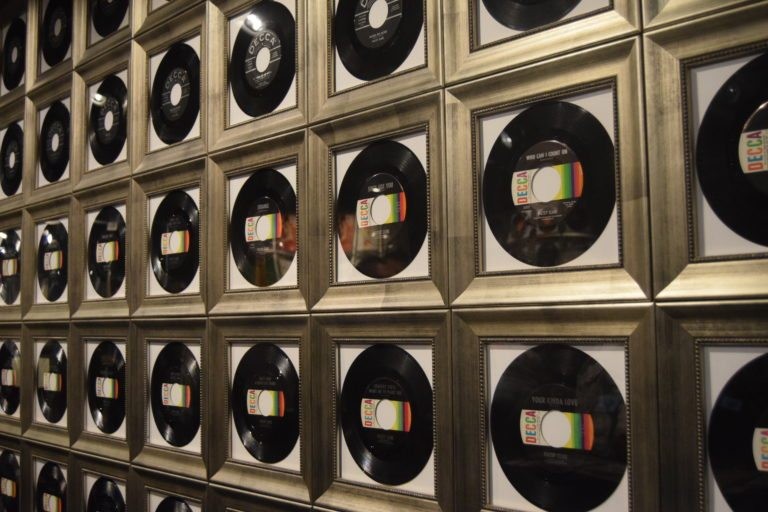 Matching gold lamé pants and boots: one of Cline's stage costumes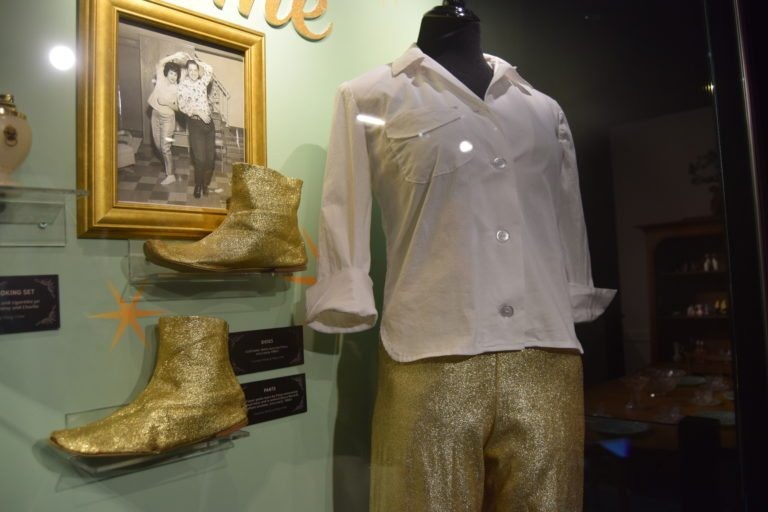 Cline's mother's sewing machine and dress patterns drawn by Cline herself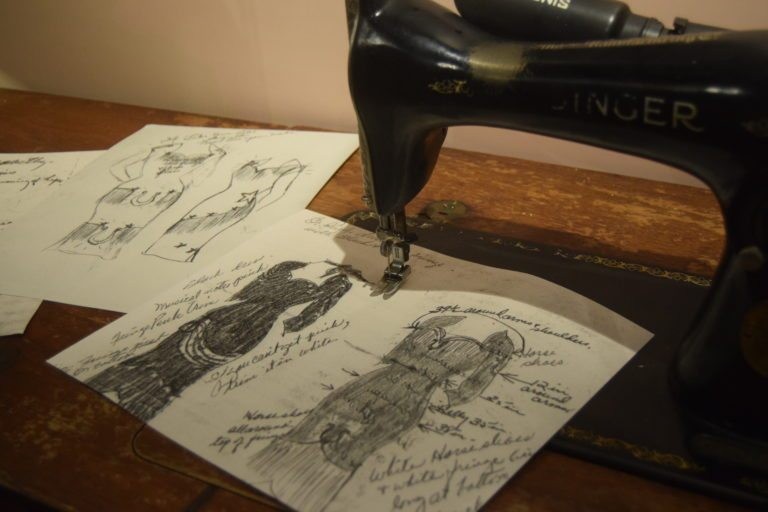 Sample of Cline's fan mail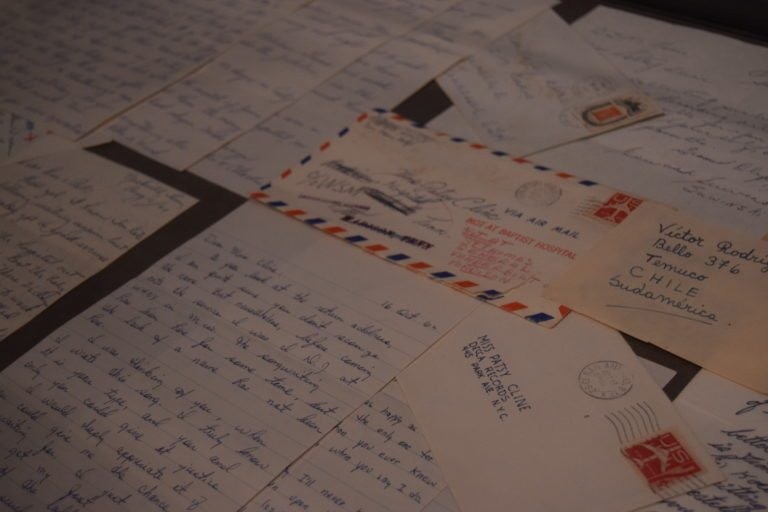 Reconstruction of Patsy's rec room in her suburban Nashville home, circa early 1960s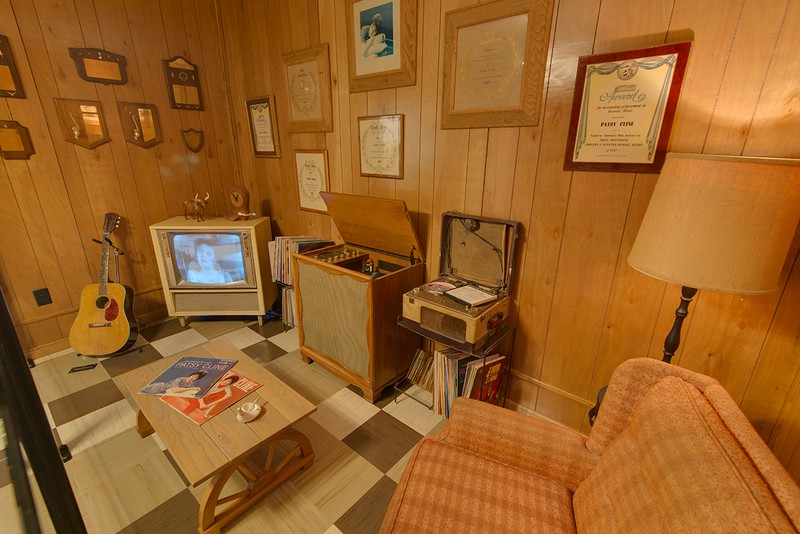 Waxwork of Patsy Cline by Madame Tussaud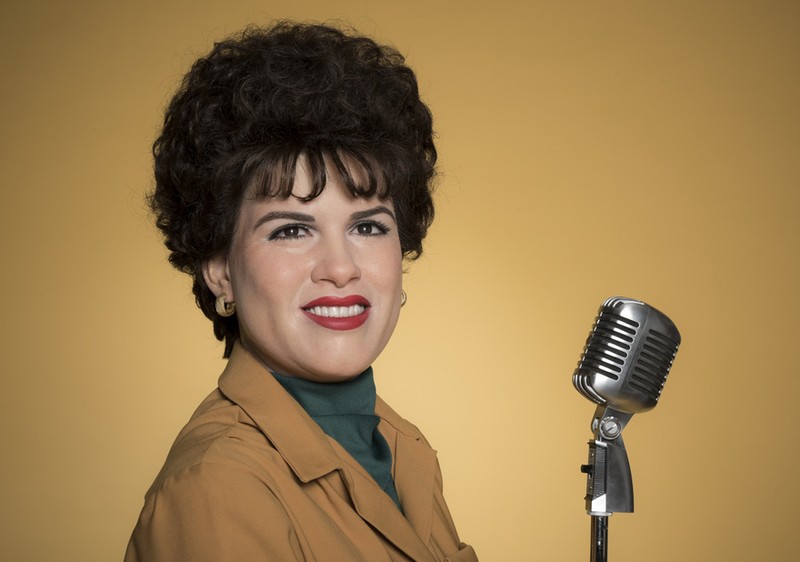 Backstory and Context
The Country Music Hall of Fame calls her "the most popular female country singer in recording history," but Patsy Cline, who was known as Ginny Hensley in her youth, grew up in a poor family in the town of Winchester, Virginia. She worked in her teen years at a drug store as a waitress and soda jerk, and initially sang in her spare time in juke joints throughout the area. Driven by ambition for a career in music, she then sang everywhere - in nightclubs, amateur talent shows and on the local radio. In her early twenties, she adopted the stage name "Patsy" from a shortened version of her middle name, Patterson; the surname "Cline" came from her first husband, whom she soon divorced. She gravitated to the Washington, D.C. music scene and obtained her first recording contract in 1954. Her first singles flopped, but after she appeared on the popular TV show Arthur Godfrey's Talent Scouts in January 1957, the song she sang, Walkin' After Midnight, became a national hit. However, she had no immediate follow-up hits.

She married her second husband, Charlie Dick, in September, 1957. Their tumultuous marriage was later dramatized in the Jessica Lange - Ed Harris hit movie, Sweet Dreams. (Her daughter Julie Fudge recalls her father's reaction to this movie: "It was a good movie, if you like fiction.") Moving to Nashville and signing with a new manager, Randy Hughes, Cline struggled for two years until she recorded "I Fall to Pieces," which became a #1 country hit the following year. After surviving a near-fatal car crash, she recording two more Top Ten hits, "She's Got You" and "Crazy," the latter written by an unknown singer-songwriter named Willie Nelson. Her albums were also successful, and she sang in Carnegie Hall and at the Hollywood Bowl. Returning home from a benefit at Kansas City in March 1963, she was killed in a plane crash; her recording career had lasted less than a decade. The accident also took the lives of fellow Grand Ol' Opry stars Cowboy Copas and Hawkshaw Hawkins, as well as the pilot of the aircraft: her manager, Randy Hughes.

Cline later became that rare musical phenomenon: a posthumous superstar. This process was greatly aided not only by the timeless quality of her recordings, but by two movies released in the 1980s, many years after her death: the above-mentioned Sweet Dreams and the Oscar-winning Loretta Lynn biopic, Coal Miner's Daughter, in which Beverly D'Angelo played Cline. Said her daughter, Julie Fudge, "She's almost always been a legend in my life. At the same time, the people that knew her, the fans, have kept her alive for me. There's not many people that lost a parent 50 years ago who can say that she's this much in her life every day." In order to carry on Cline's legacy, Fudge, with her investor, Bill Miller, started the museum dedicated to her mother, located on the second floor of the Johnny Cash Museum in the "So Bro" area of downtown Nashville.

Mounted on a wall in the space is a copy of every record she recorded from 1954 until her second big hit, I Fall to Pieces. Also prominent are many stage costumes she wore during her heyday, including a set of gold lamé pants and matching boots worthy of her friend, Elvis Presley - all in mint condition. But the real highlights of the museum are the surprisingly detailed glimpses of Cline's private life. There's a recreation of Gaunt's Drug Store in Winchester, where she worked as a teenager while she aspired to a career as a professional singer. There's the sewing machine at which Cline's mother created her daughter's stage costumes from patterns Patsy drew for her. (The drawings themselves are also on view.) There is also a recreation of the suburban Nashville home at which Patsy lived all too briefly, including both the dining room and a rec room that features Cline's state-of-the-art (for the early 1960s) audio system and a 1957 refrigerator that still works.

Perhaps most moving are samples of the extensive correspondence in which Cline engaged, even while on the road, with family and friends and even with casual fans. It seems that Patsy never let any fan letter go unanswered. There are copies of letters and also correspondence accessible virtually, through computer tablets. Since practically no TV or radio interviews of her survive, these preserved letters, which sometimes mention her young children, are a precious legacy for Julie Fudge.

There is also a life-size waxwork of Cline by Madame Tussaud. She's depicted in a yellow dress, stepping up to a microphone. A biographical film documenting Patsy's career, hosted by actress Beverly D'Angelo (who, as mentioned above, portrayed Cline) can also be viewed, bringing young visitors up to speed about one of the most influential stars in the history of country music.


Sources
"Patsy Cline." Country Music Hall of Fall and Museum. Access date: 8/6/17. http://countrymusichalloffame.org/Inductees/InducteeDetail/patsy-cline.
"The Patsy Cline Museum" (homepage). The Patsy Cline Museum. Access date: 8/6/17. https://www.patsymuseum.com.

Betts, Stephen L. "Patsy Cline Museum: 10 Must-See Items." Rolling Stone. Publication date: 4/10/17. Access date: 8/6/17 http://www.rollingstone.com/country/lists/patsy-cline-museum-10-must-see-items-w475894.

Kruh, Nancy. "New Patsy Cline Museum Pays Tribute to the Timeless Country Icon." People. Publication date: 4/10/17. Access date: 8/6/17. http://people.com/country/patsy-cline-museum-nashville.

"Patsy Cline Museum Opens in Nashville, TN." RFD-TV. Publication date: 4/7/17. Access date: 8/6/17. http://www.rfdtv.com/story/35099660/patsy-cline-museum-opens-in-nashville-tn#.WYdnXlGGOM8.

"Patsy Cline Museum." Roadside America. Access date: 8/6/17. http://www.roadsideamerica.com/story/56686

Casey, Jim, "Sounds Crazy: Nashville's New Patsy Cline Museum Opens April 7." Nash Country Daily. Publication date: 3/16/17. Access date: 8/6/17. http://www.nashcountrydaily.com/2017/03/16/sounds-crazy-nashvilles-new-patsy-cline-museum-opens-apri....

Liebig, Lorie. "Inside Nashville's Brand New Patsy Cline Museum." Access date: 8/6/17. http://www.wideopencountry.com/patsy-cline-museum.

Dauphin, Chuck. "Nashville's Patsy Cline Museum Sheds New Light on Country Icon's Brief Career." Billboard. Publication date: 4/10/17. Access date: 8/6/17. http://www.billboard.com/articles/columnns/country/7752622/patsy-cline-museum-nashville-opening.
Additional Information