Dunlap's Dining Room
Introduction
The unassuming home on 4th Avenue was the residence of pioneering African American businessman George Dunlap and his family. Dunlap worked as a chef for the Southern Pacific Railroad and eventually operated a restaurant, Dunlap's Dining Room, out of his home. The restaurant was a popular gathering place for many years.
Images
Dunlap's Dining Room as it appeared in 2006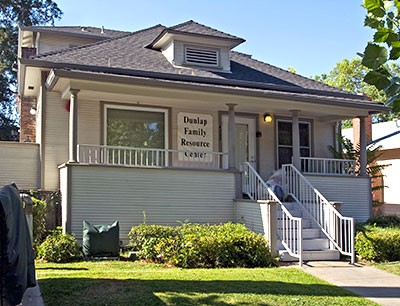 Backstory and Context
George Dunlap built his home in 1906 in the Oak Park neighborhood of Sacramento. At the time, it was a simple, four-room structure. Dunlap and his wife, Annie, had two daughters and eventually had two nieces who came to live with them. As the family grew, the Dunlaps made additions to the home, eventually adding a second floor and four more rooms.

George began working with the Southern Pacific Railroad as a young man and eventually worked his way up to chef. He had a reputation for being a quick learner and a hard worker. With his many years of experience in food service and his wife's encouragement, he opened Dunlap's Dining Room in 1930. The family continued to live upstairs while the downstairs functioned as the restaurant.

The restaurant became a popular gathering place with middle-class families and state government workers. The family even hosted Earl Warren and Governor Frank Merriam. Dunlap's Dining Room operated from 1930 until Dunlap's retirement in 1968.

In 1997, Audrey Dunlap Wilcox, the Dunlap's daughter, donated the home to the Sacramento Children's Home. Since that time, the home underwent a major renovation and has housed community service programs. It is listed on the National Register of Historic Places.



Sources
Dunlap's Dining Room. noehill.com. Accessed August 05, 2017. http://noehill.com/sacramento/nat1992000308.asp.